Revolutions are opinions grown up!
We all have opinions. Whether this is about ice cream, politics in India or your favorite football team, we all have topics that matter to us.
Social media is flooded with different viewpoints, innumerable judgments and a plethora of experts and influencers. However sometimes it can be challenging to see the woods for the trees.
Everyone deserves a powerful voice online. No one should be left out. After all, it's only when we hear from everyone, does a more complete picture emerge. That's how State was born!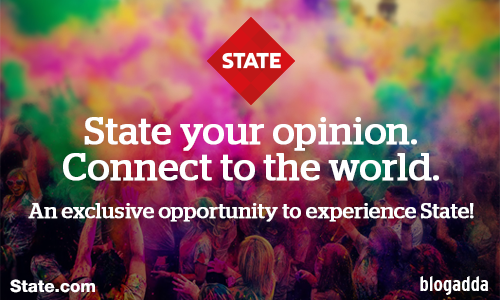 State.com is the simplest way to get your opinions heard. It is a completely new media platform where who you know doesn't matter but what you think does. A platform that connects people based on their opinions.State makes it very easy for you to express your opinion in a quick and fun way that connects you to like-minded individuals around the world who share the same interests as you. Doesn't matter whether you're passionate about global warming or chocolate ice cream, there's a place for you and your opinion on State.
What are you waiting for? State your opinion. Connect to the world.
We, at BlogAdda, bring to you an exclusive opportunity to experience State for the first time in India! Try this out before the Indian Social Media community start buzzing about it. Isn't this very interesting?
30 Privileged Bloggers will be selected for this exclusive activity.
If you are short listed, you will get to experience 'State' and  write a detailed review about the platform on your blog.
You can also check out the topics posted by others at State.com and if they interest you, state your opinion about them as well.
It's time to share your passion with the world.
All the short listed bloggers will receive a Flipkart Voucher worth Rs. 2000 each, after the completion of the activity.
Remember, only 30 bloggers will be shortlisted. Register Now!
State is available on the web and iOS AppStore. The Android app is coming out very soon.