The one date that we have all been waiting for has finally arrived! It is the day when the Pepsi IPL 2014 begins! 8 teams consisting of the best players around the world with more than a billion fans battling it out in matches to win the Pepsi IPL Champions Trophy!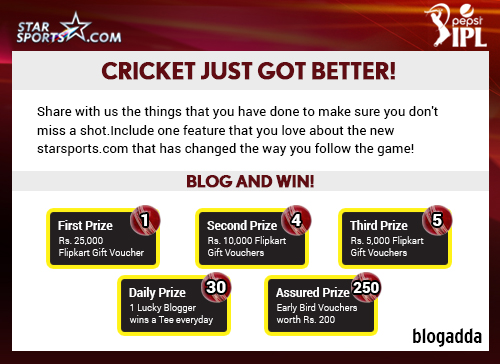 On a lazy Sunday morning, walk through the lanes of any housing complex in India and what do you see? Young kids playing cricket, or is it better to say Breathing Cricket! Your colleague suddenly calls in sick at work! You are worried for him, only until you realize Mumbai Indians and Chennai Super Kings ka match hai! The thought is then about how you didn't think of it! This is the time when everywhere you go, you're most likely to hear 'Meri Delhi', 'Tera Rajasthan' and so on! Friends become friendly foes and innumerable Pepsi & samosa bets are placed!
The T20 keeps you at the edge of the seat throughout the game! Until the last ball is bowled, you aren't sure who is going to win the game! Saying that every match has a nail-biting finish would be an understatement when it comes to the Pepsi IPL! The last over sees everybody physically viewing the screen but they're actually busy honestly praying for their supported team to win. The yells & screams that you hear from each house or restaurant at the end of  a match are probably louder than the players on the stadium shout themselves!
Issued in Public Interest:Â Do not go and stand between the TV and your friend unless you want to get into a serious brawl!
Games of such intensity! How? Just how can you afford to not be in touch with it constantly? You need an update after each ball to know where your team stands. You are in office physically but your mind is at the stadium. When you are in the bus, you can't wait enough to get home and see what stage the game has reached! Cricket on the go, is what StarSports.com has for you!
In a blog post of at least 300 words share with us the things that you have done to make sure you don't even miss a shot! Have you lied to your friend about being busy? Have you stopped outside an electronics store because it's the last over? Have you kept pestering your friends on chat for updates because they're at home while you're out? We're crazy about cricket and all these seem more than legitimate to that fact!Starsports.com has the fastest scorecard that delivers faster than anyone else and a free video streaming of the match! Tell us what's the one thing you love about new StarSports.com and how it has changed the way you follow the game!
You can win prizes that are as thrilling as each game!
The best post will win a Flipkart Voucher worth Rs. 25,000
The next 4 best posts will win Flipkart Vouchers worth Rs. 10,000 each
The next 5 best posts will win Flipkart Vouchers worth Rs. 5,000 each
The first 250 valid entries will Flipkart Vouchers worth Rs. 200 each
Everyday 1 lucky blogger will win a smart T-shirt
It's not just a game, It's a celebration!
This post is a part of  Cricket just got better! Activity by starsports.com in association with BlogAdda.com.
Looking forward to all the cricket crazy entries 
You can send in posts for this activity till May 18, 2014.