Today at your adda, we have a person who just by a glance can tell you the brand and shade of the lipstick used. She absolutely loves neon colours. Anshita is someone who never imagined that her blog, which she started as a hobby would grow on to become the best in India. Academically, she has a degree in economics but she always looked forward to getting home after college and blogging. She enjoys buying the latest products and reviewing them for her readers. Here's a fun interview with Anshita Juneja, winner of the Best Blog Award in the Beauty & Make Up Category at the BlogAdda Blog Awards 2014.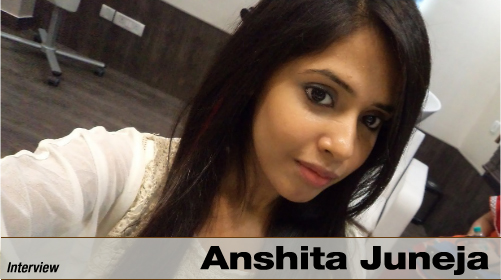 Q: What is it that inspired you to start a beauty based blog?
A: It was in fact lack of inspiration in my daily life that I turned to the world of beauty blogging. It was just a weekend thing then. Slowly I started enjoying it more than I thought I would and now I post at least twice a day!
Q: As a child, did you enjoy applying your mother's make up? Are there any such incidents you would want to share with us? Was being a beauty and make up enthusiast something that you knew from the very start?
A: So many of them! When at home alone, I used to tie my mom's dupatta around me as a saree, apply makeup and pretend I was Miss India. I even convinced my brother to be my model once and did his whole face which of course he regretted later. So yes I was fascinated by makeup but never really thought of taking it up professionally. That bit just happened.
Q: There are a lot of products that you review for your readers. If you had to choose one, which was your favourite product out of the ones you reviewed?
A: Tough choice. But I will pick Lakme Absolute Kohl Ultimate because I can't go out without kohl. On days when I don't wear kajal on my waterline, people think I'm either not well or I've cried buckets!
Q: Had you ever imagined that your blog, which you started as a hobby would grow and become the best Beauty & Make Up Blog in India? Tell us about your journey right from the start and about all the efforts you've put in to bring your blog to this level.
A: Never in my dreams. I blogged because economics (which I have a degree in) was very boring and blogging was a much needed break. It gave me something to look forward to after a hectic day at college. After my graduation, I dropped a year to figure out what I wanted to do with my life next. And it was during that year that I religiously blogged, made a schedule, got a blogging camera, started buying products specially for blog reviews, learned blog designing through Youtube, learned seo and what not. Blogging was all I did! Much later I started paying guest writers. Thanks to that, now I have the best team of writers in the world.
My family still thinks that I don't promote my blog enough. I still don't have business cards, can you believe it?!
Q: On your blog, we see that there are followers who just ask you about a product and you always know the answer! That indeed is commendable. Could you give our readers an insight into how you just know it all?
A: Hahaha! This is because I have always been a reader first. I read all sorts of beauty blogs right from local Delhi blogs to the international ones. So after being in the blogging community for 4 years…you just know it. I even irritate my friends in movies by making guesses on the lipsticks the actors wear.
Q: We would love to know how you came up with the name 'Vanity No Apologies' for your blog because it is indeed very innovative.
A: I learned this phrase in 9th grade. We had a whole chapter in our English textbook on this. It was stuck in my head. Although the chapter was all on why one should not be vain. So the irony is sort of funny! I get a lot of compliments on my blog name now!
Q: What are the three most basic make up tips that you would give to all our readers?
A: No I won't say drinks loads of water.
Use quality products. Remember you get what you pay for.
Don't get fooled by marketing gimmicks. Always read reviews before investing in makeup or skin care products. That is what VNA is for.
Less is more.

Don't wear makeup like a mask. Be subtle and accentuate your best features

.
Q: We learn that you prefer bright and neon colours. We would love to know more about your love for neon shades.
A: Summers are all about bright shades. Just the idea of dressing up in neons makes monday mornings more bearable. I have made my girl friends embrace it too. Now I love pastels too.
Q: Tell us three other beauty blogs that you absolutely love and religiously follow. Also tell us the reason behind them making it to your favourites list.
A: I read a lot but blogs which have a personalized style and sound less like a magazine and more like a diary impress me.
 Cynthia of Indian Vanity Case for the amazing photos. It's like reading a magazine.
Mehak of Peaches and Blush for the Punjabi flavour she adds to reviews.
Dulce of Dulce Candy who tells us that you don't need to be effing tall to look good. She is just 4'9 and still one of the most fashionable bloggers out there.
Q: You won the Best Blog Award for the Beauty & Make Up Category by BlogAdda at WIN. How did you and your loved ones react to this?
A: My family has kept the trophy in the living room to show off! All my friends got super excited but nobody complimented me much…that's what keeps me grounded I think. My brother although still believes you guys gave it to a total nutcase.
Q: You find happiness in the little things in life. Tell us five things in the past week that have left you cheerful.
Perfect Coffee: I finally found my perfect milk to coffee ratio which I had been trying from years. You don't know how much a glass of chilled coffee in the morning can do to my mood and of course energy levels.
I got my credit card finally. So no more waiting for relatives to come back from US and bring me that much raved about lipstick. I can finally shop at international websites myself. I hope my father is not reading this!
There was a hailstorm in Delhi last week. I like the unexpected rains.
The on going T20 World Cup. Indian has gotten into semi-finals.

I went to WIFW last week. In school we used to talk about fashion weeks like Know-it-alls. So actually getting invited to watch the show for all 5 days was something I never thought would happen

.
Q: What according to you is the future of beauty and make up blogging in India?
A: There is a lot of potential. At present I struggle with explaining my beauty blog to family and friends. Some think I am a retailer while others think I am a makeup artist. I've had people mailing me their resumes asking for jobs.
Q: Blogging about beauty products can become monotonous for the blogger as well as the reader. What special techniques/strategies do you use on your blog to ensure that the blog posts don't get monotonous?
A: That's what I was afraid of initially But thankfully with new beauty launches in the market every other day, it never gets boring. But I do add special weekly features like makeup tutorials, red carpet fashion, street style posts, contests, latest beauty favourites, top 10 lists, etc. to keep the fun quotient up. I've had readers mailing me about how much they look forward to reading Vanity No Apologies after a full day at work. I even have guest writers writing for me and each of them bring in a new flavour. Girls never get bored of makeup so its always exciting at VNA.
Q: Let's conclude off with a few favorites.
Colour: Anything neon or pastel
Fashion Designer: Anamika Khanna
Outfit: Bright T-shirts and jeans
Movie: Queen (currently)
TV Show: Friends and HIMYM
Connect with Anshita Juneja: Blog, BlogAdda, Twitter, Facebook, Google+, Pinterest.

Thank You Anshita for a fun interview!
For all those who missed #WIN14, you can relive it through the photos!
Bloggers, we hope you enjoyed reading this Interview with Anshita where she tells us everything about her love for make up and how she started blogging about it. She also tells us about the efforts she has put in to make her blog reach where it is now.
We look forward to your feedback about this interview.