We are happy to announce India's biggest offline Blogging Conference and Awards – WIN '14!
A day that completely revolves around the love of blogging! A stellar lineup of amazing bloggers to share their blogging journeys and talk about various topics that have an impact on blogging.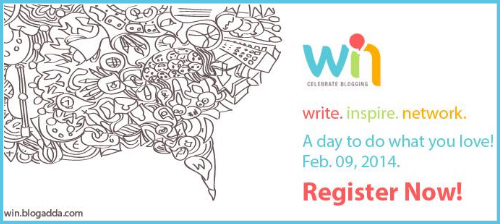 Magnificent Speakers like Shekhar Kapur, Kiran Manral, Ekalavya Bhattacharya, Anaggh Desai would be sharing their thoughts about blogging and how it has grown to be one of the best platforms to express one's thoughts and ideas. Every blog makes a difference, to someone, somehow, somewhere! The ever growing and strong Indian blogger community today is in huge demand by alluring and upbeat Brands. Influential Speakers, Top Bloggers, Brand managers, Social Media Professionals and Industry experts would be rubbing shoulders at the event. If you or your business are related to the digital space in India in any sense, then this event is a must attend for you!
Our jury has completed the tough task of shortlisting the best blogs from 19 various categories. The shortlisted blogs are now open for public voting. Enormous number of votes have come in our way through Facebook and Twitter. Brilliant bloggers, many inspired people, all their love just has to show! The winners in each category will be chosen based on 80% jury votes and 20% public votes weightage. A day to award all the efforts that you've put into blogging hitherto!
The registrations for WIN '14 are now open! Write to make a difference, inspire someone to start blogging and network with fellow blogger friends. This is an event that we're sure you don't want to miss!
DATE: February 9, 2014.
VENUE: Courtyard by Marriott, Mumbai.

Join the Celebrations Now! Register at http://adda.at/WINregi
Early bird registrations are on till January 31, 2014.