We're finally lucky enough to witness a phase where Hindi Cinema does not comprise of only mainstream Bollywood 'masala' films with a somewhat tackily similar story-line each time. With a large number of directors and producers today wanting to experiment and make more 'real' cinema, there seems to be an evident rise in off-beat Hindi cinema which is obviously for the good. With a crop of amazing contemporary films like Gangs of Wasseypur, Peepli Live, Udaan having released recently, there are a number of mainstream actors and directors thinking out of the box.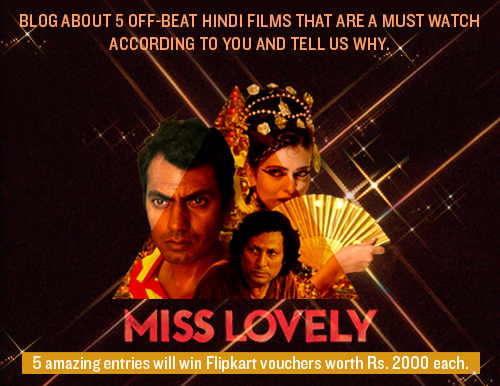 These are thought provoking films that win a lot of critical acclaim but when it comes to overall viewership, they are unable to compete with typical Bollywood blockbusters. It is high time we rise above the present 'Superhits' to bridge the gap and come up with more movies that boast of quality.
Here we are with an interesting activity for all bloggers related to something that everybody loves, movies! This weekend, you have to blog about 5 off-beat Hindi films that are a must-watch according to you. You also have to tell us why you have chosen the films. Sounds like fun? Start thinking about all the movies you have seen recently. Which were the ones that left you thinking? Think about the ones that were different but yet somewhere struck a chord.
There are prizes to be won as well!
5 amazing entries will win Flipkart Vouchers worth Rs.2000 each.
Are we all set? Start jotting down your favourite off-beat movies.
Submit Your Entry Here.
Please include this code and embed the video in your post:
This post is a part of the Miss Lovely Activity in association with BlogAdda.
Miss Lovely, an off-beat film directed by Ashim Ahluwalia is set in the lower depths of Bombay's "C" grade film industry. It follows the devastating story of two brothers who produce sex horror films in the mid – 1980s. A sordid tale of betrayal and doomed love, the film dives into the lower depths of the Bollywood underground, an audacious cinema with baroque cinemascope compositions, lurid art direction, wild background soundtracks, and gut-wrenching melodrama. Miss Lovely is scheduled for commercial release on 17 January 2014.
You can check the trailer of the film
The last date for submitting your entries for this activity is January 12, 2013.
We thank you for a splendid response bloggers! We hope you had a good time thinking and blogging about five off-beat films that you love. This activity is closed Now!