An elegant fashion and lifestyle blogger who loves experimenting keeping in mind the magic word, comfort. She absolutely loves effortless style! Her own designer label Cirare boasts of many creative and attractive designs. For her, to travel is to live! She believes that travelling teaches a person innumerable things. Trying out different cuisines and blogging about food is another of her favourite  activities. Presenting to you an interview with Akanksha Redhu, an amazing fashion blogger, travel enthusiast and stunning designer.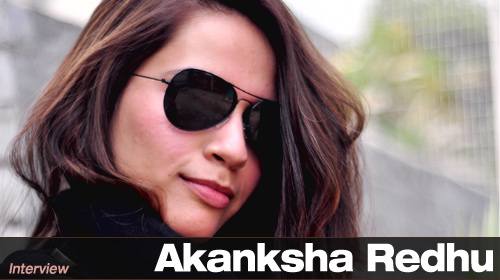 Q: What is it that inspired you to become a fashion and lifestyle blogger? How has your journey been till date? We would love to know it all!
A: I suppose keeping track of all the creative projects while in college and keeping a sort of journal of things that caught my attention or inspired me in a way led me to start the blog. Once college was over, it did become dormant for a few years after which I changed the direction of the blog and evolved it according to my tastes and needs. The journey has been a fantastic one. I have loved every single bit of it and still continue loving it A LOT.
Q: Was becoming a fashion blogger something you always wanted to do?
A: It wasn't something I had set out to become but nothing in life ever happens according to plans, so I love how it has evolved into being a part of what I do. Its certainly great that I can share my thoughts and inspirations with so many people.
Q: Who are your 5 favourite fashion designers? What is it about their designs that appeals to you maximum?
A: Ritu Kumar: Even though the craze these days is about how you can be different, unique or quirky, Ritu Kumar has managed to stay true to her inspirations and sensibilities. The maturity, elegance and fine work is what appeals to me the most.
Eina Ahluwali: The love and dedication that goes into her jewellery can be seen clearly in the final product. The beauty and craftsmanship and respect for her work is immense.
Anju Modi: Love her Indian wear silhouettes and the custom jewellery she gets done for her shows. There is something so majestic about her garments.
Mary Katrantzou: Her prints are to die for! I could probably never have enough.
Rick Owens: Its incredible how he manages to perfectly marry grunge and chic so effortlessly.
Q: Out of all the fashion and fashion related events you have attended, which is one that remains crystal clear in your memory till date and why? (If you had to choose just 1)
A: That would be my graduating show where all of us have to make our collections. So much work and time goes into this graduation project, I couldn't remove it from my memory even if I wanted to!
Q: Describe your personal fashion style for our readers.
A: I'm huge on comfort and effortless style. If you have to spend too much time thinking about what you want to wear, you are probably not being true to your innate sensibilities. Having a personal fashion style is great but if you don't have a healthy mind and body to back it up, it will never look good. I love printed trousers, blazers and accessories. I would describe my personal style as a casual effortless chic.
Q: What is the best outfit that you have created according to you? When and how did you come up with the idea for that?
A: I think at the end I like all my outfits, which is why you will even see me in them. If I didn't like it, I would NEVER wear it. Its fun to experiment and come up with quirky outfits but in the end you always fall back on something that you are comfortable with. I do particularly like outfits in which I incorporate a bit of androgyny I think.
Q: What according to you is the future of fashion blogging in India?
A: It is definitely booming big time. But unless bloggers and PR professionals grasp the importance of being professional and learning to value their own work and time, its going to be a very messy and frustrating situation.
Q: Tell us 3 other fashion blogs you religiously follow and absolutely love.
Q: For you, what is the most gratifying aspect of being a fashion blogger?
A: Getting to style your own looks and outfits, being your own boss and achieving the best possible creative satisfaction and being able to share that with the world.

Q: You have started off with your own designer label, Cirare. We would love to know how this idea struck you and how you went about it.
A: After working for other brands and labels, I found myself a bit creatively starved. When you work for someone else you can't really do whatever you want; which is why I started off with something that I loved doing. Taking inspirations from my travels, creating my own prints, working with leather and creating accessories that like minded people would love to own got me to start with CIRARE.
Q: How did the name Cirare happen?
A: Its an amalgamation of 'circle' and 'square' which are the two most basic forms. which when combined, remove all boundaries and restrictions and you can be exactly who you wish to be. Its about being true to yourself and doing what you love and even finding yourself, a lot of which happens when you travel.
Q: From a professional perspective is there any place or event that you really want to go to and haven't been able to make it yet?
A: Places, yes. Event. no. I want to travel to so many places that I wouldn't know where to start and would never want to finish.
Q: What would 3 important pieces of advice be for any one wanting to start a fashion blog?
 1. 

Write being true to yourself

2. Be consistent with your blog posts
3. Have fun with it
Q: Except fashion, what are other topics that you love writing about?
A: I love talking about travel, beauty and food!
Q: Which is your favourite cuisine and the best restaurant that you have been to?
A: My favourite cuisine is actually home cooked Indian food. I love eating all and any sorts of cuisines but something that I wouldn't be able to do without is 'ghar ka khaana'. The best restaurant I have been to would be Bukhara and Megu.
Q: Tell us 5 things that feature on your bucket list.
1. Learning and being certified in scuba diving.
2. Being certified in advanced yoga.
3. Owning a house on the beach and my own café.
4. Travelling to and experiencing all the continents.
5. A monster house boat.
Q: We know that you are totally loving what you do! But, what would your other career option be if not a designer and fashion blogger?
A: I would be a marine biologist or a scuba instructor.
Q: Let's conclude off with a few favorites.
Color: Green
Movie: Man In The Iron Mask
TV Show: Friends
Book: Any book with graphics and visuals.
Time of Day: The time I have to do my workout / yoga
Your Zodiac Sign: Aries
Connect with Akanksha Redhu: Blog, BlogAdda, Twitter, Google+, Facebook, Instagram, Pinterest.

Thank You Akanksha for a splendid interview!
Bloggers, we hope you enjoyed reading this interview with fashion blogger Akanksha Redhu where she tells us what inspired her to become a designer and her journey as a fashion blogger.
We look forward to your feedback about this interview 🙂