A fun activity where our bloggers had a special opportunity to meet, interact and befriend strangers based on the similar interests shared! We're sure you enjoyed bumping into strangers and getting bumped as well. We hope you have made many new friends through Treetins!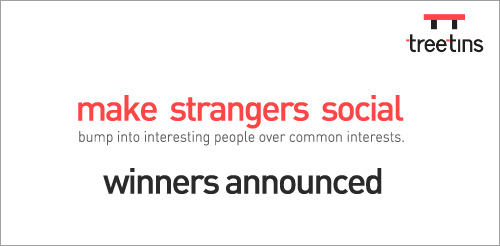 Here we are announcing the winners for the Treetins Activity!
Ankita Singhal with an amazing score of 95 bumps wins the Google Nexus 7 Tablet.
The 5 bloggers who have won Flipkart Vouchers worth Rs. 1000 are as follows:
Remya – 61 bumps.
Pooja Pradeep – 45 bumps.
Anjali Garg – 40 bumps.
Priyanka Sharma – 37 bumps.
Dr. Roshan Radhakrishnan – 35 bumps.
The first 50 bloggers who submitted entries on Treetins will get their Book My Show Vouchers worth Rs. 400 soon via email.
BlogAdda would like to wish all the awesome winners for Treetins Activity a hearty Congratulations! Thank You for being a part of Treetins.
We request you to mail us your details at contact@blogadda.com for us to ship the prizes.