Kerala believes in preserving their prized heirloom and moreover quality wood furnishings are an investment, which are expected to last a life time. Good wood is hard to find and preserving it is even more difficult with it being influenced by weathering, decay, scratches, stains and many other problems.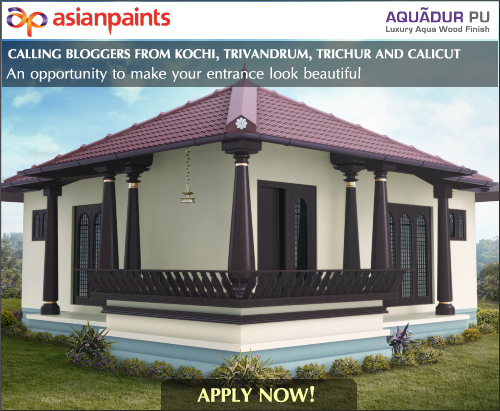 Here we are presenting to you the Asian Paints Aquadur PU, Luxury Aqua Wood Finish as a part of the Product Review Programme at BlogAdda.
We invite 12 bloggers from Kerala to use and share with us their experience about this product. Each shortlisted blogger will have the opportunity to get any wooden door polished with Asian Paints Aquadur PU.
Asian Paints Aquadur PU is the ultimate water based shield for wood. It gives you extremely high durability for all your furniture, at the same time, providing a rich finish. The application of the product is very easy, making it user-friendly. It is safe for children owing to the low metal content, dries almost instantly and leaves no paint or polish-like odour behind.
Blog about your experience with the product and tell us how well it suits your needs. Also share your experience on Facebook and Twitter.
Every blogger participating in this activity will also receive a Flipkart Voucher worth Rs. 1000
More details about the flow and the code will be sent in the mail.
Here's a chance you wouldn't really want to miss! Preserve what is special to you 🙂
Thank you for your response! This activity is closed now.