The entries that came in for the Tasty Khana Contest boasted of taste and also creativity! Mouth watering and easy to make recipes in huge numbers are what came our way! Talk about getting creative, we sure got out bloggers to draw and colour virtually or on actual paper after a long time indeed. Their favourite secret recipe when hit with hunger pangs is now yours as well 🙂 Thank You for all the delicious entries!
It is now time to reward our doodle chefs who gave us delicious ideas that will surely come of help to a lot of foodies in their times of immense hunger!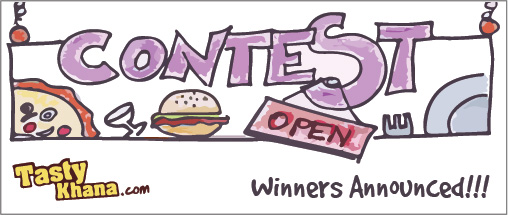 Arvind Passey for his post, 'Of Toast, I Boast' wins Flipkart Vouchers worth Rs. 10,000.
Ankita Sharma for her post, 'Recipe Doddle 2- Chilli Capon' wins Flipkart Vouchers worth Rs. 5,000.
Heena ShahDhedhi for her post, 'Butternut Squash Lasagne' wins Flipkart Vouchers worth Rs. 5,000.
The 20 tasty recipes who have won Tasty Khana Credits worth Rs. 1,500 each are as follows:
http://neha22jan.blogspot.in/2013/10/easy-doodle-recipe-happy-chilli-pataka.html
http://mindcoveries.blogspot.in/2013/10/Doodle-recipe1.html
http://www.momscribe.com/2013/10/doodle-recipes-for-hungry-stomach.html
http://thesilkenthreadofnescience.blogspot.in/2013/10/desi-pasta.html
http://www.sweetandbitterblog.com/2013/10/10-step-crumbed-avocado-with-tomato.html
http://rathinas.blogspot.in/2013/10/cook-doodle.html
http://www.thecanvasplatter.com/2013/03/infographicgajar-ka-halwa-in-5-easy.html
http://kuttysmiles89.wordpress.com/2013/10/23/simple-salad-with-moong-sprouts/
http://www.aathidhyam.in/2013/10/the-b-c-balls-doodle-recipe.html
http://www.fewmiles.in/2013/10/chicken-rolls.html
http://ratnibbles.blogspot.in/2013/10/toast-a-doodle.html
http://anitaexplorer.blogspot.in/2013/10/two-in-one-snack-doodle.html
http://saffrontrail.blogspot.in/2013/10/lemon-blueberry-muffins-with-kid-in.html
http://www.passionateaboutbaking.com/2013/10/plum-ice-cream.html
http://shocksandshoes.blogspot.in/2013/10/recipe-for-week-quick-bread-pizza-easy.html
http://umasfoodtales.wordpress.com/2013/10/22/doodle-recipe-for-mysore-pak/
http://thecupcakeconfession.com/2013/10/21/sticky-toffee-pudding-cookies/
http://www.oxygenflow.net/desi-maggi-italy-wale/
http://amusrecipes.blogspot.com/2012/10/veg-paneer-rolls.html
http://cynthology.blogspot.in/2013/10/the-goodness-of-amla.html
BlogAdda would like to wish all the awesome winners for Tasty Khana contest a hearty Congratulations! Thank You for sharing your recipe with us.
We request you to mail us your details at contact@blogadda.com for us to ship the prizes.
There are a few changes in the participation procedure for all contests henceforth at BlogAdda. Please have a look at the Facebook post for more details.