India as a country is in a very dual state as of now. On one end we're enjoying impeccable success in fields like science and technology while on the other a few negatives like poverty and corruption keep pulling our nation behind while we dream of striding ahead. Problems like these cannot be eradicated at a single go. A lot of meticulous planning and timely execution goes into the process. There has to be a step taken with the view of change, primarily of the attitude, and further on, of the action! Every change begins from the heart! Your heart tells you that you were wrong and you feel the need to change what has been done and you act accordingly!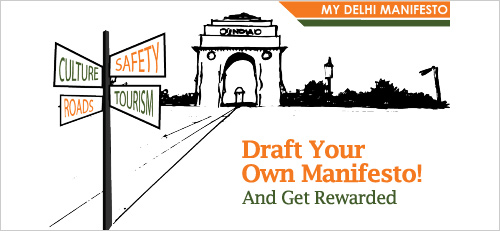 For the society, the people form its heart! Thus, if there has to be a change, it has to begin and come from the people, alone!
'There's no nation that is perfect, it has to be made so!', a quote from the movie Rang De Basanti seems to fit in so apt at this juncture where we stand. Delhi, the capital of India stands tall in spite of everything it faces! Many problems, hidden injuries, some scars affecting the grandeur but it manages to maintain its eternal peace and beauty for the onlooker. It indeed is the heart of the nation, we referring to it as Dilwalon Ki Dilli isn't a co-incidence after all! If there's a change that India has to see, we believe it should begin from the heart and thereby spread to the other states as well.
Every day we see problems around us, simple and complex. Accidents? Littered roads? Power cuts for long hours? Beggars on the roads, increasing in number each day? Here, we are giving you an opportunity to voice them. We bring to you an opportunity to draft your own Delhi Manifesto. You have to include the issues you think we're facing that need to be addressed about Delhi or other general problems regarding the nation as well.
You have to be a part of the change you wish to witness! Soon after we have your Manifesto, we would announce another extension to this activity where you would be asked to blog about solutions to all the issues you've mentioned in your Manifesto. Always wanted to initiate a change? Here's your chance!
For now, we request you to look around, observe and see what all needs to be changed, gain inspiration and Blog your Delhi Manifesto !
The rewards for this activity are as follows:
1 Best entry will win a Nokia Lumia 720 phone.
15 Fantastic posts will win Flipkart Vouchers worth Rs. 1000 each.
50 Valid entries will win Early bird Vouchers from BookMyShow worth Rs.200 each.
Kindly include this code in the post:
This is My Delhi Manifesto in association with BlogAdda.com.
Submit Your Manifesto Here!
We look forward to all your motivated entries!
Entries for this contest are open till November 6, 2013.
Terms and Conditions. (PDF)