Rashmi after a long day at work was driving back home, late at night. When she was still away from her house, on the highway, as luck would have it her car broke down. Her phone was extremely low on battery owing to the innumerable calls she had to make during the busy day at work. She was extremely worried and scared because she was driving alone and the highway was deserted. At such a point of time, she was in need of help and unable to actually call someone for the same. How she wished, she had an application on her phone which would send her message of help to someone she knew and who could help her out of such a dangerous and scary situation.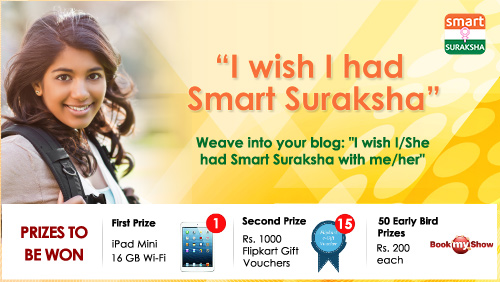 Trouble doesn't announce its arrival! You can be attacked by anything like adverse situations or the wrong people at anytime, even in broad daylight. If you are cornered in a deserted area, your screams for help may go unnoticed. The Smart Suraksha App is an Android Application that aims at making the women feel safe. This App, at the press of a single button, sends your message of help to five pre-chosen contacts from your contact list. An additional feature of this app is that along with your message for help, it also sends across your location even if the GPS on your cellphone is switched off. Thus, the women can be reassured that there is help available at all times.
We hear disheartening incidents almost on a daily basis. In such times, it is important that we have applications like these so that you are aware of the safety of your loved ones. It is our duty as fellow citizens to try and help instead of letting the scenario get worse. For this activity, you have to write a post that consists of the line, 'I wish I/She had Smart Suraksha with me/her' Your post will be of immense help to other women because if they are ever caught in a similar situation, they will sure be in a better position to handle it.
The Prizes to be won for this contest are as follows:
1 Best entry will win an iPad mini 16 GB with Wi-Fi
15 Fantastic posts will win Flipkart Vouchers worth Rs. 1000 each
50 valid entries will win Early bird Vouchers from BookMyShow worth Rs.200 each.
Kindly include this code in the post:
I am participating in the Seeking Smart Suraksha contest at BlogAdda.com in association with Smart Suraksha App.
Participate Now!
We're looking forward to all your supportive entries. Don't give this one a miss!
Entries for this contest are open till November 6, 2013.
Terms and Conditions. (PDF)