From Pav bhaji to Pizzas and from Dosas to Pasta, we just love it all. We're all such foodies!
Food is the last thing on earth that you would want to give up on. It is one thing that appeals to all the five senses you possess. Health often unknowingly takes a backseat because all we long for is the taste!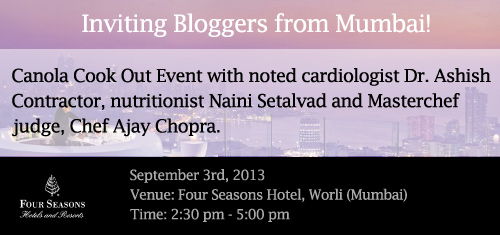 Their family's good health is a never ending concern for all the women.Today, though quite a few people are more health conscious and strive to get that right balance to maintain taste as well as health. Healthy options like Canola oil are present but are less known.
So we at BlogAdda, are inviting Mumbai based food & health bloggers for an amazing event to discuss the advantages of using Canola oil.
We have reputed cardiologist Dr. Ashish Contractor and nutritionist Naini Setalvad who will talk about and explain the attributes and benefits of using Canola oil for cooking.
After the discussion, you have a once in a life time chance to learn 2-3 delicious recipes using Canola oil from none other than Masterchef judge, Chef Ajay Chopra!
Event Details
Date: September 3rd, 2013
Venue: Four Seasons Hotel, Worli
Time: 2:30-5:00 pm
Chef Ajay and Canola Oil would like to see the innovative recipes that you can make using Canola Oil. If you are attending the event and would like to share your recipe(s), mail them to us at contact@blogadda.com with the subject as 'My Recipe with Canola Oil' before Sept. 2, 2013, 3 pm and if Chef Ajay Chopra likes your recipe, you may win an exciting Canola Oil hamper at the venue.
Note: Sending in your recipe(s) is optional. You can choose to just attend the event by clicking on the link below.
Don't give this one a miss!
 
Register with us NOW to attend this Event.
After the awesome time you spend at Four Seasons Hotel interacting with Chef Ajay, Naini and Dr. Ashish, bloggers are required to share the experience on their blog. Attending the event and writing about it will ensure Flipkart vouchers worth Rs. 1000! 🙂
We only have limited seats and we all know such opportunities don't strike twice!