It is good to Be Good!
We always aim at giving our children only 'the best'. That should hold true in case of our values as well.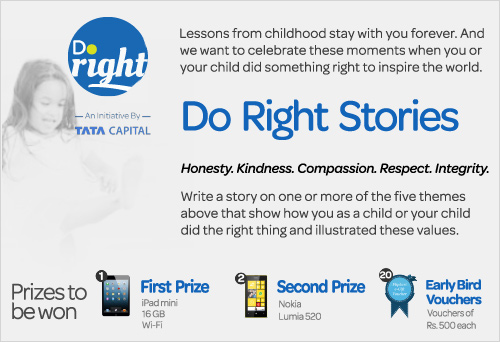 Honesty. Integrity. Kindness. Respect. Compassion.
All these words are very strong and meaningful. It is time to spread and celebrate these values and show the world how to do right.
Lessons from childhood stay with us forever. Tata Capital is creating a book on everything 'right' for the children of India.
Write a story on one or more of the five themes above that show how you as a child or your child did the right thing and illustrated these values. Your stories will be featured on the website of Do Right Stories.
If your story is absolutely heart warming and inspiring, it might just make it to the book.
We have a range of exciting prizes to be given out for the best entries that come in.
The first prize – iPad mini 16 gb Wi-Fi
The second prize – Nokia Lumia 520
20 Early Bird Vouchers from Flipkart
I am sharing my Do RIght Stories at BlogAdda.com in association with Tata Capital.
DO WRITE this time!
Start Blogging and send us your entries NOW! The last day for this activity is Aug. 18, '2013.