"To travel is to live." – Hans Christian Andersen
Travelling is an activity that gives everyone immense pleasure. It is an experience in its own!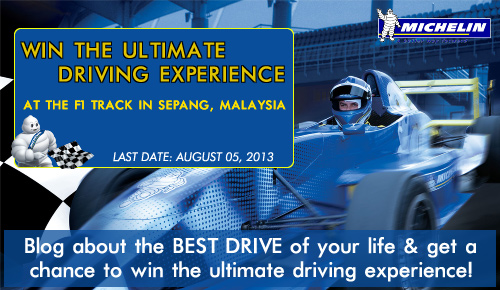 Touring a destination is fun undoubtedly, but reaching that unknown destination, the whole journey, has its set of awesomeness as well.
There must have been a million times when on a trip you said to yourself, 'This is the best trip of my life'! 
We are going to make things a little tough for you now. Get down the memory lane and Blog about that one 'best drive of your life' in less than 500 words.
Why was it the most fun drive ever? What crazy things did you do during that journey? Where was this impeccable journey? Was it planned or was it impromptu? Friends, family or  strangers? Those fun moments are exactly what we're looking for! Attach some of the memories you have that drive as well (1-10 pictures).
Include this code below in your blog post.
A chance to win a trip to Michelin Pilot Experience at BlogAdda.com
Once you blog about it, click on the Michelin Facebook Page to submit your entry.
Hold your breath, because this prize is surely going to blow your mind! Your entry will be a part of the pool of the entries received by Michelin India. Winners will be selected from the same.
Two lucky winners will be selected by the jury who will get tickets to the Michelin Pilot Experience at Sepang International Circuit, Malaysia!
First 50 bloggers to complete the process with valid entries will get early bird vouchers! Do email us after you blog and submit your link to be accounted amongst the first 50 bloggers.
Please read the Terms and Conditions.