As of today, it's going to be a little different at your Adda. We're honouring those soldiers who stand by women each day. It could be anyone. A tattoo artist, gym instructor, mechanic, hairdresser, friend or even a co-worker.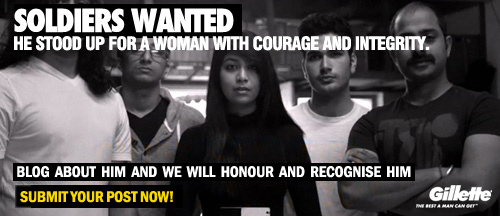 We want to know all about the soldiers in your life. Being there for women is honourable. It is only when we respect women that we will respect our nation.
Tell us about the Men who have stood up for Women with courage and integrity. Blog about them and let the blogosphere salute and recognize their efforts.
Kindly include this code:
This post is a part of #Soldierforwomen in association with BlogAdda.com
We are happy to inform you that 100 stories from #soldierforwomen will get published in an special e-book. Not only that, we have more:
If your post has been featured in any of our weekly picks
If you are a Notable Newbie
If you are one of our Premium Bloggers
You will have an edge on when we shortlist the stories. 🙂
Out of the 100 stories, 10 best stories will be selected from Notable Newbies, 20 best stories from bloggers who have been featured in our weekly picks and 5 best stories from our Premium Bloggers. Sounds exciting?
Not only that, Get an assured appreciation voucher of Rs. 200 for every story you share alongwith a t-shirt, certificate and blade of honour!
Share his honourable story and let the world discover the soldier in him.
We're all soldiers.

Last date for submitting your posts is April, 22nd, 2013.