'Be a woman of substance. Be a real woman. It is difficult to break down a real woman because she will learn from her mistakes, gather her strength from her struggle and overcome the obstacles courageously.' – Unknown.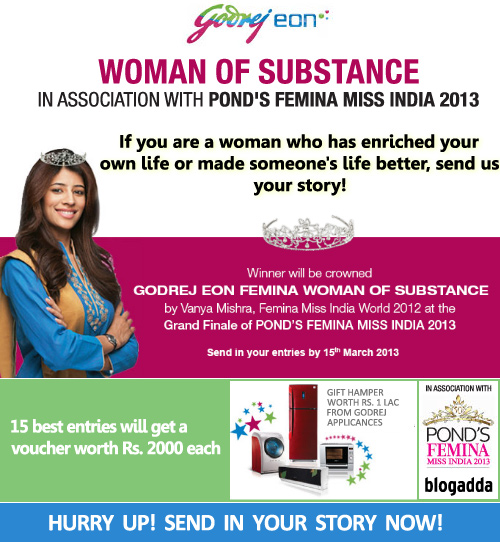 A woman is at her best when she portrays her actual self. Sensitive yet strong to support her family in tough times, lenient yet strict to her children, soft spoken yet harsh to defend her family.  A woman of substance is special. Her sincere care can rejuvenate the old parents, her warmth can make a child forget the worst pain, and her constant support and love can turn her husband's every effort into a significant step. God has bestowed her a secret power to enrich the life of everyone around her.
On the occasion of Women's day, we have something special for you as always.
If you are a woman who has enriched your own life or made someone's life better, send in your story!
15 best entries will be selected and will win vouchers worth Rs 2000 each. Also, the entries will be a part of the pool of other entries, where the best ones will have an opportunity to be crowned by Vanya Mishra, Femina Miss India World 2012, and could win a gift hamper worth Rs. 1 Lac from Godrej Eon. Kindly refer to the terms and conditions on this page.
What are you waiting for?

The last date for this contest is March 15, 2013. 
Note: You do not need to blog about it, just submit your story on this page. Kindly ensure you write 'BlogAdda.com' on the form where it asks you 'Where did you come across the contest?'.