"Gran follows recipes by looking at picture—to the eye, delicious; to the tongue, boiled socks. Makes you wanna cry really." ― Simon Cheshire, Plastic Fantastic. Another new week and another new contest.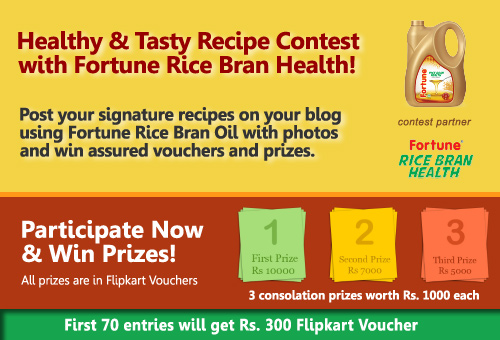 You don't always have to choose between good taste and health. Not any more! Fortune Rice Bran Health oil makes your signature recipes healthier and tastier.
The next two weeks are going to be awesome in terms of amazing dishes being cooked. Why?
Presenting to you a brand new contest in association with 'Fortune Rice Bran Health'.
Post your signature recipes on your blog using Fortune Rice Bran Oil with photos and win assured vouchers and prizes.
Is that all? Yes. It is that simple. Also kindly include the code which you can copy from below in the post:
This post is a part of Healthy & Tasty Recipe Contest with Fortune Rice Bran Health Oil & BlogAdda.com
Prizes to be won!
First Prize – Rs 10000
Second Prize – Rs 7000
Third Prize – Rs 5000
3 consolation prizes worth Rs 1000
First 70 entries will get vouchers Rs 300
All the prizes are Flipkart vouchers!
Let us start cooking!
The last date for this contest is March 18th 2013.