The Entrepreneurship Summit (E-Summit) to be held on 2nd-3rd February 2013 is the annual flagship event of The Entrepreneurship Cell, IIT Bombay, where corporates, investors, young budding entrepreneurs, start-ups and academicians come together to celebrate the spirit of entrepreneurship.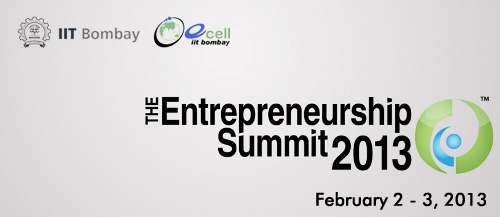 With a theme of "Pioneering the Future" , E-Summit strives to be a platform where the latest trends in the entrepreneurial ecosystem are showcased.
Register now! at  http://ecell.in/esummit/
Events at E-Summit 2013:
Speaker Sessions & Panel Discussions featuring eminent speakers such as:
Adil Zainulbhai (Chairman-India, McKinsey & Company)
Devdutt Pattanaik (Chief Belief Officer, Future Group; Author, Business & Mythology)
Fraser Doherty (CEO, SuperJam, Scotland, entrepreneur since 14 years of age)
Nishith Desai ( Founder of law firm, Nishith Desai Associates; ranked 28 in the Global Top 50 by UK based journal Tax Business)
Sabirul Islam ( Founder of Inspire1Million Campaign, UK; entrepreneur since 14 years of age)
International Workshop Series:
Jim Beach (Founder, School for Startups, USA)
Joe Abraham ( Founder of BOSI DNA, Chicago)
Ronen Gafni (Creator and Founder of FreshBiz, Gamification expert)
Manoj Sharma (CEO of DifferWorld Pvt. Ltd., Singapore)
Start-up Expo: E-Summit gives a platform to the most promising startups of India to display their products and services.
Business mentoring hub is a platform where experts from various sectors plug the holes in existing plans and strategies. If you have a plan you want to validate, business mentoring hub is for you.
iWeekend is a 50-hour inspiring and innovative experience that aims to bring together budding entrepreneurs and professionals to present ideas and develop business plans.
E-Summit promises to provide knowledge and inspiration to start-up and a lot more.
Dates – 2nd-3rd February, 2013
Venue : IIT Bombay campus
Register now! at  http://ecell.in/esummit/