We are happy to announce an exclusive product review in association with Tata Motors for its latest offering – The Vista D90 exclusively for Indian Bloggers.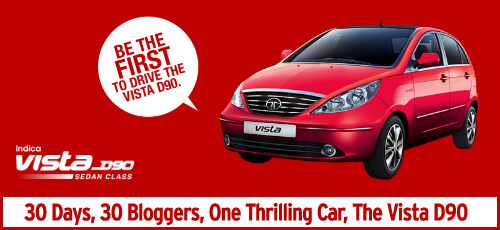 The new car which will have best-in-class features is sure to take the industry by storm. This car, is specifically designed for a certain kind of driver, one who is independent, has an opinion, is stylish, ambitious and wants more out of life. In other words the Vista D90 is designed for people like you.
The Vista D90 boasts of a 90 PS Quadrajet Diesel Engine. A few new features that the car will come packed with are:
Touchscreen Multimedia Navigation System
Fully Automatic Temperature Control
Driver Information System
Follow-me home Headlamps
Electric ORVM
Only a few chosen ones will be given an opportunity to experience the car before its official launch. This is a very novel & an exciting programme which will encompass 3 days for each blogger. As a part of the programme, each blogger will be given a chance to experience the new Vista D90 for a period of 3 days. During these 3 days, each blogger is required to share their moments of driving the car in the form of tweets, images/posts on facebook & a post on the blog as well. Once you have done reviewing, you will be entitled to receive a gift vouchers worth Rs 2500. The opportunity is available only to bloggers in Mumbai, Delhi, Bangalore, Chennai and Hyderabad.