An evening to remember awaits you, where your better half will know your worth.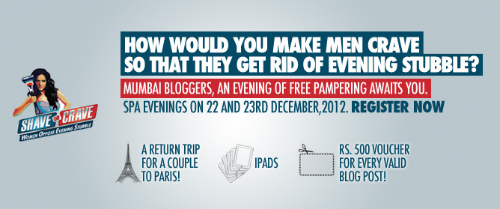 Indulge your senses in an Exotic Thai Foot Massage at Sukho Thai Spa for Free!
Take a break from your routine and unwind in an air of peace and tranquillity. Enjoy a relaxing massage for those tired feet, head, back & shoulder massage relieving you of all the stress.
And after the masseuses work their magic on your feet, all you need to do in sink into your seat and blog.
That's right! Rejuvenate with fellow bloggers and blog from the spa about 'How to make men crave so that they get rid of their evening stubble?'
We will provide the laptops. We will provide the pampering. And we promise that you won't go home empty handed.
Where & When

…
Dec.22, 2012 –
4 – 5 pm
5 – 6 pm
6 – 7 pm

Dec.23, 2012 –
4 – 5 pm
5 – 6 pm
6 – 7 pm  

7 Bunglows,
Yari Road,
Andheri (W), Tel. 02226399263
Register now as there are just 50 seats left.

P.S. Even after this, you're still eligible to iPads and a Paris Trip for a couple!
And you still get an assured voucher worth Rs.500!