He: What are your plans for the evening dear?
She: Plan to surprise me?
He: Voltaire had said that 'The husband who decides to surprise his wife is often very much surprised himself'. 🙂
She: This response was not a surprise. 🙂
Read on to know what happens in the evening.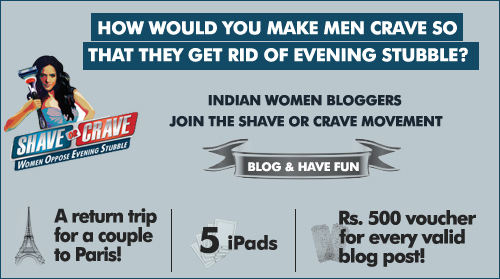 He: You are looking gorgeous tonight. Even the moon is hiding.
She: Thank you! But why have you kept a stubble? 🙂
At your adda, we have something  BIG for you. Women bloggers, its time to pamper yourself and feel awesome about it. You have done enough to impress the men. Its time they win your attention now.
Blog about 'How you would make men crave so that they get rid of their evening stubble'.
You can be at your witty best or take this as a chance to pass on the sly message to him. 🙂 Now here are the additional not-to-be-missed reasons which make will start blogging right away.
Prizes:
A return trip to Paris for a couple.
5 iPads.
A voucher worth Rs 500 for every valid blog post
So what are you waiting for? Paris is calling and iPads are waiting to be touched by your fingers. 🙂 Not to forget EVERY valid post will get a voucher worth Rs 500. 🙂
Include this code to make the post eligible.
This post is a part of the 'Shave or Crave' movement in association with BlogAdda.com
Is this the biggest bonanza for Indian Bloggers? Yes! Become a part of this. Submit your entries in the comments below.
The last date for this contest is Jan. 07, 2013.
---