For many of us, kitchen is a very special place. It is our lab where we experiment with various ingredients and create our own recipes. Today at your adda, as always we have someone really special. Her kitchen is known for the eclectic vegetarian healthy recipes, that she passionately cooks, photographs and write. She aims to bridge the gap between gourmet food products and enthusiatic foodies who are looking to products effectively to create exotic food. She is a blogger, food writer, an author, a food stylist, photographer and consultant. It is a pleasure to invite Archana Doshi of Archana's Kitchen to your Adda for this yummylicious interview. Get, set, read!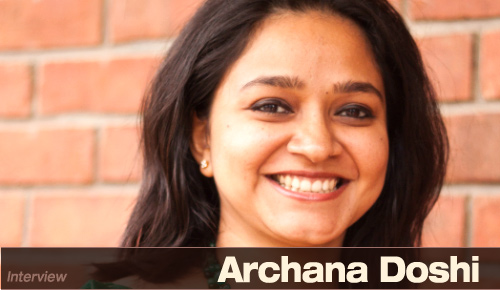 Q: When and why did you start blogging?
Spending most of my growing up years in Coimbatore offered little exposure to cuisines around the world. But for a family who loves to eat and cook, including my father who would cook up fabulous Sunday lunches once in a while planted the seed of good food and healthy eating habits in me.
My mother was especially fond of cooking and experimenting with a variety of cuisines from around the world. She collected a zillion recipe clippings and never failed to try them all. She would cook with so much love to a food addicted family like ours while ensuring they were packed with nutrition. My mother did not stop there. Me and my brother had compulsory days of cooking and working in the kitchen.
With a formal training from my mother which involved years of compulsory cooking and learning healthy cooking and eating habits has made me what I am today. My baking days started when I was nine years old and then it moved on to chopping vegetables and then cooking basic food.
Life moved on and eventually I moved on to many cities and countries. My repertoire on variety of cuisines, cooking skills and smell for secret ingredients grew and it continues to grow even now. Work life stopped and motherhood began, which started giving me time to idle away.
This idle time gave me a brilliant idea to start writing a recipe book. As these thoughts were evolving, Blog Cooking had started taking over books and recipes were all over the Internet, which is when I decided to join the world of bloggers.
Ever since I started the website, Archana's Kitchen, I have been trying to perfect my recipes every time I cook. My kitchen became a "test kitchen" and this began showing in my recipes as well. Each time I cooked, I wrote, and again when I cooked I re-wrote the recipe. So every single time I cooked, I would make a change of ingredient to the recipe and viola another recipe came out of it!
Q: What topics do you generally blog about?
I blog about food at Archana's Kitchen and when I get into a parenting dilemma I blog about my philosophies about parenting in my parenting blog – Archana's Journal.
Q: Do you ever get stuck when writing an entry? What do you do then?
Never. But, I write when I am along, kids in school, or early mornings or late nights when everyone is asleep. I need quiet environment to write.
Q: Do you promote your blog? What promotional techniques work best for you and why?
Being online on the web and working from home is the best thing that could have happened to me. It's been 4 years now since I started Archana's Kitchen and I have come a long way. It was made now into a full time working mother, from home, on the web on my fingers all the time. I cook, I type, I photograph, I video, I design menus and I share not just for my website but for many aspiring cafes and brands.
Being online and active on social media, has helped me understand the requirement of my clients, what they want to see, eat, cook and learn. With successfully operating Archana's Kitchen with over 190000 plus visitors on my website, has opened opportunities like Food Consultancy, helping brands with product placements, conducting online video training sessions for clients and my fans from around the world, writing about food for major publications. And I see more coming on my way. It feels working from home and using the vastness of the web has given me a zillion opportunities and has helped me take my passion forward.
Q. A Food Writer, an Author, Food Consultant, Food Photographer and a Culinary Trainer: The list just goes on and on. Which one of these would you love to be known as?
A lover of life, health and food!
Q. One of your goals is to set up a high end cooking and yoga studio for the food enthusiasts to do a host of activities. An interesting concept indeed. Can you tell us more about it? Also, when can we host a workshop there? 😉
A health food studio is a distant dream. I will have to wait until my children are old enough to take care of themselves without my presence, which is when I can get myself into doing something I love – Yoga and Health Food.
I have been practicing yoga ever since I was a child. While living in the US, I became a certified yoga teacher to began teaching in the yoga studios in Boston. I believe that teaching enhances the internal practice. I loved teaching. When I moved back to India, I continued to teach yoga at the apartments I lived it and it could not have been better.
In the meanwhile Archana's Kitchen began to grow and I needed to give it more time. I had to choose between teaching yoga and managing my kitchen and I chose the latter.
This does not stop my yoga practice; I have a dedicated time of the day for my practice. Yoga to me is like brushing my teeth. My day can't pass without a practice session of yoga. Having said the above, I notice today's generation is trying to be fit by going to gyms, pilates, kick boxing and the like, but lack discipline in their life style. I believe that with a little discipline, we can lead a far healthier life with fewer illnesses.
Yoga has many principles that I believe that the first two are very important Yama and Niyama – Ethical conduct and a daily living discipline. I adopt this discipline and teach my children to do so as well. The rest will fall in place with good reading, education and practice.
And in my kitchen, week after week, I think of how best I can incorporate super healthy foods in the diet of my family. Making sure, a share of proteins, minerals, vitamins and carbohydrates go into the diet.
Combining food and yoga is something that comes to me naturally. Teaching, serving health food and at the same time teaching yoga are all those things I want in a studio that I dream. The two for me seem inseparable and spreading this knowledge is what I love doing.
Q. When and how did you build up interest for cooking? Share with us your first cooking experience.
I entered the kitchen at the age of 8, helping my mother clean and cream the butter. It was compulsory for me and brother to work in the kitchen and do other household work. And we never cribbed; we enjoyed all the work that mother gave us. It made us feeling responsible and mature.
This habit continued when I left home. When I moved across cities in India and US, I began growing into those cultures. I started to cook local and regional food to that city and friends I interacted with. I became part of many food clubs and this interest to learn has not stopped ever since.
Q. 'Thinking back on my childhood, I grew up well and I am now happy and satisfied, but those desires of that extra learning I wanted to do, still lingers on, but now time does not permit me, as its my children's turn to learn that extra!' How different was your childhood than the one your kids are experiencing today? What kind of values would you like your kids to follow?
During my childhood, I had limited rather almost no exposure to toys and gadgets. My entertainment was to play tennis (I used to be called the Steffi Graff at my courts). This stopped as I was pressured with academics and I had to choose between the two. And but of course it had to be academics and I stopped Tennis completely. I wish I had not.
But today, my children are exposed to so many toys and gadgets, sports and music. I believe that a balance of all is required to survive and be happy in this competitive world. Stopping one or all extra activities due to a stress of academics is not a solution to performing well. A lesson I have learnt from my childhood.
Right now the value that I try to teach my children is to work hard. If my boys have chosen to take part in a race or competition because they wanted to (I always try to let them choose), then I will be with them and help them work hard. Results are secondary, hard work is primary.
As I believe and also tell them, that nothing but hard work will keep you satisfied and happy. Being passionate, with hard work and persistence will help you achieve what you want.
Q. You have specialized in different cuisines of India. Each cuisine has its own distinct flavor and uniqueness. Which is your favorite and why?
Having grown into a south Indian, tam bram home I could be partial to that food. To some extent yes, but I have favorites that I love to have with each passing season. Come monsoon, I love to have street foods like vada pav's and khowsuey. Again, this changes with every week of the monsoons. I believe in cooking according to moods and seasons and this is something my children have learnt very quickly.
They would tell me. "Mummmy today is a day for some warm delicious soup". I love to hear their hearts and make it too.
Q. Sharing your culinary skills with everyone through Google+ Hangout is indeed a brilliant idea. How did you come up this unique concept? How is the feedback? What are your future plans on this?
Archana's Kitchen reaches people globally and I have fans from around the world who want to learn from me. The response to learn online learning has been great. I am so overwhelmed and excited that people from Udaipur to Tokyo want to learn how to cook food through the internet with me. When Google released the hangouts, I joined a few of their hangout sessions and got this brilliant idea to use this for my training sessions.
Being a firm believer that learning through technology and internet is the future, I jumped into this. I had some initial hurdles of researching the type of camera I would use so that my whole kitchen could captured. Very soon I discovered the HD web camera and was on my way to teaching through the internet.
Future? I will continue to teach through the internet and YouTube videos as that's where the future is.
Q. We discovered that Photography is one of your hobbies. How often do you indulge in photography and what do you like capturing the most in your lens?
Food Photography is something I do almost every day. I have a mini studio with lights, grids, soft box, snoots that help me with my food shoots.
I love capturing people, children, nature and wildlife. As a family we love going to jungle resorts and historical sites. Yes all four of us love sightseeing (as we call in India) and capturing the beauty of every place we visit. The infection of photography has caught on to my children. They seem to be more interested in holding my dslr to capture wild life and more. They are just 6.5 and 8 years old.
Q. 'Each parent has a different philosophy or parenting and how to bring up their child.' you said this in one of posts. Share with us your parenting philosophy.
I don't personally have any parenting philosophy. I believe we as humans, as parents, as children learn with every stage in our lives. I believe in experiential learning, some religious philosophy and retrospection to be a better person and a better parent. At all times, happiness and contentment is what I look into, this without putting any undue stress on children and myself.
Q. What kind of services do you provide as a Food Consultant?
As a Food Consultant, I
Work with cafes and catering services to help design their menu's with detailed recipes and online culinary training.
Provide consultancy with new product development for retail markets.
Work with food companies for product placements, through classes, videos, recipes and advertisements on my website.
Q. Both your parents enjoy cooking. Whom would you rate as a better cook: Mom or Dad? 😛 Is your husband equally a foodie and loves cooking too?
Well, I love both my parents cooking. My dad's favorite dish was making vengayam sambar with potato roast. Who would not love that?
My husband is a need based cook. While I was studying at Harvard Extension School and I when I returned home at late night after my classes; our dinners were extra special. A well researched food from the internet. His best was Mexican Veg Quesadillas that I learn how to make from him.
When I am sick, he is in the kitchen looking into Archana's Kitchen and whipping up some rajma chawal or making ragi oatmeal dosas for the kids.
Q. Fancy looking dishes attract kids the most and today serving variety to kiddies in their lunch boxes is a real task for parents. It would be great if you share with us two such recipes; easy to cook and kids will thoroughly enjoy.
I am in the process of creating a better access page for this topic. Here are some of the recipes for lunch and snack box ideas for children going to school – Kids Box Ideas.
Q: How important is it for the blogger to interact with their readers? Do you respond to all the comments that you receive?
That is something I look forward to each day, with the website now so large, I do find it difficult to reply to every single comment, but definitely reply to all pondering cooking questions and doubts. And that is what makes people trust that I am around and want to come back for more recipes.
Q: What do you find to be the most gratifying aspect of blogging?
First I just love what I do, cook and photograph. And when people around the world try what I write and say they loved it and impressed their family and friends-I love it and look forward to feeding more such lives through my recipes.
Q: How, in general, would you rate the quality of Indian blogs? Share your favourite five blogs.
I did a lot of blog hopping in the first couple of months on starting my blog and after that I have not been hopping. The ones I love now are Rang Decor by Archana Srinivas and Rajee Sood by Rajee Sood. These two women make me get working on the design side of home that I don't have time to focus on.
And when I want some humor into life, I love visiting Jane's Blog Daily A-Musings
I love the way Preeti Somani writes Everyday Gyaan (albeit..in perpetual beta). Her English, her style and perception all the kind of way I like to think.
And technology by Labnol
Q: What is your advice to someone who wants to start a blog?
Don't look around, just write your mind. Blogging is all about writing passionately. Be super passionate about whatever you write and do and things will follow.
Q: Do you earn revenue through your blog? How does one go about it?
Sure and Ofcourse! I always wanted to make money on the Wall Street. When I discovered that there was an internet street, I thought why not; and this earning doing what I love.
My revenues from the blog are through advertisements at the website and YouTube. One can earn revenues through blogs by subscribing through adwords by google and also through product placement ads that specific companies request you to.
There is a whole lot of work that goes into increasing revenues and a separate topics in itself; so I rather not get into it here .
Q: According to you, what is the future of Blogging?
Blogging has now revolutionized and opened the way companies and products look at understand their consumers and how the consumers love their products. Based on what type of blogging one does, it can help oneself and many make a living either through market intelligence or revenues.
Q: Let's conclude off with a few favorites.
Color: Yellow
Movie: Matrix
TV Show: Food Network
Book: Ignited minds is a book written by scientist-patriot Dr. A P J Abdul Kalam
Time of Day: Early Morning
Your Zodiac Sign: Gemini and Taurus
Friends, before you get ready to cook this evening, share with your feedback and your comments. Also do not forget to get connected with Archana. Thank you Archana for this wonderful interview. Enjoyed it thoroughly 🙂