Dilliwaalon, know what have we been humming since morning? Ah well it goes something like this –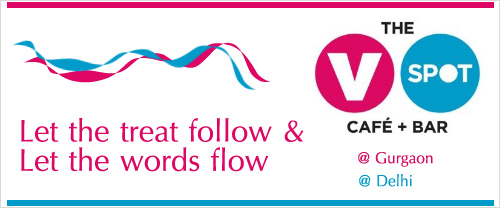 Taste it, touch it, feel it.
Bite it, tickle it, tease it.
Wear it, share it, flaunt it.
V give you more than a lot.
Just hit the right spot.
Yes you got it right; we are talking about the most awesome hangout in town the V Spot Cafe Bar – a Channel V initiative, at Delhi and Gurgaon. Situated at the heart of the city,  awesome food and beverages, board games, engagement activities, this hangout has already taken the city by the storm and won a lot of hearts.
V Spot Cafe Bar believes that hang-out with friends should be fun from all angles, be it food, ambience, music and even in house activities (they have Xboxes and Video Booths too!). Trust us when we say that, this is a place where 'Food meets Fun'. While majority of the chilling joints in the city lay a lot of emphasis on food and drinks, they usually lack the fun factor, which we so look forward to while hanging out with friends. Spot Cafe Bar steps in here, to fill that void and make sure that every visit of yours is memorable for reasons more than one.
Sounds exciting, right? Yes, we agree and thus we at BlogAdda, have teamed up with them to woo the wonderful bloggers of Delhi and NCR. If you love blogging about food, lifestyle and good living then this is a place you must attend. What better, we give you the opportunity to be our guests and enjoy the food, ambience and fun activities!
To avail this incredible opportunity, you have to sign up for the review program here at BlogAdda.
Once you are selected, we shall send across a couple voucher of V Spot Cafe Bar worth Rs 2000, and you need to avail that to enjoy the F&B, ambience, service and more and then come back and let the world know about the good time you had there, through a blog post on your blog.
Sounds simple right? Well trust us, it is gastronomically enriching and filled with the promise of fun too.
So what are you waiting for? Rush and register to review this experience.
THE V SPOT CAFE + BAR – Gurgaon
3rd Floor, Cross Point Mall,
Opposite Galleria Market, DLF Phase IV,
Gurgaon, Haryana.
Tel: +91-9560814399, +91-0124-4033885, 088-00-222158
THE V SPOT CAFE + BAR – New Delhi
G-02, Salcon Ras Vilas
District Centre, Saket,
New Delhi – 110017.
Tel: +91-11-40765588, +91-11-41665588,
+91-9560814399, 088-00-222158