A book set  in the pre-independence era, 'Barnabas' is a suspense-thriller by Sangeeta Nambiar. We present to you a short conversation with this talented author where she talks about her book, her hobbies and many other interesting things. Get ready to  know more about this personality by reading the post. 🙂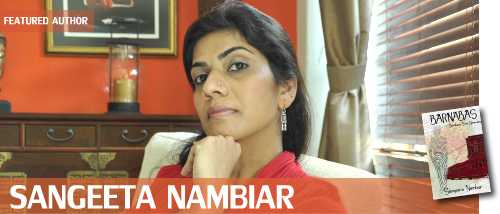 Q: Tell us something about your book and what should readers expect from it.
A: The book, set against the Indian freedom struggle, is basically about Bombay's first private detective who, despite being an Indian, manages to solve the mystery surrounding an English woman's death.
Q: Who/ What is that person/instance in your life without whom/ which this book wouldn't have happened?
A: This book is my salute to Agatha Christie.
Q: If you are told that you are to live the life of one character from your book, who would it be and why?
A: I'd want to be Rose. The evil machinations of her mind. It's something I'd enjoy exploring for a bit.
Q: The advent of vigorous social networking sites has made everyone desperate to create an identity for themselves. Being an author, what does Social Networking mean to you?
A; Nothing. I realise it's vital to be 'out there' peddling your wares vigorously. But, I wrote the book because I wanted to write, to explore, to take that first baby step towards writing for films. I'm a bad social networker.
Q: What do you like to indulge in when you're not writing?
A: I'm a theatre and film director. My first film 'A Gran Plan', starring Farida Jalal & Oliver Kennett is currently doing the film festival rounds. Nothing gives me more pleasure than directing- whether film or stage.