One of our bloggers travelled to the mountains of Doda- Kashmir, a bunch of localites mentioned a school name 'Haji Public School';  which also happens to be the place where most of the kids there study. Out of curiosity, we decided to know more about this place. Amazed as we were, the school in the mountains was unique in its own way. 'Innocence is blissful'. Indeed, the school kids were full of joy and energy. We  got a chance to interview the young face handling most of the activities of the school- Sabbah Haji. She seemed vibrant, enthusiastic in sharing her insights about the school, the villagers  and other things related to India and Pakistan. We are obliged to get her to your adda so that you too get an opportunity to interact with this awesome personality. Without wasting any time, let us get started with the questions. So, stay tuned to witness some real intelligent answers!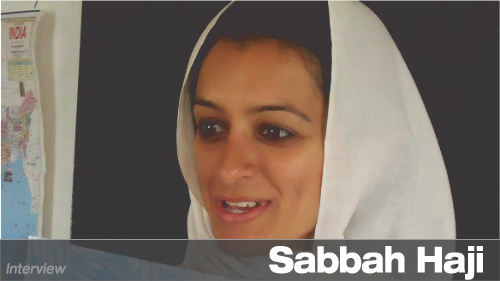 Q. When and why did you start blogging?
A: I believe, I started blogging back in 2004-05, just because my friends told me about this new thing and I fancied myself as a writer. Shameful, I know.
Q. What topics do you generally blog about?
A: Anything that interests me. That could be current affairs, movies, music, a lot of sports, but increasingly about Kashmir, my school and village and things closer home.
Q. Do you ever get stuck while writing an entry? If yes, what do you do then?
A: I leave the draft lying around till I feel I can work on it again. Not like I have deadlines to meet or anything.
Q. Amina Trust Foundation is a family-run philanthropic trust. Tell us in detail what kind of initiatives the trust has been taking up? Is the capital for managing the trust generated mainly through funds and charities?
A: Amina Trust is our family trust that was set up in 2005 in the name of my late grandmother, Begum Amina Haji. It was started by my uncle Nasir Haji [a Singapore based businessman] as a pooling of the substantial zakaat [obligatory Islamic charity] that our family would generate. The main idea was to put what money we had to good use back in the place we came from, our roots, which in this case is Doda in Jammu and Kashmir.
The Trust mainly provides financial aid for widows and orphans, scholarships for deserving students from poor families, medical assistance as needed and general financial assistance for extremely poor families or persons.
Q. Haji Public School was established in 2009 as not-for-profit setup. What encouraged Amina Trust Foundation to start a school in the mountains of Doda, in Jammu and Kashmir? How supportive were the local people in setting up the school? Can you tell us more about the school?
A: We set up Haji Public School in Breswana, our ancestral village up in the mountains of Doda district. This is where my father's family is from. To us, it is home. So, we wanted to start from there and give back to where we came from; to our people.
The 'local people' are basically all our extended family and generations of them going back to the start of the village, which was established by my great grandfather. The school has great support among all the village and especially among those families whose children are with us, because they are actually learning [and learning well] well for a change. Everything – from construction to materials and maintenance and upkeep of the schools is managed with the help of the villagers themselves.
Q. You grew up in Dubai, then you did your schooling and college in Bangalore. Professionally, you worked with various organizations as a Staff Accountant, Team Lead, Content Writer, and Managing Director before focusing completely on school. How did the shift from a illustrative corporate employee to teaching school students take place? Which job do you find more interesting: office work or teaching? 🙂
A: I moved back to Jammu and Kashmir in 2008, when the Amarnath riots and the resultant ugliness broke out. My parents were already back in Doda, and I decided enough of the city life. I had the trust to go back to and moved back to help the family with that. The school happened shortly after.
I had a very interesting career when working in the city, I enjoyed it. But, working with the school is infinitely more satisfying and meaningful. No questions about it.
Q. You promote Haji Public School through Facebook and you personally are very active on Twitter. We also discovered two blogs Definite Reacher and That School in the Village that updates daily happenings about the school. Tell us more about these blogs. Has the social media helped in getting your school funds and donations? Share few tips about how social media can be beneficial for such non-profitable schools.
A: Social media and the internet has been huge in terms of getting the school where it is today. If you look at the location of the school, at the terrain and the infrastructure of the place we are at, there would be no way anyone except those of us involved in it could know about what we do. But, because of Haji Public School's website, its FB page, constant updates on Twitter, various blogs and other social media, we now have an imprint on the web. We are easily searchable, we've been noticed by news organisations, we've been featured on credible news channels and sites. All of this helps build a good reputation; it helps spread the word out to an increasingly connected and shrinking world. We would never have been able to sustain a smooth teaching volunteer programme unless we had used social media to talk about and show the world our little school in the mountains.
In terms of funding and donations to the school, no, not so much. A few friends and even strangers have contributed generously but the money is mostly coming in from Mr Nasir Haji. We have had a lot of people sending books, materials, equipment and good wishes to the school. Our library is almost entirely made up of books donated by strangers across the world; we've had computers and projectors sent to us. It's quite overwhelming this kindness of strangers, and it has all been possible through social media and the internet.
Q. A lot has been spoken about the present education pattern in our country. Share with us things you like about our education system and also tell us three things that you wish to change about the system.
A: I can't make sweeping statements about the education system being 'good' or 'bad' as a whole.
What is admirable about the schooling and learning system here is more in terms of values and mindset. The teacher-student dynamics, the discipline of classrooms, basic respectful behaviour and inbuilt cultural values – these are all things I give a tick mark to.
What I would change:
I feel school and college really needs to be geared to make students more practical, using reasoning, thinking and application from what they learn. We are still a very theory-heavy system and even after a degree from a very good college you will find students know absolutely nothing about working in the real world. Sports and extra-curriculars are treated so badly. Makes me sad. In terms of policing education, I don't understand the blanket rule of 'no student can be failed till so-and-so Grade'. This makes no sense to me as a teacher, it is of no use to the students and I really want to understand what the logic of this rule could be. These and other strange, incomprehensible government rules have to be thrown out of the system as it exists.
Most students study in Government schools and it is no secret what an extremely horrifying state these are in, at least in more remote parts of the region. No checks, no punitive measures for non-performing staff/teachers/administration. There are generations of kids who are just not being taught and the Government is doing nothing about it. Step in and FIX THE PROBLEM.
Q. 'This sort of an 'encounter' would be over in half a day here in Kashmir. Hostages/civilians be damned. Blow up the damn block if you must. But it's easier to just set the building on fire, if you ask me. Okay, let's do that'. You said this in your blog post on the 26/11 terror attacks in Mumbai in 2008. Four years later, do you feel that the condition in Kashmir is still the same or has it changed now?
A: Of course, the overall situation has changed now. The armed uprising, which was a popular movement in the early nineties, has died a natural death. The people know that in this day and age, it is not the way to go about gaining political change. Having said that, what hasn't changed is the attitude of most of the people in terms of the 'Kashmir movement'. Azadi is still a strong sentiment, and 2010 and its horror brought that up front and centre. The State and security apparatus hasn't changed its attitude in dealing with popular protests and discord. If tomorrow there is a suspected terrorist holed up inside someone's home in a city neighbourhood, it will probably be set on fire just as it would have a decade or two ago.
Unfortunately, anything can happen in Kashmir at any time. Still.
Q. You consider your family as a supreme support system. What are the difficulties that you usually face while running a school in such areas? How does your family help you overcome them?
A: The usual bureaucratic headaches and roadblocks. Documentation getting stalled at the Government level, some low-ranking clerks wanting to make a buck out of normal procedures. Unexplained delays. The system. Other than that, getting materials up to the village is a big deal. We have no motorable roads all the way up to our mountain. Physically transporting all the materials for the school, provisions for our resident volunteers, maintenance of electricity and other day to day issues can also be a problem. My father is the Sarpanch of the village, he knows all the people, he knows how to get things done with the people's help. The Trust has family members who work around Government hiccups. My mother smooths things out with school administration plus it's a relief having her look over the volunteers and the home. My uncle in Singapore helps with his clout and funding. Everything eventually works out, but it wouldn't  be without the support system that my entire family is.
Q. 'I may not have respected her politics, but I did admire her as a woman and for being able to carry off the 'female leader in Pakistan' tag with such aplomb'. You said this in your post after Benazir Bhutto's assassination in December 2007. It would be great if you share your views on the differences in ideologies of Indian and Pakistani politics.
A: This is a huge question; again not one that can be answered just like that. I think of all politics as scum. There is no real difference in people of this or that country, even more so in countries so similar as India and Pakistan. Yes, there is more diversity in India, yes it SEEMS as if Pakistan is heading down in a terrible tailspin of self destruction, but I lay all the blame on the leaders of both [and all] countries. If people at the helm want to change the system, are well-meaning and sincere about doing good, they CAN do it. As things stand, the politics of India, Pakistan and what-have-you is the same and it is very simple: 'Get what you can out of it while you're in power. Keep stirring things up. Don't reconcile.' The rest of the things as they happen are part of that way of thinking. I am cynical about both countries, I am especially worried about the people in power in Pakistan and the crazies gaining footholds even in India.
Q. 'I don't think of myself as an Indian. Or a Pakistani'. Do you stand by your comments that you made two years back even today? Can you tell us more?
A: Yes. I really don't like the idea of countries and all the divisiveness and politics this brings. As things stand though, the whole Kashmir thing is a result of India and Pakistan. Bhai, chhor dijiye humein. Pehlay theek thhe, aagey bhi rahengey. The dog-and-he-bone-game around Kashmir is distasteful and more.
I, and many Kashmiris, blame both India and Pakistan for what has happened to us. We are not idiots. We see exactly what went down back then, and what is happening even now. Pakistan is not the noble supporter of the downtrodden and abused Kashmiri it purports itself to be, India is not the saviour and flagbearer of democracy and secularism it seems to want to prove through its stanglehold on Kashmir. Most importantly, we don't [most of us] need to identify or fall in line with either side. Why must we?
Q. Do you promote your blog? What promotional techniques work best for you and why?
A: Not really. I put links up on Twitter or Facebook. That's really it.
Q. How important is it for the blogger to interact with their readers? Do you respond to all the comments that you receive?
A: I think it's very important. As a reader I love commenting on blogs that interest me, and I really appreciate when the writer responds to a comment.
However, with much shame I admit, I do not respond to all comments on the blog. I know, I should. But, I don't. Apologies.
Q. What do you find to be the most gratifying aspect of blogging?
A: It is nice to have a free space to get what you have to say out of your system. Personally, I like that I have been able to play around and change the way I write, or design a post. And of course, knowing that other people are now reading what you churn out makes you a little more responsible and careful in terms of content and quality. I hope.
What is most gratifying? When you've written something, put it out there and someone writes an appreciative or interesting response to it.
Q. What is your advice to someone who wants to start a blog?
A: I am the absolute last person to give advice to someone. LAST. I cannot.
Q. Do you earn revenue through your blog? How does one go about it?
A: Haha. Funny. No, I don't.
Q. According to you, what is the future of Blogging?
A: It's another platform for writing. More and more people are going to be doing this. There's going to be an explosion of information and writing with each passing day. I hope writers start making money out of this, that content on blogs isn't as random and untapped as it is today.
Q: Let's conclude off with a few favorites.
Color: Purple
Movie: Sholay
TV Show: Travel and cooking shows
Book: So many. Really.
Time of Day: Sleepy time
Your Zodiac Sign: Taurus-Gemini
Thank you Sabbah for this wonderful interview. People like you make a difference to this world. Keep the awesome work going and we are here to support you. Friends, what do you think? Let us and Sabbah know. Also in case you are in Delhi, we have this very exciting workshop with Chef Saby happening this Saturday. Register & bring along your friends. Till then Shabba Khair.