The response to the Women's Intimate Health contest was overwhelming. We just loved the way you all shared your opinions and perspectives on whether this issue should remain hushed or it is high time we spoke about it. Your posts were very insightful, engaging and we enjoyed every bit of it. It is time now to announce the five winners. Read on to find out who they are.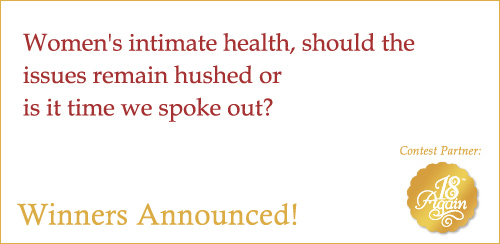 Thank you for  sharing and participating in the contest. Here are the winners picked by the 18Again team.
Manjulika Pramod: Women's intimate health issues: lets get talking!!
Maliny: Healthy you , beautiful you !
Prerna Subramanian: The Conservative India Which Never EXISTED!
Deboshree – When Silence Is Not Golden
Priyanka Dey: Let HER story be written as well!
Congratulations to all the winners! Each one of you have won a 18 again Happy shopping vouchers worth Rs. 2000 from Yebhi.com. Winners, mail your contact details to contact@blogadda.com