If you have been witness to Indian tele drama in the 90's or early 2000's there's a certain scene which we think all families can relate to. A commercial around women hygiene product being aired and instantly the elders leaping up to change the channel. We have been told  time and again that such things should not be discussed in public. "Why?", do you ask? Wish we knew!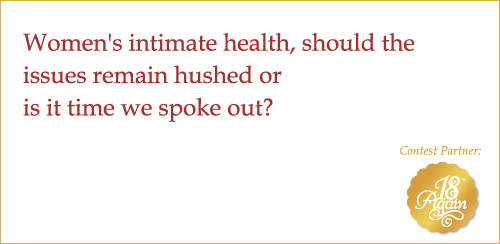 The theories of privacy, respect and societal norms doesn't seem to hold much importance today, when we argue for such hushed tones. In this age of information overdose, we know that knowledge is empowerment and that only by talking, can we be more aware. Still there are topics which a lot of us use encrypted words to refer to in public – women's intimate health is one such topic, we feel.
Around us, the concept of shame has been so deeply attached to discussing certain topics revolving around women health, that it is alarming when statistics point out the drudgery which millions of women around the country face owing to lack of awareness.
Isn't it time we spoke out about these issues? Or are these really sensitive topics which should'nt be discussed in hushed tones and only in the female chambers?
We ask you, our dear bloggers and would love to know your take. Share stories, thoughts, realisations, pour out your emotions, your feelings, and tell us what you feel when you hear this –
"Women's intimate health, should the issues remain hushed or is it time we spoke out?"
You can agree, disagree, debate and do more. So just think of all those times something related had crossed your mind and start writing.
Arthur Schopenhauer  once said "The greatest of follies is to sacrifice health for any other kind of happiness". We cannot help but say "aye"!
Presenting to you, 'Weekend Blogging Contest at BlogAdda'.
5 Bloggers will win gift vouchers worth Rs. 2000 each from Yebhi.com. Kindly copy-paste this code in your post.Last date for submission: August 26, 2012, 11:59 pm.
The contest is now closed. Winners to be announced soon.