I have wanted to be almost everything in the world – a detective, an astronaut, a teacher, a scientist, an architect…a leader…a director, a musician, a painter, a singer, an ornithologist – you name it! To cut a long story short, the only thing I did not want to be was a Doctor! 🙂 But destiny wanted me to be a KM professional. And I love being one! This is how our interviewee introduces herself. A lot of thinking happens inside her blog. Without wasting any more time, let us invite Nirmala Palaniappan to your adda for this very different interview.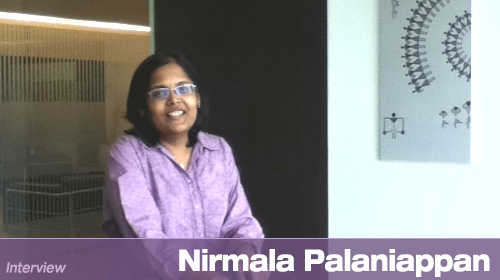 Q: When and why did you start blogging?
A: I started blogging in May 2004. I had just begun my career as a Knowledge Management (KM) professional and was very interested in exploring tools for knowledge capture and sharing. I was a part of an online community that had participants from the fields of HR and KM. Some of the early adopters in the community especially @gautamghosh, shared their blogging experiences and this was how I became aware of blogging and decided to try it out for myself.
Q: What topics do you generally blog about?
A: I, perhaps have a very eclectic blog because of having blogged for so many years. But, I definitely started out deciding to focus on my profession/work – KM, self-development and introspection and humor.
Q: Do you ever get stuck when writing an entry? If yes, what do you do then?
A:Â Yes. I am not able to conclude on the percentage of posts when writing which I happen to get stuck but it happens now and then. There are times when words just flow and jostle against each other and I attempt to keep pace with them. But, there are also times when I just sit and stare at the first few sentences and struggle to express myself in a satisfactory manner.
Typically, when I get stuck, I just keep the post in a draft folder and move on to something else. I revisit the draft when I am more motivated and inspired. I think that I am able to complete many of the draft posts when I revisit them for the second or third time.
Q: You are a Knowledge Management Officer by profession. What does a KM professional actually do? What are your roles and responsibilities?
A:Â A KM professional perhaps has one of the weirdest challenges. Her job description may vary radically from one company to another. The ideal KM portfolio is rich and exhaustive. It may involve content and repository management, intranet implementations, cultural events that promote sharing and collective thinking, idea management/innovation systems, design of tools for collaboration and sharing, online work-spaces management, internal communities creation and knowledge process improvements among other things. I currently focus on internal knowledge portals, content and repository systems, cultural change, orientation on internal enterprise 2.0 tools like blogs, twitter-equivalents, social networks etc.
Q: Does a KM officer need to multi-task a lot? What are the areas that a KM officer often use in its application (psychology, management, etc.)? To be a good KM professional, what qualities one must posses?
A:Â Yes, especially if she does not have a large team to depend on. A KM professional ideally – must be good at marketing, selling and advertising of abstract concepts, must have excellent communication, influencing and networking skills, must be quick to study the organization's business context and fine-tune her strategy accordingly, must be up-to-date on the ever evolving social tools domain and be able to help employees appreciate these tools for better performance and must be able to work with business leaders and convey the importance of KM as a management philosophy. I think, in terms of subjects, it is important to be familiar with Business Management, Psychology & Cognitive Science, Marketing, Technology, Statistics, Motivation & Social Behavior and Business Processes.
Q: We see a lot of Calvin and Hobbes and other cartoon strips in your blog. What is that you like the most about C&H? Do you follow cartoons or cartoon blogs daily? Who are your 3 favorite cartoonists and why?
A: I believe that C&H is the work of a genius. (And I am never bored of saying that) I think what I enjoy most about C&H is that it is a heady combination of humor, philosophy, imagination and pure cartooning talent (the sketches themselves).
No, I do not follow cartoon blogs but I do get daily emails of C&H and Dilbert. I love C&H, Asterix and Obelix, Tintin, Peanuts and Garfield. Dilbert is also a part of the list even though it belongs to a different category. I suspect that I find cartoons with animals as their key characters very fascinating and entertaining.
Q: Your 'Not My Job' was witty as well as thoughtful. You listed a set of people who either do their work or don't and find excuses. Which ones have you come across in the KM industry and which set is the most dangerous of the lot? 😛
A: Thank you! 🙂 Well, I guess this is not a phenomenon restricted to the KM domain alone! 😉 We have people of all sorts in every single space of life, be it government or private, be it senior or junior, be it male or female, be it the highly educated or the ones with less than an academic degree, be it in the field of IT or Retail etc. I guess anyone who looks for excuses to escape from work is 'dangerous' in one way or the other. There are invisible lurkers and then there are people who pull others down as well. The chain is only as strong as the weakest link! PS: But there may be more than what meets the eye. Sometimes, a badly-designed system may have to be partly blamed for the inefficiencies of individuals.
Q: In June 2009, you spoke about HR and KM collaboration. Can you shed some light on the basics? What similarities do both divisions have in them and how they both benefit the employees of a company?
A: I believe HR and KM are closely linked functions. Both of them look for improved employee performance, efficiency and satisfaction. In the conventional model, HR focuses on physical aspects like compensation, campus, hierarchy, career progression, relationships at work etc. KM is focused on what's in employees' heads and how they can make the best use of it to help themselves as well as achieve organizational objectives. In a lot of organizations, KM starts with endeavors to manage personal knowledge and learning rather than collective knowledge initiatives. As I indicated in the post, HR and KM must work together to not just create a culture wherein employees' expertise are leveraged, celebrated and built upon but also work on creating a common foundation for making best use of knowledge via employee policies, hiring processes, promotion criteria and exit processes.
Q: Nirmala also has a creative side to her, as we get to know from your poetry. 🙂 For what things do you like to write poetry about?
A:Â 🙂 I like writing about Human life and nature more than anything else. Like all poets, I can only write about things that have a huge impact on me. However, I prefer to end my poems on a positive note even if the topic is a melancholic one.
Q: In what ways can Blogs and Social Media help companies? For which sector is it most critical to use these mediums? In addition, according to you, what is your take on the information overload that is crowding user's timeline? Is it a curse or a boon?
A: Internal blogs and social networking in organizations can be very useful in helping new hires learn from subject matter experts, keep in touch with the senior management's vision and ideas, find colleagues with similar interests, learn from past projects and create communities with a common challenge or objective or interest among other things. Any organization, irrespective of sector, must explore these tools for better productivity and innovation.
Information overload is a problem that I too grapple with. Many decades ago, people perhaps only read the daily newspaper and then connected with their community to exchange information and ideas. Life must have been simple. Today's youngster or a professional juggles a plethora of TV channels, Internet feeds, gadget messages, e-books, communities and what not.
I use a combination of Clay Shirky's (Author of Here Comes Everybody and other related books) and Leo Babuta's (Author of the Zen Blog) solutions for tackling information overload. If we learn how to use the right information filters and look at only information that is really essential and important to us and learn to not be anxious about information that we may not consume or miss out on (Zen thinking), life may be a lot simpler and less stressful.
So, I may not read tweets from people I follow for many days without getting anxious about the information that I have 'lost', I may stop subscribing to newsletters that don't make a difference to me, I may not read newspapers except when there is something I think that I should know more about etc. Additionally, I think we should leverage on technology to catch up with what's important, for example- bookmark important articles using an online bookmarking tool and then access it using a Kindle or a Smart Phone while commuting.
Q: 'One of the most important things a parent can perhaps coach the child on is to not find comfort in someone else's agreement/approval but to go in search of her own mind' - you said this in 2010. What could be the downfalls of the same in the current generation where the kids are exposed to many things, most of which are not in control of the parents?
A:Â I am not so sure there is a down side to encouraging children to go in search of their own mind and happiness. It is true that the world is not entirely clean and children may take an inappropriate road because of unsupervised external influences, but what is a life without mistakes? We learn and become better people because of the mistakes we make. Paradoxically, it is when we learn to look inward that we will realize what external influences to absorb and what to reject. What we need to learn is to introspect and change our path quickly if we find ourselves going down the wrong road and correct things before it is too late.
All said and done, parents cannot control anything completely. It is best for them to teach their children to think for themselves and decide what is good for them. They must inspire the process and methods more than the decisions themselves. We can't have children who are not confident about themselves, cannot make decisions on their own and let others (even if they are parents) dictate their lives. The end result is likely to be disappointment, regret, skepticism and confusion. Here are some related quotes and another post - http://nirmala-km.blogspot.in/2010/10/c-h-i-l-d-r-e-n.html
Do not confine your children to your own learning, for they were born in another time. -Chinese Proverb
There are two things children should get from their parents: roots and wings – Goethe
Q: You also wish to do something for the environment and its conservation. What steps have you taken towards this or look forward to taking it?
A: All I am probably doing now is improving my awareness on why we have ended up destroying our environment and what we must stop doing or start doing. I have to start with, set aside a cloth bag for shopping. Unfortunately, I don't think I am doing enough to save water. I still have not learned to be truly stingy with water. 🙁 I share whatever I read on this topic with others and use that as a reiteration for myself, so all of us become more aware of what we should stop doing to preserve the environment. I read Dave Pollard's blog and other similar blogs to educate and inspire myself to stay true to the cause.  I have a soft corner for animals, birds and nature and know how important their presence is to make our ecosystem healthy and complete. I hope that I can do more to serve this cause.
Q: After a hard day's work of applying your knowledge and management skills, how do you relax yourself? What are your interests?
A:Â I like to spend my evenings reading books and articles, listening to music or watching and playing with my 2-year-old niece.
Q: You have three other blogs on similar subject. Do you plan to resume writing on that blog?
A: I realized after a year or so of blogging that it is much easier to manage one blog and categorize posts based on tags. One of those blogs was actually started by someone else with me as a member but it did not really take off. And I created one of the blogs for just posting one long story that I wrote on KM. Our views and approaches change as we become more familiar with new tools and realize what is efficient /effective!
Q: Does your family also read your blog? What are their views?
A: Some of my relatives are aware of my blog and perhaps read it once in a while. If I write something relevant and something that I think my family or relatives will appreciate, I share it with them. My family, I'd like to believe, appreciates my sense of humor (if and when it decides to show up) and language (during those rare occasions when eloquence decides to come visiting).
Q: Do you promote your blog? What promotional techniques work best for you and why?
A:Â No, I don't really promote my blog. On rare occasions, I share links to some of my posts either on Twitter or via one of the online Blogging communities.
Q: How important is it for the blogger to interact with their readers? Do you respond to all the comments that you receive?
A:Â I think it is extremely important and not just a matter of courtesy and good manners. Unless the blogger responds to comments from readers, she will invariably lose her audience and lose opportunities to be exposed to different perspectives. I think I can safely say I have responded to more than 90% of the comments that my blog has attracted. Sometimes, I may want to find more time to respond to a thoughtful comment and then may forget to do so, but that happens very rarely. If I find a comment that has not been responded to, even after many months, I make it a point to apologize and respond to it when I re-discover it. Certain comments may not really call for a response (Like someone saying "Yes, I agree").
Q: What do you find to be the most gratifying aspect of blogging?
A: I think just the feeling of having been able to introspect, collate and express my thoughts on topics and aspects I care about, is a great feeling. When some readers leave insightful comments or share something, I never thought of and engage with me in a healthy discussion, the satisfaction is complete.
Q: How, in general, would you rate the quality of Indian blogs? Share your favourite five blogs.
A: I think there are some great bloggers out there. I remember seeing a lot of creative blogs when I used to surf the blogosphere many years ago. I must admit that it has been a long time since I followed my blog-feeds via RSS readers. I, no longer have time to follow blogs on a regular basis. My methods have changed now and I choose to read blog posts circulated via my Twitter network.
Q: What is your advice to someone who wants to start a blog?
A:Â I think the top three things to think about are :
1) Why do you want to start the blog? (because you like to write, because you want to connect with others, because you want to focus on a cause or purpose, because you want to make a reputation for yourself in a particular field, because you like to introspect etc)
2) Once you are clear about the purpose, the next thing is to ensure that you make time for it at regular intervals and keep the blog up-to-date and interesting both for the readers and for yourself. If your purpose is motivating and relevant enough, you are likely to find it easy to populate and manage the blog
3) Depending on your purpose, you may want to work harder on your writing skills and on things like how to promote your blog in a non-intrusive way. Getting an audience is very important to keep you motivated in the long run and especially when you need to juggle blogging with other important priorities in life.
Q: Do you earn revenue through your blog? How does one go about it?
A: No, I don't. I did enable Google advertisements on the blog. Google pays bloggers whenever someone clicks on the advertisements. That happens to be a very tiny sum despite many years of blogging. But, I have received a few offers from online websites to blog for them. I am yet to consider any of those offers thoroughly. But if I do, then I am likely to earn from my posts.
Q: According to you, what is the future of Blogging?
A: Honestly, I see blogging as not being so much of a popular practice in future. People are more fascinated by Facebook and Twitter. But there will be a small set of people who will continue to blog because of their love for writing and tendency to explore issues and topics in an in-depth manner. People who write poetry or like photo blogging may continue to use the blogging medium as well. Facebook may provide more connectivity but it does not serve the purpose of a good storage medium. It is always easier to search a blog for posts and tags and revisit them any time.
Q: Let's conclude off with a few favorites.
Color: Blue.
Movie: Taare Zameen Par. ET.  Finding Nemo. Madagascar. Mouna Ragam (Tamil) to name a few.
TV Show: Music shows that genuinely identify budding singers (youngsters)
Book: PG Wodehouse, Swami Vivekananda, The Paradox Process, 100% Mind Power, Flow, The New Earth, Presence, Fountain Head  and lots more
Time of Day: Morning
Your Zodiac Sign: Leo
Thank you Nirmala for this wonderful interview. We are sure not many would have known about KM. 🙂 An interesting field indeed and we are sure many would love to explore more and talk to you about it. 🙂