Presenting to the first post from our Premium Blogger, Smita Beohar. Smita the post is all yours. 🙂
How often do we dream about getting some extra time in a day so that we could finish that supposedly most important work which unfortunately is always delegated in the background? Most of us keep talking about the stuff that we will do when we get time for our self; we make a list and wait for that time to come. If you ask me, my list would look like this.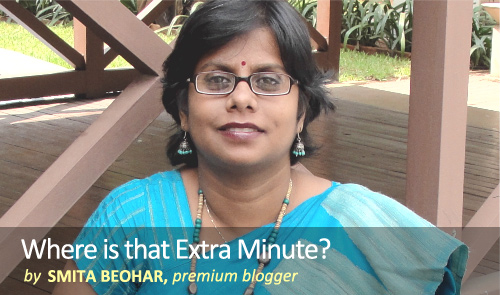 Spend quality time with my son (as if I would ever be satisfied)
Would read more books (as if I am not reading enough)
Would love to join a baking class (every time I say this, hubby reminds me of the creative writing class that I had paid fees for but never started finished it)
Would love to join a dance class (this I rrrrreally want to do)
Would love to do up my house in a most professional way (forgetting that I should first do it in a habitable way)
Bake more & more (and eat nothing out of it)
Would love to catch up on the movies that I haven't seen (Of course I won't see all Salman Khan movies again & again. Are you kidding?)
Will call each of my long lost friends.
I can go on & on with the list but there is a question that I put to myself. Do I really lack time or is it the lack of will that stops me from doing these things now? I have seen so many women doing more than what I am doing in a day. They plan their days well and pack in so many things that I feel shameful when I repeatedly say I don't have time.
Some days I feel that having no time is just an easy excuse. I have friends who keep admiring the speed with which I finish books or rather the number of books that I manage to read. There was a guy who used to say that he was an avid reader but due to lack of time has given up on the hobby. He used to maintain a list of books that he was planning to read post his retirement. As per my assessment, he used to love books but was more inclined towards movies and thus gave more time to the latter. Matter of fact is, for him books were never the main priority and that is why they were delegated to a corner. Needless to say, he never took out time for them.
I am a firm believer of the fact that if you really love something, you will manage to take out time for it. Take my example, I hardly get time to breath at home, am always rushing to finish something or the other but manage to read books while travelling to office. That is my ME time and I do not allow myself to be disturbed then because reading is very important to me; for me it is a crucial part of my daily routine and I feel lost if I haven't read at least a few pages in a day. On the other hand, I have a friend who calls her friends & family while travelling because that is her priority. As far as I am concerned when I get a call while I am in bus, I feel irritated and sometimes even disconnect the call with excuses like there is too much noise, cannot hear you but mostly I keep the phone inside my bag so that I cannot even hear it. Ya, I am shrewd that way. 😉
Though I agree that it isn't always that we put things on a backburner because "it is not important enough" this holds especially true in the case of women. With whatever experience that I have in life, I feel that we women put our family first. I have a friend who will cook exquisite non-veg food for the rest of the family because they love it and will have simple masala roti herself. No, her family never demands it; it is by her free will that she does so. She has however one indulgence which she never lets go. She loves to dress well and is always in prefect matching as far as her clothes, accessories etc. are concerned. I guess that is the thing which is most important to her but we cannot take away the fact that we women mostly put our own needs & desire last. Needless to say we hardly have any time for ourselves.
By now, you must be wondering as to what I am gunning at?
All I want to say is that instead of enjoying the life now, we put the things that are most important to us at the back burner with an aim of enjoying it at leisure and at an age when there is nothing else to do but tell me who has seen the future? Even God wouldn't know what our condition would be then. We get one life and there is no harm in enjoying it NOW. You can always have a great time post your retirement also but why lose the present? Trust me, it is better to enjoy now then to regret later.
Start ticking off items in that "I wish I could" list and move them to "It-is-important-for-me-&-I-will do-it-now" list, start taking out time for yourself, start prioritising and if you really want to do something, I am sure you will manage to find time for it because where there is will there is way. "I don't have time" is an easy excuse to escape from things, taking out time is the biggest challenge. In the whole day keep some "Me" time in which you can revisit your past, you can take up your hobbies etc. but do something that you have really wanted to do. Give your best to yourself and if still there are items that have been lying unachieved, then trust me they are not important enough for you. Chuck them out and be peaceful. 🙂
I know I will sound totally filmy and bollywoodish if I say, "Go Enjoy your life because you live once & Zindagi Na Milegi Dobara" but what the heck, I am filmy and there I have said it 🙂
P.S. Do I follow what I am preaching? I am working on it and have already read this post 5 times (of course not for editing ;))