Today we have a Chartered Accountant at your adda, who one day plans to write gripping romantic tales of a street dog titled "50 shades of stray". She also wants to write books for children of all ages when she grows up. She is known for her mildly spicy 'Coconut Chutney' sans Dosas. Presenting to you an interview with Lavanya Special Mohan. Why is she so special? The answer is below. Brace yourself ladies & gentlemen for an interview which you should NOT read with dosas as your stomach is going to be subjected to an extra dosage of humour today. Lavanya Mohan, are we set?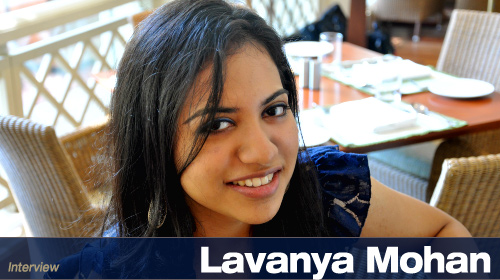 Q: When and why did you start blogging?
A: I guess I started blogging in 2004, when I was 15 (TIME FLIES!). I didn't blog for any apparent reason. Blogging as an activity was just starting to get attention in the papers, and my Athimber (sister's husband) was active in the space. I had tried to write a journal before but it mostly ended up becoming comic relief for intrusive cousins. So the idea of a journal on the internet seemed quite appealing to me, and as soon as I saw the interface, I was hooked!
Q: What topics do you generally blog about?
A: When I was starting out, I wanted to write about the national economic situation, effecting social change and game changing mergers and acquisitions in the Corporate world, but I ended up writing about my grandma, my gaffes at work and particularly bad tamil movies, which is kind of the same thing.
Q: Do you ever get stuck when writing an entry? What do you do then?
A: I do get stuck, in which case, I don't write it altogether. For me, if something doesn't flow out in a single go, it was probably never good in the first place!
Q: Tell us about the work you do. You are a CA by profession with a flair for writing. Were you inclined towards writing since childhood?
A: I am a Chartered Accountant! Sorry, but I keep saying this because I'm still in disbelief. I have no idea how I even got here most of the time, but I'm glad I did. I specialize in Audit/Assurance (because I don't know anything else) at work. Working for my father is an overdue blogpost by it self! And with respect to writing, I had always been the English teacher's pet, so yes, I had been into writing for a really long time. It's one of the few things that have come to me naturally, apart from clumsiness and dandruff.
Q: You also had another blog named "The Evil Autorickshaw". Share something more about it, and why did you chose to delete it? Also, why the name Chutney Case for this blog?
A: Ok, first, your levels of research are astounding! The Evil Autorickshaw was basically me from ages 15-18. There were a lot of school rants and general 15-18 year old things, apart from a couple of high school level short stories. If I were to read it again, I think it would be more embarrassing than adorable. It was a trademark "me" move – impulsive and stupid. Sigh. I would love to get my first blog back, but I don't see it happening. 🙁
Q: Initially at Chutney Case, you spoke about Adolescent Education Programme carried in schools. Do you feel it should be made absolutely compulsory for every school now, or continue as per their own choice? How important is it according to you?
A: Things have changed so much in so little time with school kids. I heard a bunch of my juniors talk the other day (okay, fine, I eavesdropped) and I was so scandalized! Like, back in the day, when someone ever asked me if I "did it", I would say hell yes! and give them my economics homework. That said, I've always been a firm believer in the "better out than in" ideology, so yes, better to tell these kids than let them do their own research, which can be total disaster.
Q: This post of yours gave us a brief account of your history in making people laugh. Being through the different levels of making people laugh, it is obvious that the current level is the highest for you! Do you feel, is it difficult for most humorist nowadays to tickle the funny bones of their audience? How much, is putting too much effort, according to you?
A: Like I said, I'm unintentionally funny. I think I am, at least. Personally, I think humor should be something that just comes naturally. I can't explain this!
Q: In recent times, Hindi cinema has observed introduction of many slapstick comedies, that includes exaggeration which is probably at its highest levels. Do you follow these kind of movies and feel Hindi cinema has run out of ideas to make their audience laugh? You also watch a lot of movies of the South Indian Cinema. How has comedy evolved there?
A: Okay, number one, my knowledge of Hindi is on the same level as my knowledge of Swahili – basically NIL. I only watch Hindi movies if there is a subtitle track or Imran Khan, so I really can't answer your question on the Hindi humor scene.  Comedy in Tamil cinema though (hit comedy, anyway) operates on heavy duty sarcasm – which is thoroughly enjoyable.
Q: In 2010, a post of yours was plagiarized in form of a video, based on this script. Many bloggers supported you and wrote on their blog. What were the steps you took to make the plagiarizer remove the video? Was your content plagiarized ever again after that?
A: It didn't take much time at all – I sent him a message on Facebook and thanks to prominent bloggers like Krish Ashok, Narendra Shenoy etc we got his attention real fast! He changed the name very soon and it's even been screened in a couple of film festivals now! My content wasn't really plagiarized after that – not that I know of, anyway.
Q: You wish to be a children's writer in future. Any specific reason to choose this specialization? Do you make the kids also laugh, like you do to your readers? 🙂
A: Haha I say I want to write for children because I have the same mental capacity as them! I'm not going to say anything more 🙂
Q: Photography seems to be your interest. Though the shutter seems to be closed since a while now. 😛 Wasn't anything worth a click? What kind of photography do you like the most? What are your other interests?
A: I still take pictures! I just don't upload them much because of total and complete laziness. I like taking pictures of people best. My other interests at the moment are sleeping, wasting time on the internet (PINTEREST!) and trying to find the best mint-chocolate-chip ice-cream in the city (in that order).
Q: Coconut Chutney takes us through a lot of hilarious stuff going in your house. :) Which is that one incident which the family collectively reminisces and still laughs about? From whom within the family, you have imbibed your humour?
A: There are so many incidents! Tough to pick just one, really because we make a joke out of everything. Both my Mom & Dad have a great sense of humor, so I'm pretty sure a little rubbed off.
Q: Who is your favorite woman humorist from the blogging world, in person or in the entertainment biz? Do you agree that earlier women were not much into the scene? Does gender even matter in the quality of humor produced?
A: My favorite funny woman is Tina Fey. I love Tina Fey! I'm going to be honest here – I don't really follow women in the humor scene specifically or anything. Funny is just funny irrespective of what gender you are. I don't think it matters at all.
Q: We would love to have your favorite five #mokkamondays till now. If you had to hijack an online profile for a day, whose would it be and what are the things that you will do?
A:Â Haha tough to pick top 5, but here goes
What did the Seth say when he got out of the shower? Kya Bath Hai!
What do you call a spiritual leader who's fond of butter? The Malai Lama
[Tamil] What did the mother knife tell the baby knife? Kaththi Pesadha.
A foot baller's favorite chaat would be Goal Gappa.
People who own cows in Dubai are milk-sheikhs.
Hijacking profiles, haha, right now, I think I need to hijack my own profile and try to revive things!
Q: Do you promote your blog? What promotional techniques work best for you and why?
A: I don't really promote my blog – it's growth so far has been completely organic. I only tweet once or twice every time I post. I don't have a Facebook page, actually, most of my friends on Facebook aren't even aware of my blog! I guess I should start promoting my blog at least now.
Q: How important is it for the blogger to interact with their readers? Do you respond to all the comments that you receive?
A: Oh it's very important. Readers are awesome! They take their time to appreciate something or point out something that's wrong, so I think it's very important that you take in what readers say to improve. Of course, I respond to constructive criticism and by that I don't mean the "Hey! I'm just leaving a comment here so that I can tell you exactly how much you suck lolz" guys.
Q: What do you find to be the most gratifying aspect of blogging?
A: Doing what I enjoy! (Not the continuously embarrassing myself part – the writing part. Just saying)
Q: How, in general, would you rate the quality of Indian blogs? Share your favourite five blogs.
A: There's just so much talent! 5 of my favorite blogs in no specific order –
Q: What is your advice to someone who wants to start a blog?
A: Just start writing already! There'll be layouts, there'll be design, there'll be marketing, but nothing will ever replace content. Write lots, write well, basically, just write.
Q: Do you earn revenue through your blog? How does one go about it?
A: I don't earn revenue through my blog. I tried to poke around adSense, but there was like this registration thing I left incomplete so I've been rejected from using adSense 😀 Guess I'm not meant to earn revenue. I've heard of a lot of people monetizing their blog though. It's a pretty cool concept.
Q: According to you, what is the future of Blogging?
A:Â I'm going to say it's collaborative, social story telling. Shareability is important now. Apart from Facebook likes or retweets, take platforms like pinterest and tumblr, where one story, or one person's post can be repinned or reblogged with another person's comments – the post evolves each time it's shared. So that's what I think the future of blogging is – social storytelling. What! I can sound smart if I want to, okay.
Q: Let's conclude off with a few favorites.
Color: Pink (yes, pink!)
Movie: The Little Mermaid
TV Show: Castle
Book: Matilda – Roald Dahl
Time of Day: Sleep time!
Your Zodiac Sign: Pisces
So how was the Coconut Chutney interview? Hope you enjoyed it? You can now have the Dosas and Medu Vadas. Thank you Lavanya for this wonderful interview. All the best for your third degree. ;-)Â