Across the world there are many conspiracies waiting to be solved. We now have our own version called "The Taj Conspiracy' which shows the Taj Mahal in a never before seen light, and is an exploration of what it means to be an Indian today when faith and fundamentalism are increasingly entwined. We have an exclusive tete-a-tete with the author, Manreet Sodhi Someshwar where she talks about the book, its prime character and much more. Read on.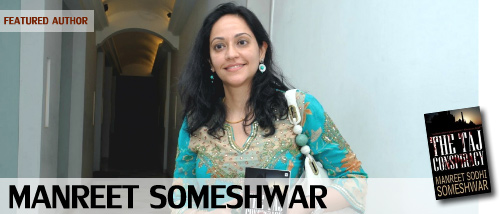 Q: Tell us something about your book and what should readers expect from it.
The Taj Conspiracy is Book1 of a thriller trilogy I call the 'Mehrunisa series' featuring an unusual female protagonist. Mughal scholar Mehrunisa Khosa, half-Persian, half-Punjabi, stumbles on a conspiracy to destroy the Taj Mahal when she discovers the murder of the Taj supervisor, and the Quranic calligraphy on the tomb of Queen Mumtaz altered to suggest a Hindu origin of the Taj Mahal… That urban legend had always existed. Now, though, someone was conspiring to make it come true. Can Mehrunisa overcome a prejudiced police and battle her inner dmeons as she sifts through the multiple strands that lead to the conspirator?
The Taj Conspiracy is a layered thriller: a page-turner, it shows the Taj Mahal in a never before seen light, and is an exploration of what it means to be an Indian today when faith and fundamentalism are increasingly entwined.
Q: Who/ What is that person/instance in your life without whom/ which this book wouldn't have happened?
The genesis of The Taj Conspiracy lies in my last visit to the Taj Mahal on a crisp winter morning As our guide urged us through the Jilaukhana, forecourt, I caught a fleeting glimpse of the white mausoleum perfectly framed in the arched entrance gateway. Before we could savour the moment, we'd stumbled through the gate into the lush gardens.
The green of the chahar bagh contrasted with the red sandstone platform upon which stood the famed white mausoleum with its flanking buildings. Everything sang harmony – except our guide. Intent upon hustling us on, he ignored the perfect symmetry of the gardens, dismissed the central pool – almost as famous as the celebrities who pose from across it, gave a wide berth to the garden wall pavilions with their intriguing verandahs accentuated with coupled columns and arches …
No, for him, the Taj Mahal was only the white marble building at the north end, which, in turn, was some periodic table, materials and numericals interwoven, in which 'marble' and 'sandstone' popped with unsurprising periodicity.
Admittedly, I was nonplussed. I am a writer, I like stories – they tell the truth, about the world, about ourselves, and since inception, homo sapiens have deployed stories to learn and remember by. When I objected to the lack of a narrative, he nodded sanguinely and proceeded to a garnish of urban legends.
Earlier that year, we had toured the Vatican museums with a guide who had brought alive the magic of Renaissance.  Here was  the world's most beautiful marble monument that should be pulsing with life stories, yet its narrative was buried under bloodless piling of numerical detail and credulous myths when the true story of the monument was far bigger?
When we departed, I turned once to look at the Taj. This time, unhindered by the guide, I savoured it framed within the arched Darwaza-i-Rauza, the mist swirling around its marble dome. Somehow, the Taj looked forlorn, as if it needed someone to tell its story…
Q: If you are told that you are to live the life of one character from your book, who would it be and why?
Mehrunisa Khosa, the heroine of the story. Mehrunisa is an unusual female protagonist, half-Persian, half-Punjabi. The inspiration came from being a woman in our patriarchal society. I was clear I didn't want a James Bond (the original is good enough!) or Jemima Bond (Stieg Larsson-type alpha male heroine). Instead I was interested in a regular Indian woman who is vulnerable (because of her gender, religion, culture) and is faced with a huge challenge of saving the Taj Mahal – would she be able to rise to it? In my mind, she is a metaphor for the Taj Mahal. Like the Taj she is of mixed heritage and is associated with loss in her personal story. I stacked up the disadvantages against her (religion, culture, gender) to reflect the Taj's increasingly precarious state (pollution, shrinking Yamuna, lack of funds) for greater resonance.
Q: The advent of vigorous social networking sites has made everyone desperate to create an identity for themselves. Being an author, what does Social Networking mean to you?
"What really knocks me out is a book that, when you're all done reading it, you wish the author that wrote it was a terrific friend of yours and you could call him up on the phone whenever you felt like it. That doesn't happen much, though."
― J.D. Salinger. However, social networking has changed that completely. Now a reader can engage with an author using the platform the author uses, be it blog, twitter, Facebook etc. Personally for me, it is a chance to connect with my readers and have a dialogue beyond the book.
Q: What is your take on the current scenario of writing and publishing industry of India?
I think we are in a most exciting phase in writing and publishing in India. The English language market in the West – UK and US – is stagnating while we're booming. Which has wrought a change in the kind of fiction being written in India. Earlier, it was primarily literary fiction which had been endorsed by the West. But, of late, Indian fiction writing has burgeoned and we now have a wide range of writing by Indian writers available in the market. Hitherto unexplored genres have also opened up. The Indian economy is growing, the middle class is expanding and we are seeing a new confidence in ourselves – all of which finds reflection in the kind of art that we consume. Consequently, we have new writers who don't feel the compulsion to write for a Western market because the domestic market is  sufficiently robust and is showing demand for local stories, set wit in Indian locales and Indian history. However, there is a concomitant assumption that simplistic writing is quality writing. We should be careful about dumbing down literature. After all, writing isn't a muffin; it is superfood – we consume it because it's good for us but you have to work at it some.
Friends, for all those wanting to read this book, we have announced this book as a part of our #BookReviews program. Review it now and take part in our conversations on this book.