Some questioned us on why we didn't interview Shail earlier while some said the interview list is now complete. This was the impact that the first part of the interview with Shail Mohan had on the Indian Bloggers. Wonder what the second part has in store? We are prepared and you get prepared too as we continue the journey. We talk about a lot of things known and unknown about Shail in this part. Ready?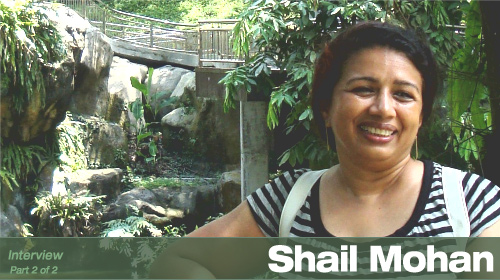 Q: Tell us something about your hobbies. You seem to be a good photographer too. What kind of photography do you prefer, landscape, people, L&M or Goofy? 😛 If you have a day to yourself, then what do you prefer doing?
My hobbies are nothing spectacular. Just the usual, listening to music (any language, any genre, they just ought to catch my attention) and reading (the same applies here, though I am partial to Wodehouse books). I loved and used to do a lot of sewing once upon a time. Glass painting, ceramic flower making and other forms of art work are other hobbies I indulged in, but which I have left behind due to deteriorating eye-sight.
Photography is a much recently acquired hobby, one which I am thoroughly enjoying, started when my First Born gifted me a point and shoot camera. I have a good collection of flower pictures and am always on the lookout to find new ones. In fact, during my last visit to California I went crazy, wanting to click all the flowers that I don't normally see here, so much so that the First Born chided me, "Have you come all the way to click flowers?" Lol. On our visit to the Golden Gate, I saw a flower that caught my eye and quickly clicked it before the son could give me disapproving looks for lagging behind. I feel that quick shot is one of my better clicks. Other than flowers, I am obsessed with raindrops/dewdrops. You will find that all blog headers at Shail's Nest are pictures I clicked of them.
Ahh… my Martians are all camera-shy. Grrr…. So there is no point going after them with my camera. And anyway who wants to, when I have a more than willing model to shoot? My darling Luci. The Second Born calls her The Most Photographed Dog. Sigh. I wish I had a better camera to record all her antics. Is anyone listening?  😉
Q: This post showed us how much L&M and the sons are threatened and afraid of your blog. 😛 So has it ever been that L&M or your sons have had any problem with a particular post of yours? Does it happen that your views mentioned in a post have contradicted theirs? Do they also write?
Lol. No never have they had any problem with any of my posts. That's just me pulling their collective long legs in that post, something I enjoy doing. During my initial blogging days, the First Born in a very elder-brotherly manner used to remind me about not posting pictures of us on blogs. He did not want his name used either. Sheesh, these kids! They think mothers don't have brains. The Second Born is more amenable to his pictures being used, as long as they meet his standards. On my part, right from the beginning (even before the warnings), I have been respectful of their privacy, and have refrained from using their names at all times.  BUT…very soon, much to my secret amusement, I found they themselves were showing off their Mom's blog to their friends and colleagues. How's that?
Hmm…. so far I haven't heard the children say that my view contradicted theirs. Lol, I have found that generally we are in agreement over most things. How can it be otherwise? I maintain that their Mom has a broader and more open mind than even them.
Of course they do make observations about my writing style, the layout of the blog, what looks good what doesn't. Once I wrote a post where I used moi throughout instead of 'I'. Of course, I had done that on purpose only for that particular post. It did not find favour with the First Born. The Second Born once was emphatic in expressing his disagreement with the way a story of mine ended. Haha. As for the L & M, he rarely makes any comment on what I write. As far as I know none of them write, not yet anyway. 🙂
Q: The IT rules have created much chaos with especially the ones who work in and use this medium extensively. Have you ever faced a situation when you have been asked to take down a particular content? What changes, as a blogger, would you like to see in this act?
I have not yet had that experience of being asked to remove content from my page. Once again, I will answer your question as a lay person. I value freedom above all else. I am someone who chafes under any sort of restriction in my private life too. So there is no question that I stand against curbs and FOR freedom of expression on the Internet. Just the thought about the lost freedom makes me shiver.
I'd like to relate to you an incident that took me by surprise. I had posted a link of a blog that spoke against Internet censorship on my Facebook timeline. A blogger friend, who until then I had assumed to have a sensible head on his shoulders, left a comment supporting censorship. My jaw literally dropped to the floor when I read the reason. It seems it would help in curbing the acrimonious comment wars that bloggers indulge in at times and also prevent troll-attacks. Wasn't that like bringing in the army along with the heavy artillery to prevent a student union fight in a neighbourhood college?
I'd like to see all curbs go and the Internet to remain a free place for all to express their views. Period.
Q: 'Where you insult man by insulting all women'. A very strong statement that questions the point of equality to some extent as well. What, according to you, has changed around you in terms of equality for women? What do you think still needs to change? 
One feels a lot has changed, but has it really? I stay right next to a playground. In the evening, you find a lot of children playing there, BUT…they are all boys. Not a single girl. Why is that? I'd like to see a time when girls are as free to use the playground as the boys. I'd welcome a time when parents don't have to think twice before letting girls too, to go out to play and not have to worry about their safety. Now that would be equality, wouldn't it, when girls/women can move around safely without fear of harassment?
During my student days, the mother's name did not figure anywhere in a child's school records or certificate. I was actually amazed to find my own name on my son's school certificate. At last, I thought, society was moving towards accepting that a child is the product of a man and a woman.
Admittedly a lot has changed. Women have property rights now. There are many working outside the home unlike earlier days. More and more have a say in their lives. BUT…the numbers are still less, very, very less. One important thing I'd like to see happen is for parents to bring up girl children to be their own persons, not bring them up with marriage as their ultimate aim and the husband's home her dream destination. Your girl child is NOT a future caretaker for her husband's parents and home. She is a person, just like your son. Let her make her informed choices when she comes of age. That would make her equal. But sadly enough, she has to be allowed to be born first for that to happen, not murdered in the womb itself.
Q: If you were to write a book on your blogger friends, what would be it about? Do you have some roles in mind for them?
If I were to write one such, you can bet that it would be a humorous one on the lines of a Wodehouse book. As of now I can think of a role only for Ritu as a no-nonsense female author, who has the rest of the characters "jump through hoops and snap sugar cubes off their nose," as Wodehouse would say, while she is secretly laughing her head off at the chaos she is creating. I will be her sidekick just so I can have a ring-side view. 😉  On second thoughts, I think I will add Sumana to the cast as well. Her talent at repartee will make her an ideal character to have in a funny book. 🙂
Q: You have an extremely adorable child who is Luci. You also have two blogs made for her. 🙂 When was Luci introduced in the family? Was she also rescued like Nibbles? 
Ahh Luci. She is indeed my darling child. Having a dog is like having a child at home, a child that never grows beyond toddlerhood.
My first dog Goofy was with us for 12 years. When she left there was a vacuum which was first filled by Pepper the cat, who left us just as suddenly as she arrived, cause unknown. Then came Nibbles, who as you say was rescued. She too went missing, either ran away or was picked up by someone owing to her cuteness, and is living somewhere happily. After these happenings, I was quite despondent and used to mope around the house much to the amusement and/or exasperation of the L & M. One such day, in one of his weaker moments perhaps, he caved in and said, "Okay, a dog, yes. But a Labrador."
I couldn't believe my luck. A Labrador? Yippeeeeeee. Yeah, sure, I am paying for my initial enthusiasm with an overly playful creature who does not know her own strength and topples me over easily. But who cares anyways? Having got the green signal from the L & M, I searched the net for available Labrador pups and found one quite near my home. Oh, the impatience with which I waited for her to open her eyes so I could go take a look at her. Then there was another wait, to bring her home!
The L & M and I cannot imagine a day without her now. She is a constant source of amusement and such an adoring fountain of love. Errr… also cause for a lot of annoyance as well (Pssst. That was the L & M who intervened to say that). Nothing Luci does ever fazes me though. But then she hasn't as yet chewed my spectacles into alien-like shape. 😉
Q: Do you promote your blog? What promotional techniques work best for you and why?
I post links to Twitter, Facebook and Google+. That's about it. Unless you count the fact that my mails include links to my primary blog page.
Q: How important is it for the blogger to interact with their readers? Do you respond to all the comments that you receive?
Pretty important. I leave no comment unattended. I may lag behind in answering sometimes due to constraints of time, but I certainly get to them eventually, however late.
Q: What do you find to be the most gratifying aspect of blogging?
That I can express my ideas without interruption or being bull-dozed into submission by sheer pig-headedness. Writing also makes a lot of things clearer in my mind. To see my own thoughts and beliefs expressed gives me a better insight into my own self that is immensely satisfying. As for writing fiction/poems: it is almost akin to childbirth figuratively speaking. The struggle that precedes is like labor pain for me and seeing the finished product is like holding the baby after delivery. Success, finally pushed it out!
Q: How, in general, would you rate the quality of Indian blogs? Share your favourite five blogs.
I am a compulsive blog-hopper and I'd rate Indian blogs pretty high. I am a regular at Kafila and Aamjanta. Then of course there is the Life and Times of an Indian Homemaker who needs no introduction. My day is never complete without a visit over there. Let me amend that, I visit the page many times a day. The discussions that happen there are awesome and enlightening. The other favourite is Bhagwad's Expressions. I love the logical way he reasons. Another favourite blog of mine is Sumana's This and That. Her posts are well researched, focussed, hard-hitting and/or humorous.
Q: What is your advice to someone who wants to start a blog?
Someone tagged me years back to answer this question. They actually wanted me to give five pointers to new bloggers. This was my answer:
1. Be yourself
2. Be yourself
3. Be yourself
4. Be yourself and
5. Be yourself 😉
Q: Do you earn revenue through your blog? How does one go about it?
Nope, I don't. I really have no idea how one goes about it and frankly I am not interested either. I write for the love of writing.
Q: According to you, what is the future of Blogging? 
I don't think it is going to go away any-time soon. 🙂 But who knows, anything can happen in the future; so I find it hard to make a guess.
Q: Let's conclude off with a few favorites.
Color: White. Do I hear you ask if that is a color at all? Okay then I'll take a second chance. Blue, not just any blue, aquamarine blue.
Movie:  I am a big fan of animated films. So here goes: Finding Nemo, Ice Age, Shrek, Ratatouille. But my all time favourite is the short by Pixar: For the Birds.
TV Show: I am a FRIENDS freak all the way. I can watch it anytime. I love English comedy shows. The IT Crowd, The Big Bang Theory, etc. are some favourites.
Book: All books by Wodehouse, The Palace of Illusions, The Horse-Whisperer, The Great Indian Novel, One Hundred Years of Solitude. Just a few. The truth is I read anything and everything.
Time of Day: Any time of the day when I have the house to myself. I enjoy my periods of solitude… by working with the music on.
Your Zodiac Sign: Cancer.
Shail, Thank you! It was wonderful to have you at our Adda. We are sure that L&M & your sons will be even more proud of their mom today. Just be what you are always. 🙂 We are sure a lot of things are still waiting to happen in your life. 🙂 Probably that will be covered in the third part of this interview in the future. 🙂