Children are like wet cement. Whatever falls on them, makes an impression – Dr. Haim Ginott.
So truly said by Dr. Haim. They absorb the joy that you give them, and also the coarse memories. One of these coarse behaviors is Sexual Abuse that the child is put through by some inhuman people. Against this act, the blogosphere joins hands, to create awareness for not overlooking such instances. It's the Child Sexual Abuse Awareness month, and here is what CSA team wants to say: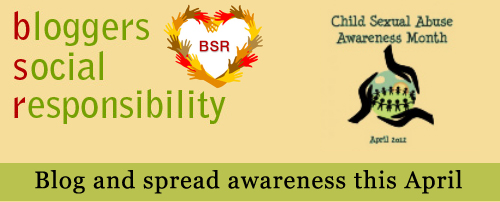 Child Sexual Abuse Awareness Month – CSAAM – is an annual awareness programme organised by a voluntary collective of bloggers and social networkers. It aims to break the deafening silence that surrounds this taboo topic in India. It targets parents, teachers and caregivers of children of both sexes and all ages, offering vital information on CSA, including an online collection of CSA-related resources. It gives a voice to victims and offers hope to those who are still struggling with the after-effects of CSA.
BlogAdda is the official blogging partners for this initiative.
CSAAM 2011 mainly consisted of personal testimonials, live Twitter discussions and considerable support from NGOs such as RAHI, Arpan, Tulir; public figures like filmmaker Onir and CSA crusader Harrish Iyer; media houses such as Midday, Mint Lounge, DNA, Bangalore Mirror, The Alternative, TOI, etc.
CSAAM 2012 hopes to be all that and more, this time focusing even more strongly on presenting resources and differing points of view and reaching out to more people through videos, workshops and our very own mobile app.
On account of this awareness month, we call for all the bloggers to write on Child Sexual Abuse, and spread awareness. Share stories that you have witnessed, you have heard or know of, NGOs that support this cause, victim success stories, etc., and let the blogosphere play an important role in spreading awareness. It is a month long initiative, where you can participate and and also insert the below given code in your blog/ blog post.
Come, join hands to support this cause, and participate in this selfless awareness drive.