A few days back someone asked us, 'If I become a full time Mom, can I still enjoy life and do whatever I had always wanted to?'. Of course was our answer. Then she asked, if we know of someone who is doing it? 'Of course' was our answer again and we asked her to read this interview! Our interview today is with someone who is a Media Recruitment Consultant, part time social worker, voracious reader, Youth Congressi and a FULL TIME MOM. 🙂 Presenting to you an interview with the charming Priyanka Chaturvedi who at the time of this interview had a book in one hand and her BlackBerry in the other. 🙂 Read on.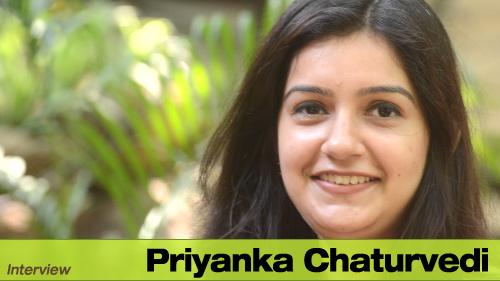 Q: When and why did you start blogging?
A: I was a blogger off and on. I remember starting a blog about my then mundane life and then somehow I would lose interest and my blog just died. But then I seriously returned to blogging with my book review blog. This blog came about because of my own experience of not finding reviews of books I wanted to buy and then at times picking up books based on a particular review and on reading the book realized the review was biased. My blog started out as a platform for all readers to read/honestly review a book and post it to the blog. Simple and easy to read reviews would probably be the reason why this blog started attracting lots of readers. So I would say I seriously started blogging only from 2009.
Q: What topics do you generally blog about?
A: My book blog reviews books, interviews authors, keeps readers posted on interesting book events. We also branched into a book club and our most recent activity is to organize book launches and book related events.
Q: Do you ever get stuck when writing an entry? What do you do then?
A: Oh many times! Like even now, I have 7-8 books which I have read but do not know how to go about framing my review! Honest confession. So what do I do if I get stuck? I go and read more books till inspiration strikes!
Q: Since when has your interest in reading books started? Is there any specific incident that you remember, because of which this interest was cultivated? As a kid, which was your favorite book; have you still retained it?
A: I have been a reader ever since I can remember. Plenty of reasons actually! I started to read as it made my train journey to my native land more interesting and fascinating. A book became my best companion in such times. I was a very shy person too with barely any friends so even for at such times reading helped me avoid interactions with people. 🙂
Q: You are the director at MPower Consultants. Did you always wish to be an entrepreneur? What is your vision for the firm? You were attended ISB Goldman Sachs' 10K Women Entrepreneur Programme. Based on your experience, what suggestions would you give to women who want to take up entrepreneurship?
A: My initiation into entrepreneurial world was by accident and wasn't planned. I jumped head long into doing something I was passionate about but I didn't have the skills or ideas to take it further. Moreover there were time constraints considering I had two kids at home. That's where ISB programme helped me. It helped me understand my business better, gave me a sense of direction and a business plan! Most importantly a strong network of women who could guide me even after the course was over.
My suggestion to women, based on my experience would be to first study the market they plan to enter, gain market expertise, create a unique identity to differentiate you from the rest and not jump into something just because you have a passion for it but no long term vision for it. Once you have this in control you should be able to grow tremendously once you do become an entrepreneur.
Q: When you are not working or reading, you teach at Prayas Charitable Trust, a school for street school kids. Can you tell us more about what you do there, and your experience? Kids, many a times teach us a lot which we would have missed otherwise. Any important learnings that you can remember?
A: Just a correction, as much as I would love to teach the kids I am unable to do so for lack of time. But Prayas is a trust we set up together with a set of likeminded folks who wanted to reach out to under privileged children to help them study. Our experience has been pretty humbling on both fronts – kids who come to study there and people who wish to reach out to help us in the noble cause. We have had passers by who come and spend time with the kids, dance coaches who have come and taken dance lessons, dramatics with these kids.
Donors who have volunteered their time to our cause and there are those who have contributed through funds. It would have been near impossible to manage two schools with over 200 kids without people coming forward to help.
The biggest learning from them is that of perseverance and an ability to smile despite all odds.
Q: As a full time mom, you have invested lot of efforts in trying to indulge your son in many extra-curricular activities, though in vain initially. :p Based on your experience, do you feel parents should plan everything for a kid, or let the kid grow on their own? Does planning always goes for a toss with kids?
A: Yes with my first born I had planned a lot, then somewhere down the line realized that it wasn't helping his or my cause in anyway by pushing him to do things that he wasn't interested in. I would say in bringing them up there needs to be a healthy mix of the two – planned and unplanned. Do I sound confused? Actually it works for me like this – planned in terms of their studies and what activities they want to pursue and unplanned would be letting them explore things on their own and learn firsthand through their experiences. But honestly, if I do end up managing the fine balance between the two then one day I am so going to ask for the perfect mommy badge. As of now sadly I struggle. 🙂
Q: According to you, what describes an aptly reviewed book? List the things that reviewers should include in their reviews. What all things do you look for when you read a book review?
A: For me a simply worded review works best. It should be clearly able to say whether the book is worth picking up or no. When I read a review, I just want it to give me enough information to get me to understand what the book is about in a nutshell without revealing too much. And yes I would reiterate again that simple words & easy read. 🙂
Q: After reading and reviewing dozens of books, which has been your most favorite genre, style of writing and author(s)? How many books do you own? Have you ever considered reviewing regional language books that you know/can read?
A: After reading loads and tons of books, somehow books written by Indian authors is what I like to read. Now I probably own over 800 odd books. Many have been given away considering the sizes of Mumbai homes. 😛 I have reviewed translated works, read and enjoyed lots of them. In fact every time I review a book which is translated from a regional language, I am reminded of the rich written heritage that this country has and needs to be showcased.
I wish we could translate many more such works which could do with a wider reading audience. Unfortunately, the only other language I can fluently read is Hindi and I wouldn't mind reviewing Hindi books on the blog too, not just Hindi any regional language book reviews are welcome!
Q: Tell us about your role as an Assembly Delegate in the Mumbai Youth Congress. What are your opinions on youth joining politics?
A: The journey from being a social worker to a politician was unplanned, but has been interesting so far! I was very fascinated with the entire idea of having youth involved in a party through giving them democratically elected posts in the party, hence I veered to Congress. Also, considering that I found that party in sync with my own thought process. So, I became a part of the Youth Congress. Since I am a new entrant, there is a lot I am still learning.
Considering that India has a huge youth population it is absolutely important that they involve themselves actively in shaping not just their own future but that of the country too. The most important thing is being aware of developments around them, beginning from their local level to the national level. Wherever possible, actively participating in events which they strongly believe in. I am not just talking about their political involvement but their contribution through social work medium too. As long as they continue being active in the society and they don't end up being cynical, it is fine. 🙂
Q: A media recruitment consultant, full-time mum, part-time social worker, DNA columnist, voracious reader and a blogger…how do you dangle between these glorious roles effectively? If you were given a day to pamper and be by yourself, how would you spend it?
A: I would go mad if I didn't have enough to keep me occupied! But no, on a serious note, I would probably just end up heading to a nearest pool with, yes *gulp*, a book in hand. But no even the idea of a spa is enticing enough, no wait maybe a beach! Well, here I go again!
Q: We recently have seen many servicemen/entrepreneurs/IIMs-turned-authors. How well do they fair in the publishing industry of India? What suggestions would you give to these authors? Do you see yourself being the author of a book someday?
A: As we can see Indian writing has taken off in a big way and this is just the beginning as there's enough and more space for writers. In fact, thanks to such talented breed of entrepreneurs, servicemen, IIM, IITians that Indian writing space has boomed big time and got more people attracted to the idea of reading. I have no suggestions to offer to any budding writer, as long as a passion exists to write within them and they feel that it is good enough and will find an audience to read the stuff they write, it should work for them. 🙂
Me being an author? Haven't thought of it yet. But well, yes, maybe why not! Half of the things in my life have happened to me by chance or by accident, usually never planned, so if it has to happen it may happen!
Q: Do you promote your blog? What promotional techniques work best for you and why?
A: I have created an FB page and Twitter id through which I usually promote the blog. That works well enough for the blog.
Q: How important is it for the blogger to interact with their readers? Do you respond to all the comments that you receive?
A: Yes I try to reply to each and every comment I receive – it could be reader suggestions, their reviews, their thoughts, their disagreement to a review. It all helps me big time to understand what the reader wants and constantly try and keep evolving to meet their needs.
Q: What do you find to be the most gratifying aspect of blogging?
A: That I get to do what I have loved since childhood – to read and to write about what I have read. Besides the book blog I also have a personal blog which I use to rave, rant and write about all other things I love besides books. So creatively very fulfilling for me.
Q: How, in general, would you rate the quality of Indian blogs? Share your favorite five blogs.
A: Indian blogosphere has loads of talented writers. My personal favourites would be:
Q: What is your advice to someone who wants to start a blog?
A: Stop thinking about wanting to start, just start writing and posting!
Q: Do you earn revenue through your blog? How does one go about it?
A: Revenue through my blog, no not yet, except for a tie up with Flipkart not for the money but for the convenience of the reader to just buy the book he/she wishes to after reading the review.
Q: According to you, what is the future of Blogging?
A: More and more people in India are waking up to the concept of reading opinions and ideas not through traditional channels but via the virtual space. So if you want a recipe, or a book to read, or a movie to watch, or a restaurant to eat you would get opinions on all these and more right at your fingertips. So yes, for me the future of blogging is bright. 🙂
Q: Let's conclude off with a few favorites.
Color: Red
Movie: None.
TV Show: Don't watch television at all!
Book: The Palace of Illusions, Jaya, A Fine Balance, Nine Lives, The Last Mughal are some that come to mind right away. PG Wodehouse- anytime, anyday!
Time of Day: Evening
Your Zodiac Sign: Scorpio
Ladies and Gentleman! That was inspiring, isn't it? We are sure #beingamom would be a different experience from now on! Thank you Priyanka for this wonderful interview and wish you all the best.