Two years ago we met a beautiful lady at the Marine Drive in Mumbai. She had the qualities of 'drama queen' written all over her. We asked her, do you blog? She said, yes, I blog and 'It's all about me'. Today, she has just released her first book and two books are on the pipeline to be released this year. We are pleased to have Sagarika Chakraborty at your Adda where she shares her tales from 'Shagor Tales' and her life. This is going to be a rollercoaster ride. 🙂 Stay tuned.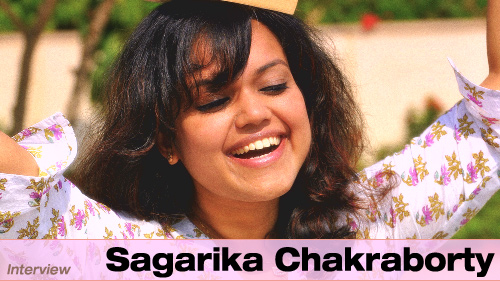 Q: When and why did you start blogging?
A: I started blogging way back in 2008. It was a sad traumatic incident when one evening over drinks I was snubbed by my friends for I apparently had spoken and jabbered for over just 3 hours without giving them a chance. Just 3 hours, and they were tired!
My 'Drama Queen' psyche was so badly tarred that evening that I decided to enter a space where no body would complain of my jabber! Yes, it was a heart wrenching experience that drove me to blogosphere and it's moved many a bloggers to wears whenever I have narrated this incident! 😛
Q: What topics do you generally blog about?
A: Early childhood discovered a syndrome in me which I call "It's all about me" (a common category for my posts) – no it's different from narcissism, the former is healthy :p – so all my posts are generally about everything that touches my life – be it an item number which I interpret my way or serious issues like child prostitution.
Q: Do you ever get stuck when writing an entry? What do you do then?
A: Of course I do! I simply let it be, forced writing doesn't let me get creative. So usually I go for a run, or a bus ride and then think of my favorite bloggers. I think how they would have written it and then it flows in my head like all other posts. And by the time I pen it down it's written my way!
Q: Why were you inclined to study Law? Were you influenced by any situation or a person? Is any of your family member also working in the same profession?
A: When aged 12 you are forced to help in an engineering project for your sister and when no matter where you go your family and extended family is filled with engineers you swear never to study it. So, I decided to study a subject in which my family members have least expertise and for once I can appear smart before them! It still works, I tell you 😛
Q: Peterpan Reincarnated presents how some prominent possessions and particulars of your presence are associated with the letter 'P'. 🙂 How did you manage to find this special connection with this letter? Your father named you Sagarika, after his favorite poetry by Tagore, that he read a few days before your birth. If you wanted to change your name, starting with P, what would you want to be called as?
A: Man, I really wanted to sound intellectual here by drawing up some intriguing connection! Sadly, there's none! I was just doing a tag on a few of my favorite things and when I wrote them down I found the commonality with letter P. And yes, a special name by someone special sealed the deal! :))
Okay, there are a flood of names that are swimming in my head as you say P, but louder is a chorus of my favorite set of friends who on hearing P would just scream "Pinky" – thus let me not stress myself anymore. Yes I love Pink, Purple and every shade that has a connection with these base colors and I have no qualms admitting it. My case rests.
Q: Your debut novel, A Calendar Too Crowded, revolves around the subject of women. The idea of choosing the days marked in the calendar for women, is certainly very innovative idea. Was there any specific reason that you chose to focus on women issues? 
A: Okay, I get it! You are tired of my goofy answers! Though I try hard to keep my serious side away from my blog, interestingly my book is all about that side. My website (shagortales.com) under the heading "Sodium vapor induced seriousness" lists out my experience in policy research and while indulging in them each time I came across some data or the other which linked the problem I was researching on to women and children. In a country where Shakti is worshipped in all forms, it is sad that the epitome of power is not given the respect it deserves!
What inspired me more is the concept of various days marked on the calendar which goes viral. Mailboxes spammed with mails asking me to send flowers to the women in my family or buy gifts for kids, but then what about the day after – just as the mail is deleted the cause too loses effect and we are back to oppression and zipped lips!
Q: Which story of your book, are you inspired/moved by the most? What will your next book be about? 
A: Let me cheat here a bit and pick two stories – When the Ganges Ran dry and Sisters by choice and not by chance. The former is inspired by my relationship with my grandmother who till date despite her physical absence is one of the most influencing factors of my life. Her last days and my understanding her in a new way made me pen that story. The latter is a story about adopted sisters and having experienced sisterhood myself in the most nicest way ever, where my elder sister is still my Hero I decided to connect it to the sphere of adoption, another topic I hold very close.
My next book is a non fiction legal book which is right now undergoing edits, then I have another fiction short story feature line up later this year. But if you ask about my next project, it's too laid out in my mind, and is going to be a satirical take on the Indian education system!
Q: When learning is fun, we carry the lessons learnt to our grave. This is what your Baba taught you. You share a very special bond with your Father. Tell us some more insightful learnings that you have imbibed in yourself from your Father.
A: Baba and my relationship is not the typical father daughter relationship. I am perpetually cribbing about how he doesn't understand my perspective but somewhere everything in everything that I do, I am secretly craving his proud smile. He's my tarpaulin, so no matter how much I fight with him, he's the one who lifts me high up when I hit my lowest! I have served him a legal notice over a citizen issue and then am also the one who's cried on his lap over a heartbreak!
He's taught me a lot, on how to handle family and profession together and when to give what importance. The best thing is even if he has not agreed or liked the way I do things he's let me do it. He's let me fight my own battles to make me so strong that it scares him now. And the best thing is, he's taught me not to lose. Though a scary thought, I have grown up to never admit defeat, so if I have a set back I just can't accept it, I have to try, re try and only when I exactly know that this is not to be, I give in and move on.
Q: Mumbai Mad Caps is a feature that you run on your blog, covering interesting things about Mumbai. Why did you stop this series? What is so special about this city, that you personally can't find anywhere else? Mention the 5 places of this city, which you would like to keep visiting again and again.
A: Mumbai Mad Caps was one of best series ever! I got so many calls, messages suggesting me places and had a ball covering sites. It was such a stress buster to cover these places, mingle with people and then go click click and post! 😀
Mumbai, like the clichéd norm I'm forced to say, that it's a city of dreams. It's the city which liberates you, helps you find yourself amidst a sea of faces and then when you crave a hear, the sea behind your house invites you with open arms irrespective of what time of the night it is. For me it's the city that helped me fall in love with life! And having travelled extensively, I proudly say that there's a sense of security mixed with freedom which no other city has given me. Thus, when I moved cities I stopped it – I want Mumbai to call me back, if not for anything for the want of Mumbai Mondays!
Just 5? That's mean! okay let's see – Haji Ali (especially the eatery for it's fruit crème specialty 🙂 ), Sunrise at Oyster Rock, The Virgin Beach behind my house at Worli, Sunset outside NCPA and then swooning over Vir Das on stage and yes road tripping to Bordi with my besets pals!
Q: You have been in many applaudable & challenging roles like an author, lawyer, panel reviewer, active researcher and many others. Which role do you enjoy being in the most? How do your friends and family feel about the work you do?
A: Can I have a mix of everything? No! Seriously, I feel every one of my roles are connected – there wouldn't be a author if I hadn't researched to know about the anomalies that grip the society and I would have known to research had it not been for my law school. But guess, authoring something that leaves an impact on the society satisfies me the most!
My family and friend half the time are unaware of what I'm doing and the other half of the time they are struggling to cope up with my drama queen image! One thing that they tell about me is that I have 48 hours packed in my normal 24 hour day. But, my mom asks me to slow down, for she feels that am too ambitious and that might eat up my social relationships! But, I strongly feel that those who love me the most will stick by me, when I go into that work recluse – for to stick by me during my best is cake walk, it's only those who can survive my worst are the ones I should care to hold close.
Q: Your lawyer mind has also a creative side to it. We were in awe when we saw your cake designs. 🙂 How did this interest start? If you were not a lawyer, would you have considered this as a career option? 
A: Lol! I don't know if they are worthy of being awed of, but yes that's again something I use as a stress buster. The interest started with me wanting to bake something different on the 30th anniversary of my parents. My mom has always baked birthday cakes for us, and hence while growing up we really never liked shop brought cakes, so this time I wanted to surprise her. When the 'Rose Cake' was well received I was intrigued to read more about baking and how things can be done differently. The different kind of icings, what goes for children and what doesn't and the like.
Yes, of course I want to retire to open a bakery in Goa by the sea side! Ooooo I can almost picture it, wine, cakes, coffee … Let me stop before I start sighing 😛
Q; You had once written about the pressure that blogging builds on bloggers, to churn out read-worthy posts. Have you ever come across this situation? According to you, should blogging be about yourself, or readers, or probably a mix of both? Share your opinions.
A: Well not exactly "read worthy" posts, what I felt was that after you are known in the blogging world and there are people who know you beyond that, in the real world… You can't always post what is in your mind. That can be because there's a pressure that you are letting your followers down and your blog will lose eye balls and sometimes because there are friends who know you now so well that they'll read in between the lines and know what exactly you mean. That is sometimes you don't want!
I feel blogging should be letting your hair down, I read blogs where people do not write anything personal and then something which are mix and some completely rants – there must be a space where you are nit judged for what you write or feel, to me your blog should be the depiction of just that, irrespective of who reads you or not!
Q: World Summit on Economic-Financial Crisis has awarded you with the 'Best Paper on Economic Crisis', you've been a panelist at UNESCO and also been a finalist in an International Client Counseling Competition. Many things in life often happen when you have never imagined it to occur. Did you envision yourself to achieve, what you have today?
A: Again, sadly I wish I could say it was all so sudden and surprising. But the truth is I am a meticulous planner, everything that I have achieved has been tempered with set backs before I have reached those summits. Lined with rejects, it's been nights of redoing research understanding where things went wrong, re-writing papers and then finally making it to the winners list. Somewhere I am not shy of admitting that nothing came easy, but yes there was something which was constant – the gut to get my paper through or the desire to win, irrespective of what people thought of me!
Q: You have also gone places when you were invited by the UN Forum to speak on Globalization on Emerging Economies. That was in 2005. What changes have you noticed in India's economy in these 6 years? Are there any necessary steps you suggest for India's growing economy?
A: Hey, this was supposed to be a fun interview! :p
Yup 6 years back as a 3rd year law student I spoke about the position of women in emerging economies in India. Guess, the seeds of my book, was sown back then and now when I link it to the present situation a lot has changed but then a substantial amount hasn't. As I mentioned in the World Bank premier paper (2009) on e-governance that newer indigenous models are being put in place which are being adopted from India rather than by India.
India from emerging I believe has moved to the transition economy stage and then while back then I did developmental research, my latest laudable paper has shown how we are thinking of inclusive growth. But, with regard to the social tapestry, sadly I feel that a lot is being talked about, policies being made, but little actually seeping down to curb the evils!
Q: Photography and cooking seem to be your hobbies. What are your other interests? How do you spend your weekends/holidays?
A: I love experimenting with all sorts of things that help me rejuvenate. Cooking tops the list, close second comes photography. And then I love running/ brisk walking, it helps me think. Also, I hold children very close to my heart, so story telling sessions are lapped up by me. Apart from that you'll find me squatting in front of the archived book stack at an old book store, searching for treasures for I love to read off beat books!
Q: Do you promote your blog? What promotional techniques work best for you and why?
A: I suck at promoting! Can you be the official promoter of my blog?! 😛
My blog has primarily been read by my friends who have referred it to their readers for they liked it and thus the network grew. In fact, now with the book hitting the stands, my friends are after my life to learn promotional gimmicks and join social sites like Twitter and make FB pages, if not for them, my book would have been archived before listed! 😛
Q: How important is it for the blogger to interact with their readers? Do you respond to all the comments that you receive?
A: How would you feel if at a social setting someone asked you a question and you turned away? – a very close friend and blogger once said this to me. And it's stuck nod my mind ever since. It's perhaps the most important thing of blogging: exchange of ideas. All of them might not be liked by you but then hey, that's even in reality,  and that's what keeps the mind churning. I mean wouldn't it be boring if there weren't differences in ideas and instead everyone just hummed a yes?
I make sure I reply to each comment and mail, even if it's a troll. I respect the power of expression and speech and stand by it!
Q: What do you find to be the most gratifying aspect of blogging?
A: My girl gang! The way I built the same and the way they are intertwined in my life, it's really a story of it's own. I love how from mere word exchange relationships people come so close, that they make efforts to send you your favorite food parceled from miles across, or you wait with held breath as a friend rushes into delivery, or the comfort of picking up a call at weird hours, mainly because you needed an ear and you get the same and more lovingly!
Q: How, in general, would you rate the quality of Indian blogs? Share your favourite five blogs.
A: I would rate them really high on the way they have evolved in the last few years. It's no longer personal stories but networks about young writers, contest about social causes, critique on news items, groups of new mommies and yes the best part, mindless goofy readings to make your day!
At the risk of being hanged to death for those I am not listing, here it goes:
P.S: If the others who know I love them feel offended, let's sue BlogAdda together for not giving enough space! 😉
Q: What is your advice to someone who wants to start a blog?
A: See as I said, you need to suffer a traumatic incident which will force you to turn to Blogosphere! lol, kidding. I think one should start a blog, for want of an expression. I remember having introduced one of my BFF to blogging for I knew she had a lot of pent up emotions which needed a release but she wasn't ready to share it with people. I taught her the power of private blogging, and it really helped her. So I feel that's the magic of blogging, you express yourself without inhibitions and it's upto you to share or not – both have their advantages. When you re-read a private post you reflect and when you interact with friends over public ones, you smile, you grow and you bond.
Q: Do you earn revenue through your blog? How does one go about it?
A: I wish I knew how to do this. I am waiting for someone to write a How to be a Revenue earning Blogger for Dummies!
I just hope people read my blog and are inspired to pick up a copy of A Calendar too Crowded!
Q: According to you, what is the future of Blogging? 
A: I think the Future is now! Blogging has come a long way from being personal online journals to seep into all spheres of information exchange. Be it news, movies, personal endeavors, everything now today has a blog connection. What more, I am getting to know more and more bloggers getting married to each other, what more can the future behold! Or maybe I am not that visionary. 😉
Q: Let's conclude off with a few favorites.
Color: Am Pinky remember? – Pink, Purple and everything connected to them!
Movie: Serendipity
TV Show: Rules of Engagement
Book: Anamika by Soorina Arora
Time of Day: 4 AM
Your Zodiac Sign: Gemini
Thank you Sagarika for this wonderful drama filled interview. 🙂 We wish you all the best for the current and your forthcoming books.