Vineeta is back. 🙂 Festive season is one of the most busiest times for artists, designers and of course shoppers. 🙂 After the awesome first part of her interview, we are here with the second part of Vineeta's interview. In this interview, she speaks about Indian Interior designs, trends, artists and lots lots more. So without wasting much of your time, here we are with the second part of the interview with Vineeta Nair.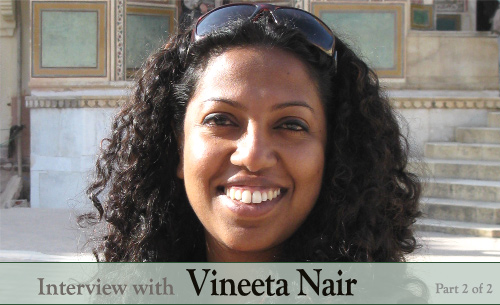 Q: Traveling across India has been an important part for you in discovering various art forms; and ethnic art and designs of India are something that are very popular globally. Which state/city of India would you term as the art capital and why? Share with us some famous art form of that state/city.
A: In India its difficult to call any particular state/city art capital, because there is a lot of local & indigenous art and you can't judge things like that. But Rajasthan is definitely high on the list. The kind of artistic lineage that place has is very formidable. There are a lot of interesting things happening in Bombay & even Delhi in terms of confluence and contemporary art. Kerala and Calcutta have a very strong artistic culture and heritage. In Kerala, if you were to look at Kathakali or Theyyam or even the finer Mohiniyattam, it is amazing stuff. And recently I went to Nagaland and what I saw there, artististically speaking blew my brains. What an innate & finely developed design sense the Naga's have. Very geometric and bold, and if you didn't know how many centuries they were doing that from, you'd think it was the most contemporary thing you ever saw.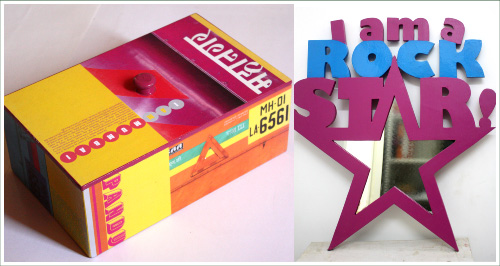 Q: You use a lot of decoupage in creating your work. How did decoupaging come to your mind? Name some of your favorite designers.
A: My using decoupage, when I started, was a bit like – necessity is the mother of invention. I needed to fill a stall with stuff, hand painted was just not an option in terms of time. So I thought of decoupage. It was something I had tried my hand at before. But to really answer your question, I use decoupage because I come from a graphic design background and it makes sense for me to think & design 2d and then transfer that onto 3d. So that I'm still coming from my strength which is design & colour. My favourite designers would have to be Stefan Sagmeister, Marion Bantjes and the traditional old school Rajasthani artisans.
Q: Apart from designing coasters, trays, boxes, etc., you also get projects for decorating homes. What kind of designs, earthy or modern, do you prefer the most and why?
A: I find I am very drawn to warm colours and certain colour palettes resonate more with me than others. I find this a bit irritating at times, since it clearly indicates a certain fixity of thinking. Need to break it. I find that I am a lot more free-er in the way I use colours on my products that I am when it comes to interiors.
Q: For a person who wants to make a career in designing, what suggestions would you like to give to him/her? What makes a good designer?
A: Do what you love. That's the only solution. Otherwise you won't find yourself or your joy. Give a damn really, just enjoy yourself. If your work is true to you, you will find that speaks for itself. About what makes a good designer – how do I answer this – there is no formula – there are as many good designers as there are human beings and they are all different and unique. Ok, maybe a good designer is someone who is truly courageous. And in the best case scenario- childlike. Children are just into experiementing, they will try anything and everything. And they don't get attached to stuff.
Q: How do you spend your days when you are not working on any project? Other than art and design, what things interest you?
A: Travel for sure. Travels frees me. Makes me think, lets me be, removes context. It is very liberating. Travel lets me experience the closest thing to freedom. I am all eyes and a little like sponge, It's great to find yourself in a very different landscape without too many reference points. Makes you think on your feet. Poetry also inspires, finding design in poetry inspires.
Q: In one of your posts of 2010, you had mentioned some of your learnings of that year, like 'do new things', 'you get many chances', 'go with the flow' and many more. Which of these learnings has helped you the most in your life and how? Share some incidents from which you've drawn these learnings.
A: I think the point where I quit my job, really opened me to a lot of possibilities, I was open and vulnerable. I think that's what scares people the most about quitting their job/career. Suddenly here I was standing without a history, without an identity, if someone asked me what do you do? I didn't have a pat reply. Everything I knew to do, was just so 'not enough'. I needed a whole load of new skill sets which I discovered, I didn't even think of and worse – acquiring those skills would actually be identity threatening. I had to acquire a business sense which was at loggerheads (or so I thought) with my being a creative person. When I wrote that post I had just lived the most difficult and humbling year in my professional life. It made sense to be gentle, to look back and put down the things that helped me go through that year. It was scary writing that post because it felt like a post mortem in so many ways, but for once I felt had something to say which might help my regular blog readers understand what was happening.
Q: What do you find to be the most gratifying aspect of blogging?
A: Blogging is contagious and it travels, and it takes you and your story to places they would never have reached otherwise. Blogging lets you tell your story, it gives you anonymity, it gives you freedom. But most importantly it gives you instant feedback. That someone somewhere has already read what you have written 10 minutes back is instant gratification. It is encouraging like few other mediums of expression are.
Q: How, in general, would you rate the quality of Indian blogs? Share your favourite five blogs.
My grandmom always said that there is the the good and the not so good in everything in life. Same for Indian blogging. My favourite 5 blogs will have to be :
Q: What is your advice to someone who wants to start a blog?
A: Do it because you cannot not do it. Don't blog because your friend's cat is blogging, or because everyone has a blog. Or because you've heard blogging is a great way to promote your work. It will never work. Do it if your love for something, anything, is so great that sharing it is a privilege and a joy.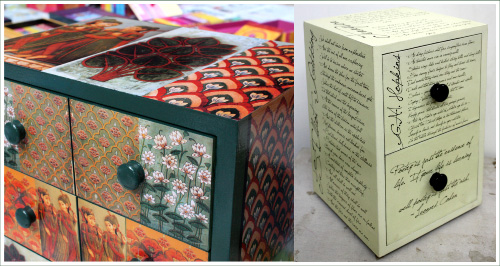 Q: Do you earn revenue through your blog? How does one go about it?
A: I earn a living through my blog, but not directly. I don't make advertising revenue on my blog, it happens sometimes, but it happens more to bloggers who blog on a daily basis, I don't. There is no one way to go about it. If you love what you blog about, it will then draw more income to you in your real life. Because people will see what you are good at and contact you. That will definitely happen. Or like me you will discover your real self through your blog & that will change your work.
Q: According to you, what is the future of Blogging?
A: The future is bright. The name might not be 'blogging' but the point of being heard, of having a platform will not change even if the platform does. It is the age of instant gratification, of Facebook, so someone with anything substantial to say or show will naturally be drawn to blog. And the others to read it.
Q: Let's conclude off with a few favorites.
Color: Yellow
Movie: Kairee by Amol Palekar
TV Show: used to watch Anthony Bourdain: No reservations
Book: Any William Dalrymple book
Time of Day: Afternoon
Your Zodiac Sign: Sagittarius
Thank you Vineeta for this wonderful interview. Wish you all the best for all your ventures and may you light up and decorate many homes in the coming years. 🙂 Readers, Any tips/suggestions/questions to decorate your home this diwali? Ask her now!