In September last year, BlogAdda unveiled its new look and features, and with it started the course of encouraging new bloggers of the Indian blogosphere with yet another initiative. We called them our 'Notable Newbie'. 🙂 Our very first Notable Newbie was Mansi Bhatia and thereon began the aim of motivating and featuring worthy and newbie bloggers. It is close to a year since we started this feature, and along the way we have managed to cover blogs of different genres, unique writing styles, various perspectives and peculiar thoughts.
We found some mothers blogging about their motherhood, while some others who were great chefs in their kitchen blogged about their culinary experiences, yet others were interested in fashion and beauty and a lot of them shared their views on everything happening around them. We also found bloggers who cracked us up with their wit and humor, another lot amazed us with their art and creativity and few also shared their discoveries with their travelogues, accompanied by the breathtaking photographs. From poetry, to different opinions and views, we have tried and continue to do so, to bring all of them forward, and give them their share of fame!
BlogAdda is proud to announce that we have successfully featured 100 Notable Newbies on our homepage! 😀 And today, we present to you the Wall of Fame of our 100 Notable Newbies. 🙂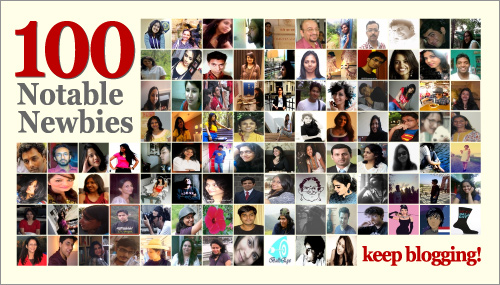 Meet the 100 Notable Newbies here!
We received a lot of support and appreciation from the featured ones, and we thank each one of you for your kind words. 🙂 You truly deserved to be recognized!
With this, we also would like to give some pointers to bloggers who wish to be featured on our homepage as BlogAdda's Notable Newbie. You can be on our homepage if you are blogging less than a year. To be on our homepage, you need to be a member of BlogAdda. If you are not a member yet, then do sign up and join the Adda. Submit your blog, follow the registration steps, and get it approved by our editors. Also, it is always preferred to have your original picture at your BlogAdda account and your real name. Since other bloggers and your blog followers, would like to know the face behind the blog they like so much. 🙂
Other pre-requisites are that one needs to be regular with their blog, post valuable content and have a good design. If you are someone who has just entered the blogosphere, then we would like to observe you for sometime, on how you progress. Your content should not be copied from someone else's blog.
If you think you or your friend should be featured on our homepage, then send us a mail at notablenewbie@blogadda.com.
Congratulations once again to all the 100 Notable Newbies of BlogAdda! 😀