Imagine that you are walking down the street chatting, gossiping and having fun time with your friends. Suddenly you see a person at the other end of the street clicking photos of random people in the natural light. You walk upto him, and wonder what is he doing. He tells you "I shoot people on the street, the way designers looked at people, and get and give inspiration to lots of people in the process". 🙂 Today at your Adda, we have one such person who has one of the top Street Fashion blogs in India. We are pleased to welcome Manou of Wear About at your adda where he talks about his life, fashion trends, street fashion in India and so much more. Are you ready?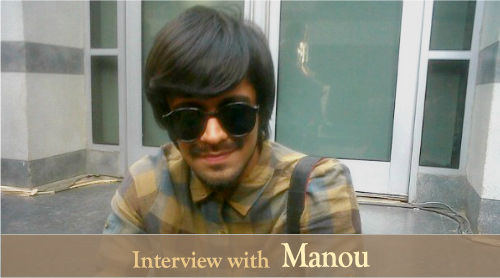 Q: When and why did you start blogging?
A: I'd been taking street style photos ever since 2009 August/ September in Dharamsala, where I was volunteering and I had nothing to do on weekends. A traveler friend saw the photos & introduced me to Shoichi Aoki's book – FRUiTS, and another friend suggested I look at Sartorialist, Face Hunter and other street style blogs. I realized I was doing pretty much something similar and there were no Indian street style fashion blogs. So 4 months later, in February 2010, I started blogging.
Q: What topics do you generally blog about?
A: Fashion & style, and topics tangential to them, which can probably bring in pretty much everything from life around.
Q: Do you ever get stuck when writing an entry? What do you do then?
A: Well, most of the time. Then I do nothing. I take time off the blog. Sometimes I don't blog for a week or more. Probably not a very good thing to do from a blogging perspective. I have got about 28 drafts (semi-finished posts) on the blog so far.
Q: You graduated from National Institute of Fashion Technology in Bangalore. What were the stepping stones when you began your career? Did you always wish to be in this industry? When and how did your inclination towards street fashion start?
A: I'm not sure if there were any stepping stones as such. I mean the usual highs and lows of life served as stepping stones at different points. Yet it still feels like the beginning.
And no. I didn't think I'd study fashion. But I guess that's how everyone is at the age of 15/16. Nobody knows. Although once I joined NIFT. I guess it was almost certain that I'd be in the industry, but not sure about doing exactly what. NIFT was pretty confusing as well. And I wasn't the only one confused; most of us didn't know what we'd do post graduating.
Inclination towards street fashion: in 2nd half of 2009. As I said before, I started shooting in Dharamsala because streets were full of interestingly dressed people.
Q: What is the most fascinating part of capturing street fashion? What things set it apart from the regular, in-trend fashion that we see around? Do you spot some regulars on streets (who regularly sport a good look) and capture them frequently?
A: …that it is unexpected, inconsistent, and sometimes improvised + getting to encounter all kinds of people: drunks, drifters, story-tellers, fashionistas and the likes.
What sets it apart — I think the fact that it is probably more individualistic, at times effortless, & out of basic necessities. Although, what's seen on the streets here in India must be trending in a country somewhere else. For example, short folded trousers + no socks is something that you see on most poor people here, and that's quite similar to what most men featured on The Sartorialist are wearing. Here they might have a 20 rupee gamccha around their necks while there the men might be wearing 40 dollar bow-tie. Or a certain style of clothing seen on a street kid in Shillong, also being fashion bloggers' favorite. So drawing these kind of analogies is fascinating as well.
And yes, there are many fashion-obsessed regulars whom I photograph frequently.
Q: Do you look out for certain things in a person or go by what looks appealing to you, for clicking an aam aadmi? On which locations do you regularly find something worth capturing and what kind of reactions do you receive? Do you take their permission before clicking them? What are the difficulties of street fashion photography that one faces, if any?
A: I think I go by what looks aesthetically appealing for photographing anybody actually. Locations – geographically speaking, I've found the best in small towns, or in beaten down areas, mostly the poorest people + the people at fashion weeks. Funnily, I often find a strong connect between style of the poorest and the chic-est.
I do take permission at times. Some people refuse, some don't. I also do a LOT of unsolicited photography. At fashion weeks people rarely refuse, while on the road, many people refuse. Hence most of my Shillong, Dharamsala, street stuff is unsolicited photography. Difficulties are plenty. I got apprehended by the cops in Aurangabad because I was taking photos inside the High Court premises. I did have a little idea that it might be an issue, but my cab driver said it's not. I was sitting in the parking lot, right in front of the HC entrance, for 40 minutes taking photos. Took about 100 till the cops took me in. So it was a 2 hour long ordeal, and then I was free to go. They made me delete all the photos, but I made a copy.
Then once I got followed by some drunk men who wanted me to take photos of them and then wanted money or the camera. So stuff like that happened pretty much everywhere. But that, I now understand, is not a big deal. I realized I got to be friendly on the streets. I politely answer people when they ask me questions like what I'm doing etc., and if they want a photo that I think is a waste, I still humor them. Because in a new town where you're a stranger and on your own, you can't really be all obnoxious.
Also in most of the non-touristy small towns, people are obviously inquisitive and scared for some reason. Some had really weird points when asked for a photograph – "what if you submit the photos to cops & accuse us of bomb blasts?"
Some places I got mobbed (in Bareilly/ Asansol), where about 30+ people on a street wanted to get photographed and each one of them wanted to see the photo. And I did humor them; lost a lot of daylight.
I had no such issues in touristy areas like Jodhpur & Dharamsala.
Q: You are one of those designers who not only finds fashion in common people, but also turns Indian clothing to look very urban and cool. Which traditional Indian clothes, according to you, can be adapted by people, in their regular wear? Which Indian garment is your favorite?
A: Designer? (I don't design anymore) Or photographer? Umm…dhoti & lungi as you pointed for men. And blouse/choli shirt – for small town women it's a regular thing to wear. Even petticoats maybe. I got no favorites as such.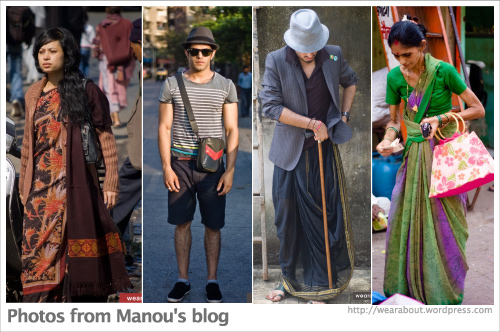 Q: Big fashion companies and brands, for their campaigns, use super models and new faces of the modeling industry. We haven't seen many brands use common people for their campaigns. Do you think brands should use them? Why?
A: Yes, they so could. There are so many interesting looking people on the streets. These poor people instead of picking up rags could have easier lives if brands decide to use them. But the ones with authority, who can actually do something about it, need to have an open mind & be a little eccentric (in a good way) to be open to such concepts. Although I see it as something really simple and straightforward. I think one perfect example is Djimon Hounsou from Africa who ended up in France, and at the age of 13, couldn't find a job, was a vagrant sleeping under bridges, and eating food from trash cans. But then designer Thierry Mugler discovered him, post which he got endless modeling assignments, followed by a major Hollywood film.
I am not sure if such stuff happens in India.
And why brands & such should use them? Many obvious reasons:
There'd be one less needy person on the streets.
Helping a poor person, doing good for the society – isn't that what they all want to do or claim to do? Make this world a better place by selling clothes?
Q: Has enough importance been given to street fashion photography, in the fashion/photography industry of India? Share with us some of your favorite Indian designers who inspire you.
A: I'm not quite sure about that. I haven't done enough research to answer that correctly.
There are many designers whose collections have been inspired by the streets – Paromita Banerjee, Sabyasachi, Abraham & Thakore.
I'm not inspired as such by designers. I quite like Manish Arora's shows. Although honestly, I haven't seen much either.
Q: You have traveled a lot many places in India that include Pushkar, Mumbai, Jodhpur, Shillong, Delhi, and Chandigarh, and have captured their street fashion. Since you travel a lot, we assume that traveling is one of your interests. While you are discovering these street fashionistas, you are also discovering different cultures, places, traditions, etc. How has this experience of travel and discovery been and which one did you enjoy the most?
A: When funded by self, I carefully choose where I want to go. I prefer traveling to cold places during cold weather. So I love all these places I've traveled to, equally. I'd say I had a great time in Shillong. It was unlike any other Indian city – away from the stereotypes + I stayed with a friend's friend's family, and after 40 days of staying with them, it felt like I'd been there forever. It was too sad leaving them and the place. Then Jodhpur was a different kind of experience because I went alone, and I had a lot of thinking time. Same with Dharamsala – cold, peaceful, disconnected, spiritual, and amazing food. And then I ended up hanging out with a bunch of other long timers from all over the world, which in itself was an amazing experience. Chandigarh was different from all other cities. Nice looking modern houses and super clean.
Each time I travel, I think I change. There is, of course, discovery of a new place, new people, but more than that, there is a good deal of self discovery.
Q: How is Mumbai street fashion different from that of other cities or countries? Which part of India, according to you, has a high fashion quotient? Share with us one picture that you've clicked, which well captures Indian Street Photography.
A: I'm not sure if I can correctly comment on this by only comparing Bombay's style with what's there on other street style blogs. I agree with a person who mentioned on her twitter account a day ago, post stumbling upon my blog – "what I've learned from browsing street fashion blogs from around the world: the world is small, and hipsters are everywhere."
India is too big a country with too many diverse styles. There are fashionable people everywhere, when looked at  from different perspectives.
And I'm not sure if one photo can correctly depict Indian street photography.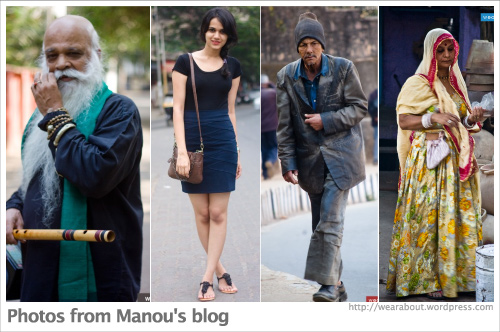 Q: Vogue, GQ, Hindustan Times, Elle, H&M and so many more…Wearabout has been featured and recognized by people and also publications. What things have you planned for your blog and your work, for future? Have the people around you been supportive? How do they feel about these achievements?
A: I've no plans as such. Never did. I just intend to make good photos and come up with relevant content. Which probably means, I need to do a lot of reading and a lot of travel.
Yes. Some of my close friends have been very supportive. Not all have been very vocal about their feelings towards the blog, but I guess they feel I'm doing fine.
Q: In North of India, you volunteered with an NGO that worked with Tibetan refugees. How was the experience? Do you still continue to do some social work?
A: Experience was obviously amazing and not something I'd expected. Although, I'd gone there without any expectations. It was my 2nd time volunteering (1st was at a school – teaching in Auroville in 2006 and 2009). I started off with participating in conversation classes, where you talk with a group – Tibetan monks/ refugees in English, in order to improve their spoken English, sharing what you know, listening to what they have to say – It's a popular teaching method there. If you take a walk on Jogibara Road (one of the three main roads in Upper Dharamsala – mcleodganj), you'll find plenty of signs there, inviting you to English conversations. Simultaneously, I was also teaching Photoshop and Illustration to the board members. They constantly needed to make posters and handouts, advertising about their center, to get more volunteers. Days that saw less volunteers, I'd be asked to sit in the conversation classes. I personally didn't prefer the conversations much, because they were too straining.
And no. At present I'm not doing any social work.
Q: The Sartorialist is another international blog that covers street fashion. GQ terms you as our own (Indian) Sartorialist. 🙂 Do you like that comparison?  Apart from blogging, do you work as a designer/photographer anywhere? What would be the biggest thing that you aspire to achieve?
A: Comparison with Scott Schuman of The Sartorialist is obviously a great thing, but I feel it's incorrect. I was inspired by the Japanese guy Shoichi Aoki who started out in the mid 90s, and if I really have to compare my style of photography, at that point, and mostly, I'd say is more like Bill Cunningham's (I didn't know who he was either. Someone had compared my work to his in some forum long ago & I sort of agreed with that).
But then people compare all the time based on what they know and what they've seen, which at times is limited. So, what & whom I'm compared to is not that important and is not a big deal.
Apart from blogging, I freelance as a photographer. I recently did a project (documenting street fashion in small towns) for Future Brands/ Madura Garments; it will be up on my blog soon. Other than that I've done commissioned work for a few magazines & lookbook/ catalog. I don't design clothes at all, never really did, just get my own clothing tailored at times.
Biggest thing I aspire to achieve: I'm not sure.
Q: How does Manou spend his day when he is not photographing on streets? What has been your biggest fashion faux pas? Were you that stylish in your childhood too? 🙂
A: When not photographing on the streets, I'm sitting in my apartment, browsing the net, working on the blog mostly, writing random stuff that I might use in future on the blog. I got a lot of written content but no photos to go along with it and a lot of photos but no text. I still have a lot of stock from January on in the pipeline. Other than that, time goes in watching torrented films (I've finished about 80% of IMDB's top 250 lists), reading something on/off the internet and occasionally on my synth.
Biggest fashion faux pas: I think I tend to forget.
No. I was never stylish or anything.
Q: Do you promote your blog? What promotional techniques work best for you and why?
A: No, not really. It's mostly through word of mouth, Facebook, & Twitter.
Q: How important is it for the blogger to interact with their readers? Do you respond to all the comments that you receive?
A: I think interacting is good if a certain post requires some kind of dialogue. So if there is something profound I've asked or mentioned (which is rare) and somebody has something equally profound to say, then I respond. Else I'm not used to, or even mildly good with, compliments. I never know how to respond.
Q: What do you find to be the most gratifying aspect of blogging?
Having your work out there and getting feedback from people – good or bad, as it's the feedback that makes you want to improve & understand how you're faring + getting paid to do what you like, which is what the blog is slowly becoming for me: a medium I could make a living out of.
Q: How, in general, would you rate the quality of Indian blogs? Share your favourite five blogs.
A: There are too many blogs now and it's hard to keep a track. The ones I like are the old ones:
Q: What is your advice to someone who wants to start a blog?
A: I'm no expert on this, but if I had to tell a friend, I'd say, have a clean layout, create original content, do it for the love of it and be honest with what you post.
Q: Do you earn revenue through your blog? How does one go about it?
A: No I don't. I've kept it free of all the side bar ad clutter. I'd like to keep it that way, unless I get approached by Yohji Yamamoto or somebody to put an ad, but Yohji doesn't need to. I get projects through my blog – the kind of work I'd like to do, and I don't need anything more than that for now.
Q: According to you, what is the future of Blogging?
A: Umm…huge?
Q: Let's conclude off with a few favorites.
Color: Umm….grey.
Movie: Loneliness of the long distance runner.
TV Show: I don't watch TV, but if I was living in times of Twin Peaks, then I'd reconsider.
Book: Right now I'm reading Saki's short stories and it's quite funny.
Time of Day: Night.
Your Zodiac Sign: Virgo
Street Fashion in India explored thanks to Manou. Manou, it was a fantastic interview and thanks again for the time you took for giving us this interview. 🙂 We wish you all the best for all your future endeavors. 🙂 Friends, this interview is all yours now. Ask Manou questions and get responses.