Last week we interviewed an awesome 'Project Manager turned Blogger'. This week, we are going to interview someone who is balancing the best of both the worlds. When he is not acting as a liaison between the customer and the IT team, he travels and clicks amazing photos. He calls himself a self made photographer. Not to mention his love for food which made him organize India's first Aperitweat. Let us get over the introductions and welcome Tarun Chandel at your Adda. In this interview, he makes us realize that you can balance your work and follow your passion, simultaneously. Ready? Go ahead.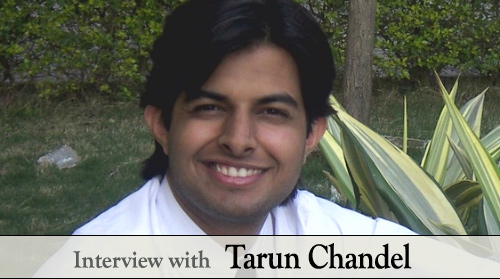 Q: When and why did you start blogging?
A: I started blogging in 2005. Blogging has been a learning tool for me. I was first drawn to blogging by Parag Shah, faculty at Symbiosis. He used his blog as a teaching tool and also as an active way to draw participation from the class. Thanks to that experience, I started a personal blog with an aim to improve my writing skills. The blog gave me a reason to put together my thoughts and organize them in a logical sequence. It also helped me in simplifying my writing. Since then, I have used blog to get better at my hobby (photography) and my profession (Business Analysis).
Q: What topics do you generally blog about?
A: Currently I run an active photoblog, where I try to post every single weekday. I also run a Business Analysis blog where I post my learning and thoughts on my profession.
Q: Do you ever get stuck when writing an entry? What do you do then?
A: When I get stuck with posts, I take a break from blogging.
Q: Do you promote your blog? What promotional techniques work best for you and why?
A: I don't actively promote my blog. The aim is to get better at photography and not to keep pushing my blog. Since I have limited time for my hobby, I try to spend that on learning more about photography than promoting my blog. Having said that, I have put the feeds of my blog on all the social media platforms, like Twitter and Facebook. Recently, I have also created a Facebook page for my blog.
Q: You have studied BBE (Bachelors Business Economics), completed your MBA from Symbiosis and are now working as a Business Analyst with Capgemini. Being from the business background, how and when did your interest in photography start? Are you a self taught photographer or did you take any photography course?
A: All thanks to my sister, in 2007 she bought me my first camera, Sony DSC-H7. Then I started clicking and the interest grew. Around the same time, I was seeing the benefits of my personal blog, my writing had improved considerably. Hence, I decided to use blogging for improving my photography as well. For the initial few months, I posted pictures as and when I clicked. Later on I decided to post every single day of the week, forcing myself to take more pictures and hence improving my photography.
I never got enough time outside of work to pursue any formal course in photography. So, I decided to learn it on my own. Internet is of great help, there are numerous blogs and sites that are full of comprehensive tutorials. The only thing lacking was the consistency in clicking pictures. That's where my photoblog provided the reason and later the motivation to be regular.
Q: In 2008, you started a micro blog on healthy living, with an aim to start living a healthy lifestyle and accounting your healthy activities in that blog. However, you discontinued to update it in few weeks time. Were you successful in losing your 'IT Belly' and the 'double chin'? 😛 Do you follow any fitness routine now?
A: Healthy Living Blog was my attempt to improve my running that failed miserably. In fact there was a time when my colleagues were betting if I would continue the running even for 2 weeks. It lasted exactly 2 weeks.
Q: Being a Business Analyst, you share learning on your Business Analysis blog. What challenges does a Business Analyst come across and what roles does he need to perform? Please share your learning with people who have just started their career in the same industry.
A: Business Analysis is an important area of work. As a business analyst you need to act a liaison between the customer and the IT team. Hence, it is important that you understand the business domain of the customer and also have the IT knowledge. Since you have to act as a liaison, it is also important to have the soft skills. It also helps to have a consulting bend of mind if you want to be a good business analyst.
Those who are just starting out as a Business Analyst or wish to take up this role, they need to work on building their domain, IT and soft skills.
Q: Like any other job requires discipline and team work, A Business Analyst also requires engagement and talking to people. You are a Business Analyst for 5 years now. How have these qualities helped you in your personal and professional life?
A: To start with it was the other way round; my personal life has helped me to be a better professional. Education at Symbiosis played an important part, I got to spend time with people from different parts of India and that helped in a big way. Being a business analyst, I have to work with people from a variety of backgrounds and thanks to Symbiosis that has never been a problem.
As I am spending more time in this profession, it is helping me to be better in my personal life as well. Having worked with some really good people in last five year has been a big plus. I have been lucky to work with some of the pragmatic people in the industry as they helped me shape my thinking about the work and life. My very first mentor at Capgemini helped me to think of work more as a piece of art, rather than just a job and being passionate about it. Then there were people who taught me to be a better consultant and to work on building relations. I also learned to balance my work and life.
Thanks to my profession, over the years I have become a better listener and I feel at ease working with new people.
Q: From random things, to real people, you have captured everything in your camera. What has been your favorite capture till now? And what things do you wish to capture, and haven't been able to? What things do you keep in mind when you are photographing?
A:  I have had quite a few good clicks but I still feel that I am a learning photographer and trying to get better with every click. There are a lot of things I want to learn about photography and a lot of things that I want to try.
Q: How do you manage to take time out to fulfill your photography desires, after a busy day at work? Have you ever thought of taking up photography as a full time job? Any handy tips to the people who are interested in this career?
A: I do most of my photography on weekends or during the vacations. Photography is a serious hobby and I intend to keep it that way.
Anyone who is starting out with photography I suggest them to:
Keep clicking, as you get better only with practice.
Treat your camera like a 36 film roll; it forces you to think of what you want to capture before you pick up your camera to click.
Q: Does your wife, Shefali, also have interests in photography? Is she your best critic? How do  your friends and family feel about your photography interests?
A: Shefali has a very keen eye for pictures. I feel photography is about focusing on smaller bits in the given big canvas and what you focus on defines the kind of pictures you will click. She amazes me with the kind of things she captures, especially when photography is not her hobby. I have uploaded some of her pictures on my blog as well. As for her being a critic of my pictures, she doesn't really push her opinion on me but I do discuss some of my shots with her and take her ideas on how to improve. As of friends and family, most of them feel I have wasted too much money on cameras. I wonder what will happen if I tell them the prices of professional cameras, lens and kits.
Q: It is always good to capture little joys of family gatherings and store it an album, and cherish them when one gets old. After returning from work, do you also click pictures of your family members and your wife?
A: Yes, I do take pictures on social occasions, but it is not that I am busy clicking every moment of my life.
Q: A picture speaks a thousand words. Do you have a particular thought in mind, while you take a picture? "There are no rules for good photographs, there are only good photographs", said Ansel Adams, an American photographer. What is your idea of a good picture? Which photographers do you follow & why? In your opinion, what makes a good photographer?
A: As I said earlier that, I feel photography is about focusing on smaller bits in the given big canvas. Before picking up my camera to click, I like to take a look at the whole canvas and choose the bits that I want to focus on. Once I have a clear idea in my mind, I pick my camera and try to capture that.
Since I have a goal that I want to achieve, a good picture is one that achieves the goal.
There are quite a few photographers I like and thanks to social sites the list is ever growing. Yet, I would like to list a few whose work inspired me to start clicking.
Q: Share with us your favorite 5 pictures (why they are your favorite) and some special moments of your pictorial journey. Which are the tools that you use often while photographing, with respect to camera, editing software and things alike? What is your favorite location to shoot?
A: Last year I wrote a post for a BlogAdda contest about my five favorite travel photographs which still hold true.
Till the start of this year I was shooting using the Sony point and shoot camera. For editing and managing my pictures I was using Google's Picasa. Since I have started using the DSLR, I have made a conscious decision of using some professional tools for managing and processing my pictures. I now have a set work flow, where I use multiple tools for managing and editing the pictures. The reason again was the wish to learn these tools as every DSLR-using-serious-photographer talks about their benefits. In my experience, so far, the time taken to produce the picture has increased and since I am learning these tools it requires lot more efforts as well.
Favorite locations are so many. In Mumbai the Fort area is exceptionally beautiful, especially the old buildings, they are so enticing. Around Mumbai, I visited an old fort in Korlai that has extraordinary natural setup. I loved shooting in Switzerland but Scotland has to be a photographer's paradise, you can click with your eyes closed and you will end with a beautiful shot.
Q: It is often easy to judge someone else's work. But, very difficult to decide one's own, if we can say so. How do you choose your best pictures? Do you prefer photographing in bright daylight, or does sunset suit you more?
A: In my experience there are a very few accidental good shots. Over the years I have adopted the practice of deciding what I want to capture before picking up the camera to click. Based on the goal, it is easier to decide the best picture among the different shots
There are benefits of shooting in the bright daylight and I have been able to capture some really good places in the bright daylight. But sunsets give you an opportunity to be creative with the shadows and the sun itself.
Q: You have also tried your hand at Hindi blogging. How difficult or easy it was for you? Do you think that Hindi bloggers are not given enough importance?
A: It was not difficult; with the transliteration tools, it is fairly easy. I don't think anyone gives Hindi bloggers less importance because they write in a specific language. It is about the content; if there is good content available in Hindi, people follow them.
Q: In a post written in 2006, you mentioned about people just staring at their computer screens and not learning anything. You said, that you would come back to it after five years and see whether you are one of them or succeeded in doing what you should really do. You are a couple of months away from completing 5 years of writing that post. So, do you think you have succeeded or joined that crowd?
A:  I had just joined the industry and it was difficult for me to understand how people were surviving without learning anything for such a long time. As I grew in this industry and saw the challenges, I noticed that it is not that easy to keep learning. The idea of self learning is not that common among people. I see it as an area where a lot of innovations will be taking place, as people cannot keep up without upgrading their skills. But again, it is upto the individuals to keep learning. Thanks to the people I have worked with, I have been able to stay on the path of learning.
Q: You had a key role in organizing BlogCamps in Pune and Mumbai. You started the Aperitweat in Mumbai. Tell us how have these experiences been? What kind of people did you meet; any learnings from them?
A: Blogcamp is an unconference or an open space event that promotes community based self learning. I wanted to experiment with these concepts and found that they can be a very effective way of learning and sharing. I have already used the concept in Capgemini and it worked well. I have also been using a modified version in the internal Capgemini trainings, and the results have been very satisfying.
Aperitweat was more of a fun event, just a gathering of local Mumbai Twitter users over dinner. My friend Laura in London came up with the idea of Aperitweat, I returned to India before the event and decided to do an Aperitweat Mumbai. In fact, we were the first international tweetup with regular events in London, Mumbai and in New York, before all of the organizers got busy with work and other things.
Meet-ups and camps give you an opportunity to meet people from diversified backgrounds and from interesting fields of work. Having attended these events in India and in other countries I met some interesting people and made some friends as well.
Q: How important is it for the blogger to interact with their readers? Do you respond to all the comments that you receive?
A: It is important but I don't get that many comments. Then again, the aim of the blog is not to engage with people but to keep clicking the pictures.
Q: What do you find to be the most gratifying aspect of blogging?
A: Have you seen the recent Google ad, it says web is what you make of it. Nothing defines blog more aptly than these words; blog is what you make of it. I like blogs for that precise reason, it is such a flexible platform, that you can make it what you want.
Q: How, in general, would you rate the quality of Indian blogs? Share your favourite five blogs.
A: There are so many good Indian blogs and you have a huge list of them at BlogAdda. The ones that I would like to mention are not that common but I like to follow them for the quality of their content.
Himachal Trek – Shalab left his job in London to trek in the hills of Himachal. No other blog gives you firsthand experience of the beautiful hills.
Undercover Indian – Fantastic insight into a variety of topics.
Ranjan Verma – Personal finance guru.
Geri Winters – Useful tips for Business Analysts.
Q: What is your advice to someone who wants to start a blog?
A: Have a clear purpose on why you want to start a blog. Do not jump into it just because people say you can make a lot of money from it. Irrespective of whether you want to make money or not, it requires a lot of efforts to keep a blog running.
Q: According to you, what is the future of Blogging?
A: Looking at the recent past and the current state, it seems it is heading the traditional media way. Traditional blogs are either being turned into a media house or the bloggers are joining the traditional media. Blog empowered people to publish their thoughts in an easy and open way, something that was not possible with the traditional media. That in itself is such a huge transformation and I am sure we will continue to see its effect in the coming years. It has already given us some exceptionally talented people and lot more people will continue to use this medium to showcase their talent. Blogging led to success of mediums like Twitter and Facebook and that in turn has taken a lot of noise away from blogs.
Q: Do you earn revenue through your blog? How does one go about it?
A: No I don't earn revenue from my blog, as I stated earlier, that my blog for me is a learning tool.
'Blog is what you make of it'. Thank you Tarun for this wonderful interview. You can click beautiful photographs with a point and shoot camera and many more learnings here.  Readers, start clicking now. 🙂