At the age of 16, he joined his family business. But inside him was a writer who took 38 years to be born. His first book 'The Rozabal Line', about the lost years of Jesus was an attempt that was never done before in the Indian Literary scene. He believes in the perfect mix of fact and fiction and creates something brilliant out of it. Let us welcome one of the top Indian blogger and Author, Ashwin Sanghi to your Adda for this no-holds-barred interview.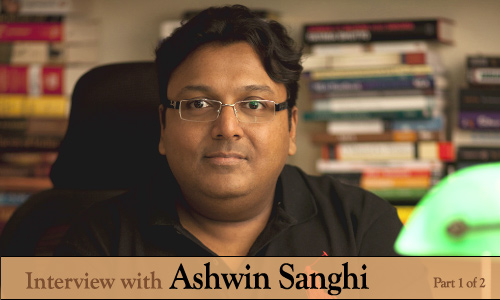 Q: When and why did you start blogging?
A: Actually, I was not really a very active blogger till the time that I wrote my first novel – The Rozabal Line. I was unable to find a publisher for over a year and eventually self-published the novel in 2007. Self-published authors have rather scant opportunities to publicise their work and I turned to the web. Whenever a comment would come from one of my readers on Amazon or via email, I would reproduce it on my blog so that others could read it and comment on it themselves. These comment threads would usually lead to more sales. Blogging was my way of getting myself heard – it was my alternative to advertising.
Q: What topics do you generally blog about?
A: My blog is limited to anything and everything about my books. This includes any book events, book reviews, bestseller rankings, book trailers, reader feedback, special promotions etc. I usually reserve my innermost personal opinions for my novels in which I get my characters to express what I may possibly feel. I'm active on Twitter and Facebook too. I use my Twitter account to tweet interesting links that I stumble upon while researching stories whereas my Facebook page is a forum where I interact with over 160,000 interested readers.
Q: Do you ever get stuck when writing an entry? What do you do then?
Not really. The stuff that I write about via my blog, Twitter and Facebook is always focused on things that I love—my books, my research into stories or reader feedback. I'm usually never at a loss for words on these issues.
Q: Your pseudonym is Shawn Haigins, which is an anagram of your real name. Why did you feel the use of a pen name and how did you come up with it? Does it signify something?
As you know, I'm not a writer by profession. I was born and brought up in a business environment. I started working when I was 16 and completed my MBA when I was 22. By the time that I completed writing my debut novel, The Rozabal Line, in 2006, I had already been in business for over 20 years. The decision to use a pen name was nothing more than a desire to compartmentalize my life so that my entrepreneurial dimension would remain distinct and separate from my literary one.
However, I had not thought about an appropriate pseudonym to use until I actually completed the novel. As you know, there's an abundance of anagrams in my novel and the idea struck me: why not use an anagram of my real name as a pseudonym? Hence my first novel was written under the name Shawn Haigins, a perfect anagram of my real name Ashwin Sanghi. When Tata-Westland decided to publish the novel in India they insisted that it had to be published under my real name given the fact that the novel in question involved a sensitive subject. As it turns out, that wasn't such a bad idea. Imagine your shock if you were to walk in with the expectation of meeting Mr. Shawn Haigins and were introduced to a potbellied Marwari businessman! I continue to use the pseudonym Shawn Haigins on my Facebook page but my books are marketed under my real name only.
Q: An inclination towards historical events and characters is clearly seen in both your creations. The Rozabal Line is thriller fiction, which talks about the lost years of Jesus; while your latest novel, Chanakya's Chant, talks about the story of the ancient Indian strategist Chanakya. Why does history interest you so much? Can we expect a complete work of fiction from you in the near future? What message did you want to give out through your writings?
Let me begin by clarifying that I consider both my novels to be complete works of fiction. Even though I use history to provide context, flavour and colour to my plot, I have never claimed that the stories are historically accurate. Having said that, however, I do believe that every writer has a unique DNA. The question then is to consider what are the specific nucleotides that my DNA is composed of: history, mythology, theology, suspense, mystery, and conspiracy. Change any of these, and you would be altering my DNA. I'd be a fish out of water if you asked me to write a story without one or more of these elements present.
It was Edmund Burke who said, "Those who don't know history are destined to repeat it." I find that when I observe current events around me, I instinctively correlate these with events that happened in the past. When I read about modern-day conflicts between Islam and the western world, I can't help thinking of the religious Crusades that were fought for most of the three hundred years following the eleventh century. When I read about the Nithari serial killings, I begin to mull over the terror that Jack the Ripper caused in England in 1888. When I watch the IPL allegations on TV and the consequent damage that it may have done to the reputation of cricket, I think about the Black Sox scandal that almost ruined baseball in 1919. When I hear about scams like those of the CWG or telecom, I correlate them to the Railroad Bubble. History inevitably repeats itself, one simply needs to observe the patterns. This pattern is what interests me not the history in itself and this is what is central to my fiction.
Q: You are in process to finalize the screenplay for The Rozabal Line. When can we expect the movie? Whom would you like to see the director of the film as and your dream cast? Given a chance, would you like to direct a movie in near future?
A screenplay is a completely different animal to a novel. A novel gives you complete freedom in terms of locations, backdrops, sets, chronology, and imagination. You can even describe what your characters are thinking. One can't do that with a screenplay. As a screenplay writer, you need to worry about cost of production, running time of the movie, conveying the message visually, etc. That's one of the reasons that I see myself as a writer of novels, and not a writer of screenplays. I believe that we should have a completed screenplay of The Rozabal Line later this year. At that time we shall start examining production alternatives. At this point of time it would be premature to comment on directors or cast—it will depend on the final shape that the screenplay takes. I do not see myself as a film director ever – pen and paper are the tools of my trade. I'd rather not swap them for a camera or film.
Q: You are armed with an M.B.A degree from the Yale School of Management and now you are also pursuing Doctorate in Creative Writing. Are you planning to add more qualifications to the list? What suggestions would you give to the aspiring authors in terms of their writing qualifications? Do you think it can help improve one's natural creative instincts?
I don't think degrees can ever help your creativity. In fact they tend to do the exact opposite – stifle your creativity by telling you what you can or cannot do. However, they can certainly help you in other areas. My M.B.A. taught me a great deal about time management and the value of organizational skills in any project. It has been invaluable in pacing myself while writing novels or plotting storylines. My business education has also provided me with a curiosity to look beyond the writing into the marketing, selling and distribution of my novels. This has certainly helped. My pursuit of a Ph.D. is not with the intention of adding another degree to my list of qualifications. The primary objective is to be my own critic so that I may improve with every successive work.
Q: You joined your family business, at the age of 16, while continuing to write. Now you have a key role in M. K. Sanghi Group. But you published your first book at the age of 38. What made you wait for so long to get published? Why didn't you pursue writing full time at an early age?
My life was predetermined for me by family traditions. School, college, an MBA, marriage and work were mapped out and any deviation would have been blasphemy! I tried writing a few articles for some newspapers when I returned to India from Yale but I soon realized that my working hours did not afford me the luxury of writing as a parallel career. Probably it was just as well because it allowed me to fully establish myself financially before I chose to take out time for the passion of writing. I still put in a full day at work but my evening hours are for my family and for my books. I work to feed my family and I write to feed my soul.
Q: Your maternal grandfather inspired you to write. Can you share with us any piece of his writing or poetry? Are you also going to follow what your grandfather did (in terms of kindling interest in books and writing), with your son Raghuvir? Do you see writing talents in him and want him to become a writer?
My grandfather was a voracious reader, more than a writer. He was fluent in Hindi, English, Urdu and Persian. His favourite line was an Urdu couplet by Allama Iqbal which said "Khudi ko kar buland itna ke har taqder se pehle khuda bande se ye poche bata teri raza kia hai." Roughly translated, it meant "Strengthen yourself to the point that even the Almighty must seek your advice before writing your destiny." He was also a poet himself and one of his couplets was "Jab waqt bura aa jata hai, to saaya bhi gareba hota hai" (When bad times are upon you, even your own shadow becomes a stranger).
If I were to push Raghuvir in any given direction, I would be imposing the same limitations on him that were imposed upon me for most of my early years. Instead, I'd like to leave him free to decide what appeals to him. I'd be equally happy if he became a cricketer, businessman, lawyer or poet. But yes, I would love to share the sher of Iqbal with him so that he excels in whatever he decides to do.
Q: You have been a businessman most of your life and are now a successful novelist. How do you & your family feel when your writings are appreciated by millions of people, and talked about in national dailies. How different is the feeling of so much success achieved from your creative talent, than the usual corporate ones?
Success from a creative pursuit is indescribable. It simply cannot be compared with corporate success. I would liken the comparison to the sweetness of sugar vis-à-vis an artificial sweetener—they are both sweet, but the former is more has much more flavour.
Q: Which Indian & International authors top your favorite lists? Also, what according to you are the strengths and weaknesses of Indian authors?
I was brought up on a diet of commercial fiction and thrillers for most of my growing years: Jeffrey Archer, Sidney Sheldon, Robert Ludlum, Frederick Forsyth, Irving Wallace, Jack Higgins, Tom Clancy, Ken Follett, Arthur Hailey. In the past decade, Dan Brown, John Grisham, Stieg Larsson, Ian Rankin and countless others were added to my list. Among Indian authors, I enjoyed Salman Rushdie, Ruskin Bond and R. K. Narayan. What I find unfortunate is that I had to depend on foreign authors for my daily dose of chills and thrills. Most Indian authors were busy churning out literary fiction. Satyajit Ray would not have given us Feluda if such a market did not exist. It's sad that we allowed ourselves to cede space to foreign authors in the field of mysteries, adventures, thrillers and suspense. I'm happy to see that this is changing rapidly now. We should have our own versions of Nancy Drew, Hardy Boys, Sherlock Holmes, and Hercule Poirot!
Q: The cover of The Rozabal Line mentions Namita Devidayal's quote, "More complex than The Da Vinci Code, and a whole lot more terrifying."  Was this the reason for your comparisons with Dan Brown? What do you feel are the strongest points of your writing style that set you apart from Dan or any other writer? As a writer, what do you think you need to learn more?
The desi Dan Brown tag has been my biggest liability. Using that particular quote on the cover of the first edition was a mistake. It created expectations of a formulaic thriller in the minds of those who picked up the book, whereas it was much more than that. The end result was that those who did not care for Dan Brown did not pick up the book, believing it to be just another thriller. Those who did pick it up were expecting a desi take on the Da Vinci Code, whereas what they got was rather different—a densely packed theological mystery. However, I do believe that the comparisons had started much before that particular quote. The fact of the matter is that the stupendous success of the Da Vinci Code in 2003 had sparked off an entire industry of theological thrillers and hence anything that was remotely connected to Jesus Christ, Mary Magdalene or the Sacred Feminine would be automatically lumped into that particular category.
I think that my greatest advantage has been the fact that I do not have formal training in creative writing. It was Somerset Maugham who said, "There are three rules for writing the novel. Unfortunately, no one knows what they are." I was genuinely unaware of any rules and this lack of formal training allowed me to write in a very distinct style that was uniquely my own. With my first novel—The Rozabal Line—my aim was to coalesce disparate threads of the Jesus in India story and present them in a cogent aggregated form. Whether this made for an entertaining read was inconsequential. With my second book—Chanakya's Chant—I was testing my abilities as a storyteller. I simply wanted to see whether I could get my readers hooked till the very last page.
When I die, I hope that I will not be called a writer, novelist or author. I hope that I will be called a storyteller because that is the area in which I'm seeking perfection. I still have a long way to go. To quote Nathaniel Hawthorne, easy reading is damn hard writing!
Q: If one removes the 'A' from Abraham and puts it at the end, it turns out to be Brahama. In a French town called La Saint-Marie, a festival called La Sara Kali is celebrated that is dedicated to the day Mary Magdalene arrived on boat with her dark skinned daughter, which you connect to 'La'xmi, 'Sara'swati and 'Kali'. These are some very intriguing connections for someone to notice. How did you start finding relations between Indian Gods/people to those of other origins?
Some of these connections were easy. For someone like me who has always seen anagrams in ordinary words, Brahama and Abraham are perfect anagrams of one another. In other cases, the connections had already been discovered by others, which meant researching into what had already been uncovered. In still other instances, the visual clues were simply waiting for an explanation—for example the idea of two trinities overlapping to form the Star of David. I don't find anything unusual in what I do and the connections I make. It comes as naturally as breathing, sleeping or walking. Do you consciously think about what you're doing when you breathe, sleep or walk? In scientific terms, I guess I use the right hemisphere of my brain much more than my left.
It is time for a Kit Kat break. 🙂 The interview is not over as yet as this is just one part of this awesome interview. In the second part of this interview, Ashwin speaks about his business, passions and lots more. Stay tuned. 🙂