Good Over Bad! Indian bloggers have proved once again that eventually 'The Good' emerges victorious over 'The Bad'. The contest generated some awesome posts and to do perfect justice to all the efforts the bloggers have put in, we requested Vidya Sury to judge this one. She readily agreed and this is what she had to say.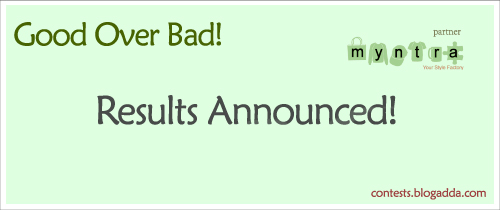 Vidya Sury writes:
Hope everyone enjoyed their Diwali festival!
When BlogAdda asked me yesterday if I would "judge" the contest, I happily agreed for the sheer pleasure of reading all the posts. Not a hard task since I read most contest entries anyway! Yet, I felt slightly nervous at the thought of turning in the results today, thanks to a couple of emergency root canal treatments I had to go through. Well – to cut a boring story short – I am having fun!
Let me start off by saying that is was truly exciting to read the entries to this contest. A standing ovation to all those who participated! As my son's school principal is so fond of saying "Everyone's a winner!"
"Good over bad" is such a fabulous topic to write about. Right from the time we're very young, the good-bad impression practically reigns over everything. Fortunately, "good" or "bad" , like beauty, are often in the beholder's eyes and we all have our perceptions based on our own – if somewhat biased – experiences. And that's precisely what makes life so interesting. BlogAdda is a fabulous platform, and I've enjoyed lurking on all their updates and contests. I did participate once or twice, and was rewarded by being featured on the Saturday/Tuesday picks.
It takes courage and persistence to write a blog consistently, and that's the first thing I was impressed about, when I read all the entries. All the participant bloggers obviously care about what they write and I loved that! I enjoy writing and blogging, and I was thrilled to see that there were many posts with words woven so wonderfully – I sure wish I had written them! In an age where everyone's frantically trying different ways to promote their blogs and get followers/fans/subscribers – being part of the BlogAdda community (and a high page rank site) is certainly a huge bonus, allowing bloggers to showcase what they are passionate about – blogging!
I love how most of the entries have looked into their own lives for examples of good over bad. The perceptions are enjoyable. Because good is good, and there's no right way or wrong way. The learning is invaluable – for all of us!
With three cheers to BlogAdda, and to all the vibrant bloggers who make it such a live community, let's get on with the entries!
Congratulations, all, and it has been truly an honor, and a treat to pick the top favorites. Don't think I didn't have a tough time, though!
Here are my top 3 favorites in no particular order! The choice is based on how being good changed lives that could have otherwise become bad!
Blog: Chapters from my life
http://chaptersfrommylife.blogspot.com/2010/10/story-of-muniya-beggar-boy.html: Farida, your post on your mom's innate kindness was not only a great read, being delivered in the classic story telling method – but also wonderful because it is a true story. What a simple way to be reminded of all the lessons we learn about being "good" by example! This is definitely one of the top three/five. Anecdotes rock, and its obvious from the number of comments on your post. Who doesn't love a good story? Three cheers to your mom and her influence over Muniya – she changed a child's future!
Blog: Gappa
http://kaimhanta.blogspot.com/2010/10/good-over-bad-it-works.html: Ugich Konitari – what a lovely and remarkable blog. I especially love the title! And a great post on the contest theme. Your words "something bad has to happen for something good to emerge from it" are so true! It is easy to see why you've emerged a winner from your wonderful experiences. You should write a book of anecdotes in your unique style. Your mother is an admirable woman.
Blog: A canary's diary
http://ink-and-feathers.blogspot.com/2010/10/goodness-sake.html: Raksha – excellent read. I liked, in particular, how you said "We value a person's goodness based on what they have in store for us." So true. And the Sirius Black quote. You've expressed in a simple yet touching way, what most of us have experienced and can identify with…and that is why it is a great read. Looking within can yield rich results – and our childhood shapes us in so many ways!. You're a winner.
Notable mentions:
Blog: My diary, my thoughts
http://varshas-diary.blogspot.com/2010/10/social-network.html
Varsha has addressed a very real concern in today's world where people seem to live virtual lives. While we all know that it is important to be careful while making "friends" online, as Varsha rightly says, better safe, than sorry – be cautious what you say. Because the internet has the good, the bad and sometimes the very ugly. Very good read, Varsha! Keep writing.
Blog: obsessivemom
http://obsessivemom.blogspot.com/2010/10/great-battle-of-bulge.html
Tulika (yes, I scrolled your blog to find your name) – more power to you! You've proved that one of the really 'good' qualities of an individual is the ability to laugh at the self. Humorously presented – and fun to read, you've waged the battle against that "bad" xxl and emerging victorious on the path to looking "good" . Yes, when you talk about health, good is certainly better than bad. Listen to your body talk to you!
Blog: Sugarfree
http://www.swetatiwary.com/2010/10/help.html
Sweta – quite a story-writer, aren't you? And an effective one, I must say. Child labor is a heart-wrencher and no one should react with apathy. You've highlighted a very common practice and set an example through your main character's response to what she encountered. Am sure your readers are asking you for more! Lovely post.
Blog: Embodying emotions
http://subtlescribler.wordpress.com/2010/10/25/and-she-won-finally/
Sarah, welcome to the world of blogging. Your post is focused on a relevant real life example. We've come a long way from Raja Ram Mohan Roy – but people take a long time to change. Nice post showing that gender equality is "GOOD"
Recommended reading:
Blog: Nasia's blog
http://nasiablogs.blogspot.com/2010/10/lie-you-dont-have-to-tell.html
Nasia has touched the sensitive topic of fidelity for her post themed on good over bad. Her post also includes an insight into why people stray from their relationships, with helpful suggestions on how one could nurture existing relationships. Nice post, Nasia. You've underlined a situation that a majority of people faces sometime or other in its life.
Sigh. I had a great time – and I am looking forward to following the participants' blogs. Thank you, again. You can read the other awesome entries here.
Thank you Vidya Sury for taking out time to judge this contest. We really appreciate and loved the notes attached with the entries you selected.
Vidya is a mommy to an almost-teenager. After a great career in marketing/training, she now enjoys the privilege of working from home and earn  bread, butter, jam and flavored cheese as a freelance writer. She also works with Clinicom, an ethics committee that evaluates protocols for clinical trials.
She is passionate about blogging purely for fun and her blogs are at: Going A-Musing Coffee with Mi!, I love you, Mom!, Your Medical Guide, It's a blog's life, Clinicom