Blog World Expo is starting tomorrow and the list of speakers are never ending. BlogAdda.com, representing the largest community of Indian bloggers, is gonna be there at the event. While going through the list of speakers, we thought we could make your job easier by giving you a brief about some of the top speakers at the Blog World Expo. Read this post to get a background of the speakers you are going to hear and know them better!!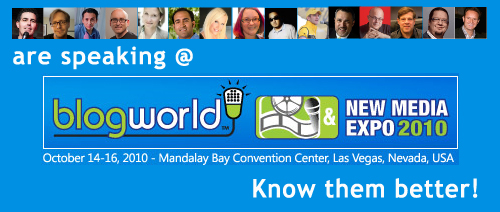 Scott Stratten: An expert in viral and social marketing, Scott Stratten is also the president of Un-Marketing. Moreover, he is an author of a best selling book, voted as one of the top influencer's & has more than 65k followers on twitter! He has also been covered by big names in the industry such as the Wall Street Journal, Huffington Post, Mashable, USA Today, CNN.com and Fast Company. Follow him @twitter.com/unmarketing

Jeremy Holley: Jeremy Holley is the Vice President of Consumer & Interactive Marketing for Warner Music Nashville. He has a good know-how of online marketing, he also plans out strategies for social media and digital music along with doing creative services. Holley has also been recognized by Billboard Magazine as one of the "Top 30 Under 30" executives in the music and entertainment industry. Follow him @twitter.com/jeremyholley

Kimberly Hines: Kimberly Hines is specialist in online content production and management, social media optimization, branding and site expansion. She also specializes in digital journalism, social media and soul music with over a decade of experience in writing, editing, social networking and web content development. Follow her @twitter.com/kimberlyahines

Jami Stigliano: She specializes in a variety of things like project and budget management, branding, strategic marketing relationships, copy writing, social media/web 2.0 and many others. Being a music industry executive, she has an experience of 10 years in artist marketing, digital & social media, product management, and strategic marketing. Follow her @twitter.com/jamistig

Chris "Broadway" Romero: Chris "Broadway" Romero is also known as Christopher Romero Singh. He is a pioneer in independent 3D animation. Chris is also one of the prime faces who have helped changed the face of the entertainment business. He is also the founder and creative director of ThisIs50.com, which is the fastest growing network on white label social network and has reached the top 3 hip hop websites in the world. He is also the founder of Romotion AMS, Broadway Animation & Count Time Productions and the Creative director of G-Unit Records. Follow him @twitter.com/broadwayallday

Brian Solis: Brian Solis is worldwide recognized as one of the pioneered thought leaders and established authors in new media. Brian Solis is a digital analyst, sociologist, futurist, and has influenced the effects of emerging media on the convergence of marketing, communications, and publishing. He has led programs for Fortune 500 companies, notable celebrities, and Web 2.0 startups. He is also the principal of FutureWorks, an award-winning New Media agency in Silicon Valley. His website, BrianSolis.com is among the world's leading business and marketing online resources. Follow him @twitter.com/briansolis

Gahlord Dewald: He is an internet and web strategist. With more than 11 years of experience in web designing & animation production, Gahlord has thus made a mark in the web world. He has worked with organizations to develop content which is designed to achieve business objectives. He writes a weekly column for Inman News on technology and marketing in lead generation businesses. He is also into web analytics, content development & design. Follow him @twitter.com/gahlord
---
Follow us @blogadda as we are the ONLY Media partners from India representing the largest and the most active community of Indian Bloggers. Do not forget to check out our ALL exclusive Dashboard capturing the best from BlogWorld Expo at http://blogworldexpo.blogadda.com
---

e-Patient Dave deBronkart: Is an insightful, analytical communicator, also maps what customers need and what technology can do. It's career concentration is in data-driven graphic arts work flows with highly usable UIs. Follow him @twitter.com/epatientdave

Maggie Fox: Maggie Fox is the founder and CEO of Social Media Group which is one of the world's largest independent agencies helping business develop themselves on the social web space. They are known as the pioneers of their industry. Maggie is a communications and content expert. She has led teams which have written and produced television and web content for some of the well-known brands in North America. She was also named one of the Top 100 Marketers in Canada in the 100th anniversary issue of Marketing Magazine. Follow him @twitter.com/maggiefox

Rohit Bhargava: Rohit is a founding member of the 360 Digital Influence group at Ogilvy. His book Personality Not Included is among the best selling books. He has been featured in The Wall Street Journal, Business Week, and other global media. He is also widely recognized as the creator of "Social Media Optimization" (or SMO) which has become a standard practice in digital marketing groups around the world. Follow him @twitter.com/rohitbhargava
Mark Penn: Is the worldwide CEO of Burson-Marsteller, a leading global public relations and public affairs agency & the CEO of Penn Schoen Berland, a strategic research firm. He has been acknowledged by big names like Time Magazine, London Times, New York Times & PR Week along with people like Bill Clinton and Tony Blair. To many companies at present, Mark Penn is the strategic consultant and to many CEO's on various issues of branding. He is among the 10 most influential person in the PR industry today. He has also been awarded with Pollster of the Year awards twice in a row. Follow him @twitter.com/mark_penn

Hugh Hewitt: Hugh Hewitt is the host of his own radio show named the Hugh Hewitt show and is one of the most heard radio shows in US.  Mr. Hewitt has carried many interviews with government officials from both parties and widely respected analysts, authors and pundits. He has been regularly featured by CNN, Fox News Network, and MSNBC and has also written for The New York Times, The Wall Street Journal, and the Los Angeles Times. He is the author of two best sellers of New York Times and also has won three Emmys. Hewitt writes daily for his blog, HughHewitt.com. Follow him @twitter.com/hughhewitt

Susan Bratton: Susan Bratton is the co-founder and CEO of Personal Life Media, Inc. a multimedia lifestyle brand. She is also the founder of the IAB Internet Advertising Bureau and the ADM Association of Downloadable Media and SFBIG, the Bay Area Interactive Group. She effectively guides individuals with unique perspectives about digital marketing through her blog, "DishyMix: Success Secrets from Famous Media and Internet Executives." She is a well-known and established name in digital marketing. Follow her @twitter.com/susanbratton

Dermot McCormack: Dermot McCormack is the Executive Vice President of Digital Media for the MTV Networks Music & Logo Group. He is responsible for creating strategies, making the course on how the Music and Logo brands take shape in today's digital world. He works for MTVN brands including MTV: Music Television, MTV 2, MTV Tr3s, VH1, VH1 Soul, VH1 Classic, CMT and Logo. His efforts resulted in MTV Music Group's rise to the web's most visited online music destination with more than 53 million unique visitors. Follow him @https://twitter.com/dermot100

Dick Glover: Dick Glover is President and Chief Executive Officer (CEO) of the Do Or Die Networks, which includes FunnyorDie.com, ShredorDie.com, EatDrinkorDie.com, PwnorDie.com and KungFuTodd.com. Before Funny or Die, Dick Glover was Vice President of Broadcasting and New Media for the National Association of Stock Car Auto Racing (NASCAR) and for NASCAR Digital Entertainment. Also, Glover was previously an Executive at the Walt Disney Company.
Jim Louderback: With more than 20 years experience in consulting, technology, computers and media, Jim Louderback has pioneered many significant new innovations. Jim has also developed innovative client-server computing models. He also created successful methodologies to suit modern times architecture. "Best of CES" was organized by him, in 1999, in partnership with CEA which is the parent company of the CES trade show. Jim is also regularly voted into the top 20 of Technology Marketing's annual list of most influential technology journalists. Follow him @twitter.com/jlouderb

Darren Rowse: Darren Rowse is a full time Blogger making a living from this new and dynamic medium from blogs like Digital Photography School and TwiTip. He has slowly built his blogging into an income source and is currently a full time blogger at ProBlogger. He is also the Vice President of blogger training at b5media. He started ProBlogger in September 2004 with a primary focus to keep record of what he learnt about blogging for monetary benefits. And since then he has successfully added well over 3500 articles, tips, tutorials and case studies to his archives on ProBlogger.com. Follow him @twitter.com/problogger

Brian Clark: Brian Clark is the founder of Copyblogger. Brian is also the CEO of Copyblogger Media. With Copyblogger Media, Brian encourages online content writers to draw traffic and influence people as essential players in the new media revolution. In 2009 Brian Clark was ranked #3 of the 100 Most Influential Online Marketers. Big names in the industry such as Advertising Age, The Guardian, Technorati, Performancing & BusinessWeek, too have acknowledged Copyblogger and Brian. Follow him @twitter.com/copyblogger