BlogAdda is pleased to announce that the 2010 BlogWorld & New Media Expo is being held at Las Vegas and we are the ONLY OFFICIAL Partners representing Indian Bloggers! 🙂 Read on to find out what the event is all about and who are the big names attending the event.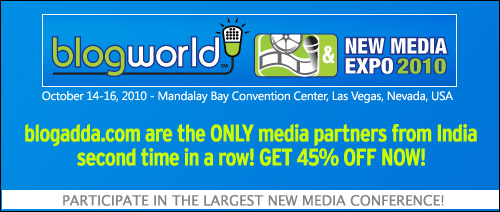 A glimpse of the exciting and different events happening for the bloggers from around the world.
"From Blog to Book": Features a look at what it takes to get a book published and why some bloggers are approached with book deals and others aren't. This event would be presented by Ellen Gonstein, Simon Salt and Brian Solis.
Monetization Speed Round: 60 Questions in 60 minutes: The speed round will feature questions about monetization from readers of the various monetization blog – the moderator will ask the question and each panelist has 30 seconds to answer and give a quick tip. featuring Shoemoney, David Klein, John Chow, Zac Johnson and Jonathan Volk.
Finding Readers for your blog by Darren Rowse aka @Problogger.
The funniest blogger you know by Wade Kwon.
Travel Porn by Gary Arndt.
Mom Bloggers. blog for Money and not Swag by Kelby Carr.
Create Mouthwatering Content for your blog by Nathalie.
There are so many more interesting sessions.
We would be present at the World's Largest New Media event where we can learn about Content Creation, Distribution and Monetization strategies, step-by-step techniques and bleeding-edge tools from the most successful Bloggers, Podcasters, Social Media Pro's, Internet TV and Radio Content Generators and New Media Marketing Pro's! From the premier educational sessions at the Social Media Business Summit and BlogWorld Conference, to the resource-rich New Media Expo, to Amazing Networking events.. it's One economical trip, One weekend, One Big Show you can't afford to miss!
Register to Attend
Travel
Show Information
Search & Connect
Discount Prices Expire September 16th
Whether you can only fly in for a day, or you're here all week, BlogWorld & New Media Expo offers several conference packages to help you maximize your time in Las Vegas. Registering early for the best discounts! You can get a Full Access Pass for almost 25% off the $1195 regular price by registering before September 16th! And wait, there's even more.
For BlogAdda readers, you get an additional 20% discount over and above the existing discount by using the code BLOGADDA20. We would love to see you there. You can even pass on the code to your friends who might be interested in coming to the event.

Grab the Discount rates now!!
We look forward to see you there. Do catch up with us as our team would be there. 🙂