Most of the blogs are created so that they can be read by many readers and reach out to the largest audience. It cannot be done overnight. 🙂 There are a few things which needs to be followed in order to achieve regular and loyal readership. Read on to find out how can you get more readers and traffic for your blog.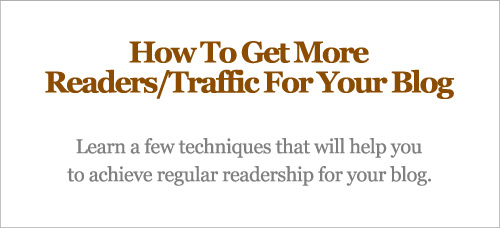 If you want traffic for your blog, you must write content that adds immense value to the reader. Content that ignites the reader to take action. Content is King.
Certain factors that decide in attracting quality traffic for your blog:
Lots of original niche targeted content written on a daily basis atleast 5 days a week (the more the better). Search engines love unique content & eat it like Ice Cream.
Blog theme smartly designed for the search engines to index your blog faster.
Smart blog marketing strategy.
Focusing only on your target audience.
Adding Your Blog To The Search Engines: Using Google Sitemap Generator WordPress Plugin (If you're using self-hosted WordPress blog), you can effectively get your blog indexed very quickly in Google. If you're using Blogger, you have an option that lets you index your blog by search engines automatically.
Niche Based Content: Know your audience and your niche completely. Write content that adds value to your audience.
Tagging Posts: Using keyword rich content on your blog and adding keyword tags to each of your posts can allow you to target a specific niche audience.
Social Bookmarking: Sites like Digg, Stumbleupon, Reddit and many more can get you a lot of traffic by bookmarking your blog posts there and asking others to follow suit.
Social Network Profiles: You can network with other bloggers and import your blog feed to your social networking profile using Facebook Notes and Twitterfeed. Fill in your social networking profiles in such a way that when people search keywords within search engines, they must find your profile and blog URL.
On-Page Search Engine Optimization: Do it yourself or hire a SEO professional to do the same. This is the most common way and one of the best ways to attract traffic.
Search Engine Marketing: This is known as 'pay-per-click' marketing that attracts targeted traffic to your blog in no time by showing your ads on blogs and websites that offer similar content relating to your ad. Costs is a factor here. You can use Google Adwords for the same.
Pings, Pingbacks & Linkbacks: You can ping other blogs by sending trackbacks (pingbacks) or even give them credit through linkbacks for using part of their content on your blog. This can include your visibility tremendously. Use services like pingomatic to ping the search engines when you add fresh content to your blog so as to invite them to index fresh content from your blog completely.
Commenting On Other Blogs: By adding "extra-ordinary" and relevant comments on other similar niche based blogs, you can invite a lot of readers if they find a lot of value through your comments.
Widgets: You can invite people to your blog by adding relevant widgets on your sidebar. For ex. BlogAdda's rating widget for your blog can allow your readers to rate your blog and help you achieve higher ratings on BlogAdda. Just make sure, you don't clutter your sidebar with too many widgets.
Marketing On Forums: Forums like SitePoint and WebProNews are an excellent way to attract traffic. You can include your blog address within signatures while writing posts on forums or can include it within your profile there.
RSS Feed Reader: Create a feed for your blog using FeedBurner.com. Promoting your blog to your friends and colleagues by inviting them through your Google RSS Feed Reader. You can even submit your blog to "RSS Feed Directories" to attract a lot of traffic. So many blogs have feeds configured incorrectly. We would request you to check your feeds and recommend to use Feedburner to configure your blog feeds. With Feedburner, you'll also have lot of advantages and analytics of the subscribers.
Blog Directory Submission: Submit your blog to blog directories – And if you are a blogger from India, there is only one place to get a lot of quality traffic!
Article Marketing: Submitting articles to "Article Directories" to get useful backlinks that will drive your targeted audience to your blog. This is also known as Off-Page SEO.
Creating Hub Pages and Squidoo Lenses is another alternative way to attract targeted traffic.
There are white-hat techniques and black-hat techniques to drive traffic to your blog. If the search engines find that you're using black hat techniques, your efforts of creating your blog will go in vain as they will denied your blog in no time. Avoid black-hat ways to attract traffic at all costs.
A very important point to get more readers is to read and participate at more blogs. Importantly, Make friends, Enjoy reading and have fun on the way. Here is a good place to start. 🙂