A lot of people are thinking to start a blog or have just started. This article will help them to get started well. Read it and if you are blogging for some time, feel free to add your thoughts to 'Blogging Tips For Beginners'.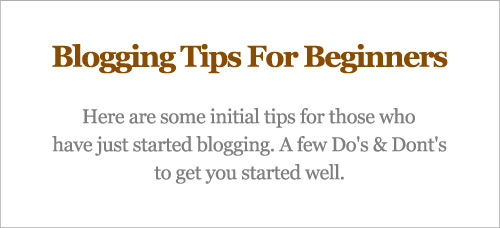 You have to write on something that you specialize in. What you choose to write has to be your strength, your passion and your expertise. If you're a novice at writing or you wish to pick up speed at writing on your blogs, here is a technique you can use.
If you're writing about an event that took place & is of significant importance to your esteemed readers, write the factual event first. Mention the date, time and the manner in which the event took place with a free hand (you can always edit later before posting). If you're writing about specific kind of information that would be ā€œgreat valueā€ to your readers, start with creating a list of paragraph headings (sections of the article), 10-15 keywords and questions that you would like to answer within the same article. Now write with a freehand effortlessly without thinking what you're writing is right or wrong. You do not need to think about grammatical mistakes initially. Research is a valuable tool which you can use to add value to the article. Once you're done, you could start editing the same and as well use the spell checker within your Microsoft Word Document / Blog Dashboard. Once you're done with the same have a preview to make sure all looks correct.
Do's:
Give a lot of Pingbacks (trackbacks) and link backs to similar posts of other blogs across the web. This way other bloggers and their visitors come to know about your blog and you add relevant articles related to your post. You can attract a lot of traffic effortlessly.
Always give credit to other bloggers if you're using their text within your blog posts. Similarly, if you're adding pictures, please mention the source of the picture. If you do not give credit to the due person or blog, it's called plagiarism on the web and is a strict NO.
You have to add value in terms of evolving the readers thinking, feelings or even inspiring them to take action conatively. You require to cultivate a response from the reader to take necessary action depending on the value that you are adding to them.
You have  to be different than what all others on the web offer. Other than just plainly supporting facts, you require to add value in terms of useful analysis that can make a person smile.
Create your own unique image on the web. Have unique content, design and marketing strategy for your blog that leverages you as an authority in the niche you are writing for.
You have to add value in every possible ā€œmeaningfulā€ way.
Create a goal. If your goal is being a highly successful ā€œGuru Finance Consultantā€ , you have to write with an innovative approach what most people do not know about managing finances effectively. You have to offer something that would build a strong foundation to manage not only theirs but also other people's finances.
It will be good to have a blog marketer along side who is passionate and marketing blogs is his/her strength. His/Her commitment must make sure that you ā€œdo not needā€ to focus on getting your blogs marketed to your target audience without spamming them.
Add relevant bloggers to your blogroll and make sure you are added in them!
Dont's:
Don't copy other blogger's style, theme and design.
Don't hit advertisements on your reader's face or advertise using pop-up's that irritate them straight on their face meaninglessly.
Don't lynch people or companies on your blog at all costs, especially without stating social proof and facts that prove what you're saying.
Don't pick up a niche just because your friend told you so or just because Google pays an ā€˜X' amount of money on Google AdSense per click while writing on that niche on your blog.
Don't ever copy-paste a piece of content from other bloggers without linking back to them as the search engines, especially Google, penalize blogs and websites for duplicate content. If your content is not unique i.e. if you are entirely copy-pasting content of other people which you haven't bought and don't have rights to use, your blog might even get removed (de-indexed) entirely from the search engines directory.
Don't use Black-Hat SEO Techniques like Keyword Stuffing, Invisible Text or Doorway Pages. This is a guarantee for your blog to get de-listed from search engines like Google, Bing and Yahoo.
If you are using Google AdSense, you are not allowed to paste these ads on blogs that are all about pornography, gambling, warez or any kind of illegal activity. Or else, you will get banned from Google AdSense ever and you won't be able to get your account reactivated.
Don't just bookmark only your blog(s) on sites like Digg, del.icio.us or any other social bookmarking site as means to attract traffic. Your blog(s) will get banned from getting traffic from these sites apart from your account with them for doing the same.
Don't write anything what you're unsure of.
If you're promoting a product/service or even a brand through your blog posts, mention in your blog posts that you're promoting them irrespective of whether you've been or haven't been paid to do the same. Or else, your loyal community base will feel cheated. Not only that, even search engines like Google penalize blogs with a low search engine ranking. This will reduce your traffic considerably.
Research a lot. It helps. Though don't get stuck in just researching about your topic. Quickly start writing as soon as you can.
Lastly, write credible information that has effect on the reader and makes him/her come to your blog again and again. Be a charm to your readers.
Enjoy Blogging to the fullest! Have a tip to share? Do add it in the comments below.
Today is World Photography Day and what better way then to participate in our 'Frames of Freedom' contest. Submit your photos and win super goodies!