एक लड़की थी दीवानी सी , एक लड़के पे वोह मरती थी , नज़रें झुका के , शर्मा के , गलियों से गुज़रती थी , चोरी चोरी चुपके चुपके ब्लॉग लिखा करती थी , कुछ कहना था शायद उस को , जाने किस से डरती थी , जब भी मिलती थी हम से , ये पुछा करती थी , एक औरत को क्या चाहिए? एक औरत को क्या चाहिए ? और हम सिर्फ यही कह पाते थे की …. (
There was once a girl who used to like a guy, stealthily she used to write a blog, She wanted to say something but maybe was scared of someone. Whenever she used to meet us, she used to ask, What Women Want? What Women Want and all we had to say was..)
Our Indian bloggers have tried to find the answers to 'What Women Want' and we are overwhelmed with the response. What awesome entries! Thank you so much for the spirit with which you participated. We requested Meetu of WOGMA to pick the best ones. We are sure it would have been a daunting task for her, but let us tell you that she has done a super job! Meetu, the post is all yours now…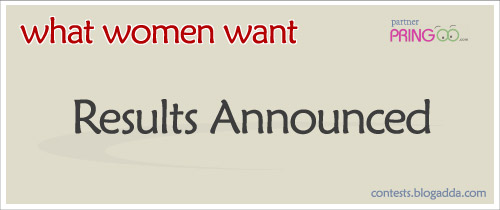 "There was once a girl, N. She eloped with her then boyfriend – now husband, L. 13 years later the two are still as much in love as they were then. Enough to defy family and common sense. 4 years ago L gave N a beautiful bracelet/bangle as a gift on her birthday. She said, "Oh! You didn't have to. I don't need materialistic gifts. Your time is all I ask for." That day till date, she has never received a 'materialistic' gift from her husband again. Oh, how she wishes she had bit her tongue on the fateful birthday four years ago."
This true-life (I cross-my-heart, swear-on-it-too) anecdote tells nothing new. It was one of the first things that popped in my head when I read the topic "What Women Want" for this week's Blogadda contest. The other 'one of the first' reaction was *CRINGE* ** C R I N G E ** ***C-R-I-N-G-E*** What could make anyone write on a topic as generic and broad as this. Geez, what kind of gyaan (enlightened knowledge) will the judge be subjected to. Tch-tch-tch.
Haah! Soon enough BlogAdda approaches me to do the honors. But the woman that I am, I want 'challenge'. And the 'sacrificing' woman that I am, how could I let some other human go through this ordeal.
I'm sure you haven't missed the cynicism. Yes, I readied myself for a lot of repetition and even more "stating of the obvious." And dear ladies, I was not disappointed. Interestingly, the men had a better understanding of what their ladies were missing. How's that for honesty, **tches? Of course, the two emboldened words were the most quoted wants of and by women. These were second and third only to eternal love.
Anyway, I had to forget what I wanted and focus on what I wanted as a judge of this contest.
The first criterion was provided by the able administrators themselves. The post should be fun to read. And there is no formula to get to the right answer because thank goodness, there is no right answer. So, to retain interest, it had to make a point that was different from the laundry list of abstract nouns. With an honorable salaam to those lists, the abstract nouns and their writers, these posts were outright boring.
I'm a sucker for non-clich&#233s. So, I was more engaged while reading something out of the ordinary; something beyond what a man wants out of his partner; something more substantial, more descriptive.
I also cannot handle romanticizing an issue. It is patronizing and thus irksome. And yet I want poetry, a flow in the way the post was written. Smooth flow of thought is more important than the flow of words.
I'm sure personal bias has made its way through my what-I-thought-was-strong will to 'judge' the means and not the end itself; the way the point is arrived at rather than the point itself.
I'm also sure I've been inconsistent. For this offense I present my human self for flogging. And to top it off, I'm that clich&#233d woman. I can promise you though; the winning entries were the ones that I absolutely loved, they connected with me even if I couldn't relate to them.
Someone who had been corrected in public, for his incorrect grammar said, "Sense ko dekho, tense ko nahi" (Focus on the 'sense' of what is being said and not the 'tense'). I loved the idiom. But, I also realize that sometimes, lack of tense makes a lot of non-sense. I have liberally fined sms-spk, slang , overuse of ellipses …, ?s and !s, etc. But, not as much weight is given to these follies when the thought is good and the way it is brought out is engaging.
OMG, we women write a lot!
Here goes –
While watching a movie or reading something, there is always something you can take away – a dialogue, a coinage. Here are a couple lines I thought were cute.
A woman's likes can change but her dislikes alwayyys stay the same!
Don't make us fall for you if you have no intention of catching us. Don't say you'll call if you're not going to.
~ Mehak
Then we have Kumar Shyam, who asks the most obvious question regarding our identity, one which we have been conditioned to ignore. And on a completely different note there was this super-aaawwwww entry by luckyu.
I have mixed feelings like a bride. My heart breaks to say these were not the best posts but I'm awfully excited to announce the winners. **drumroll**
The Miss India-Asia goes to Suranga Date for keeping her urban wants aside to bring forth the need of another urban woman, the urban slum-dweller.
The silver goes to Rama Karthikeyan for making the point with a touch of humor we so desperately need.
And the topper this week, is Shreya Dasgupta. You just have to read her insightful poetry. I refuse to spoil it by trying to describe it.
**phew** and what was it that I wanted again…
Thank you Meetu for accepting our invitation to judge the contest. We also loved the note you've sent on how you chose the winners. Awesome. Friends, do visit her blog, WOGMA, for your dose of Movie Reviews, without giving the movie away! Do also read her interview.
Meetu is a Chartered Accountant and an MBA but she'd rather not keep books or run a business. She deployed her analytical skills to reviewing movies instead and, along the way, rediscovered her sense or humor. Doing this she is to exploit both her love for movies and writing. She thinks it is unfair to narrate the story of a movie in a 'review' – unfair to the makers, the audience, and the reviewer (not challenging enough). So, she took it upon herself to write reviews, "Without Giving the Movie Away"