Update: Do check out http://twestival.blogadda.com for complete coverage of Twestival across the globe!
It is amazing how much you can accomplish when it doesn't matter who gets the credit. You could say this is one of the main reasons Twestival is what it is today. It's because of the thousands of volunteers who dedicate their time, efforts and energies to make sure a global initiative like Twestival is successful in accomplishing its goal of helping the nonprofit.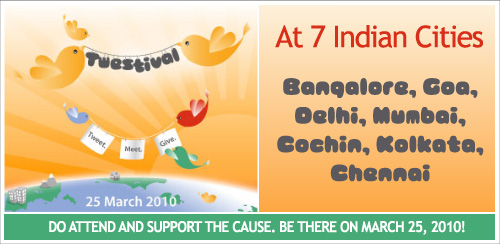 In India, seven cities are participating on March 25th. And this is possible only because of the efforts of some of most wonderful people in the Indian Twitter ecosystem.  They are the lead organizers and the most active volunteers. They are intent on putting India firmly in the list of the most generous countries of the world. All this with the help of Vaijayanthi KM (VJ) (@adropofwisdom) who is the Regional Co-Ordinator of Twestival for India. Do read the wonderful post where she explains how we can use "Social Media for Social Good'.
Here are the details:

Goa Twestival
Venue: Lava Courtyard and Lounge, Chicalim
Time: 7:00 pm to all night!
Highlights: The band 'Bac to Basix' will play for you this Twestival. Also, DJ Troy and DJ Joel will be playing their rocking beats all night to keep the party going.
Register at: http://www.facebook.com/event.php?eid=355445384384
Website: http://goa.twestival.com
Twitter: http://twitter.com/TwestivalGoa
Organisers:

Neha Sharma @neha1989
Student of Information Systems at BITS Pilani Goa campus, Engineers for Social Impact Fellow 2009, Lead Organizer @TwestivalGoa, Interested in Entrepreneurship, Technology and Business.

Varsha Adusumilli @varsha181
Interested in Governance, Institutional Development, Entrepreneurship and using Technology for Change || A Die Hard Beatles fan.

Cochin Twestival
Venue: Somewhere Else Café
Time: 5:00 pm to 8:00 pm
Highlights: Electrotwestival by Cochin's Electro Boy DJ Arvee, Stand Up Comedy by Siddharth – KochiVibe, Techno-Humour Geek Extravaganza by Binny the blogger.
Register at: http://www.facebook.com/event.php?eid=106707076018488
Website: http://cochin.twestival.com
Twitter: http://twitter.com/cochintwestival
Organisers:

Sajan Mani @vmsajan
designer | cartoonist | social media consultant | animator and blogger.
……………………………….

Mumbai Twestival
Venue: The Coast, Fifth Floor, Crystal Paradise, Off Linking Road, Bandra (W)
Time: 7.00 pm to 10.00 pm
Highlights: An evening of fun, delight, games and networking.
Register at: http://twtvite.com/mumtwest
Website: http://mumbai.twestival.com
Twitter: http://twitter.com/mumtwestival
Organisers:

Monik Pamecha @monikkinom
Monik is a teen entrepreneur and web developer. He has been twestival mumbai organizer for three years in a row. He is a blogger by passion too and blogs at etiole.com.

Netra Parikh @netra
Netra is an avid networker with connections in almost all industries and regions of India. She has been responsible for organizing events like Barcamps & Blogcamps.

Bangalore Twestival
Venue: Opus (Palace Cross Rd) #1, Next to Mahindra/Ford showroom
Time: 7:00 pm to 11:00 pm
Highlights: A special night with music, dance and drinks. Rock show by the Galeej Gurus and Repsychled. Nakul Shenoy's Beyond Magic. DJ Eldin at the dance floor.
Register at: http://www.indianstage.in/EventDetails.do?eventId=771
Website: http://bangalore.twestival.com
Twitter: http://twitter.com/twestivalbang
Organisers:

Hrish Thota @dhempe
Net Maniac, Filmmaker, Connector, Dreamer, Traveler
Kolkata Twestival
Venue: Natya Bhavan, EE – 8, Sector II, Salt Lake, Kolkata – 91.
Time: 5:30 pm to 7:50 pm
Highlights: Painting Exhibition & Cultural Programme – Courtesy: SOS Village, Speech by Great Bong (Read his interview), Slot for the Kolkata tweeps to talk on various topics of common interest around the charity, twitter, etc.
Register at: http://kolkata.twestival.com or message them on twitter
Website: http://kolkata.twestival.com
Twitter: http://twitter.com/TwestivalKol
Organisers:

Arjun Ghosh @arjunghosh
Web developer, Technologist, Literati, Web 2.0 Activist, Social and New Media evangelist, Blogger, Anime fan, Outdoor guy, Adventurist, Wanderlust, Newbie Photographer, getting down and dirty person.

Chennai Twestival
Venue: Amethyst, Gopalapuram
Time: 6:00 pm to 7:00 pm
Highlights: Tweetup with Kiruba Shankar, CEO of business blogging. The discussion will be held around 'Using social media for social good'. Join in the tweet-up for a good cause.
Register at: http://twtvite.com/7tuti2
Website: http://chennai.twestival.com/
Twitter: http://twitter.com/chntwestival
Organisers:

Krish Venkatesh @krishvenkatesh
K. Venkatesh is the founder of VirtualPaper, a copyediting service for academic and scholarly publishers. He is also the chief evangelist of YourStory.in, an online portal for first-generation entrepreneurs. Reading books and editing books are his passion is the co-organizer with Krishnan Swamy and Thomas Arun at Chennai.

Arun Thomas @creativethomas
Young CEO, Chennai Twestival Lead Organizer, Social Entrepreneur, Blogger.

Krishnan Swamy
Krishnan earns his living by 'creating' and solving problems for his clients in there softwares by writing and debugging codes.He loves to enjoys his life to this fullest and for this sole reason, he is still single  🙂

Delhi Twestival
Venue: Café Morrison  E-12, South Extension Part-II Market, New Delhi
Time: 6:00 pm to 8:30 pm
Highlights: An entertaining evening with Stand Up Comedy acts, and Rock Music Performance by Five8.
Register at: Walk-In. Encouraged to get in your friends as well.
Website: http://delhi.twestival.com/
Twitter: http://twitter.com/DelTwestival
Organisers:

Mohak Prince @mohakprince
Maniac | Eccentric | Out-of-Box Thinker | MovieHolic | Not an avid-Reader | Confused Sapien | Animal Lover | A Cusp | A Veggie | A Lesser Mortal