Web 2.0 can be defined as a second phase of internet revolution, which facilitates higher level of Communication and Information Sharing.
Web 2.0 allows its users to do more than retrieving data, most of the internet giants are relying more on it because it is a big money game and with this one-concept companies are being more creative to use the maximum of it and coming up different business models.
In this article you will find 10 Essential Online Tools that can bring great ease and glory to your Blogging Experience.
I have finalized on these 10 tools after evaluating 200+ tools and every of these tools have their own functionality.
1. Zoho
A comprehensive office suit, which allows you to do everything over online, that you had been doing with your Desktop applications.It's a higher end Productivity tool with great integration and Interface. You can create live reports/presentations. The entire logic behind Zoho is to bring all office applications in one place. Your search for a collaborative tool with multiple features and applications will end with Zoho. Zoho Offers 18 free applications E-mail, Chat, Word Processer, and Excel Sheet, Presentations, Wiki's, Document Storage, Notes, planner and many other useful applications.
2. GetDropbox
A file storage application that facilitates Storing documents Online and also allows you to access it even offline. The problem of storing the files in one PC and trying to retrieve it from another PC (Say an Internet café) ends with GetDropBox. Like most of the file sharing portal Dropbox has an  excellent interface but what it does exceptional is, you can share and retrieve data anywhere both online and OFFLINE. Check the Complete Product review here

Features: 2GB Free Storage Capacity and a Desktop Application Which Facilitates file sharing and retrieving.
3. GoView
Now recording your live desktop activity is easier with Goview. If you wanted to give a product demo to your readers about any new Web application try Goview.E.g: "How to add a widget to a Blog" – You can Visually show your readers the step by step process of adding a widget to a blog, Goview will record your screen and it can embedded in your blog.Goview is a best pick if you wanted to give a Visual User Tutorial to your readers.
4. Posterous
A blogging platform (Like Blogger and WordPress), that facilitates both blogging and social networking but everything through a single E-mail.You can just send an Email to Posterous with your article and they would update it in your blog and all associated social networking pages as a status message (In twitter, Facebook, Orkut, LinkedIn ..)
5. Slideshare
I would call this as YouTube of PowerPoint Presentations. Slideshare is one of the most Interactive websites that I had used in recent days. It has a large collection of Presentation can be shared and embedded in your blogs.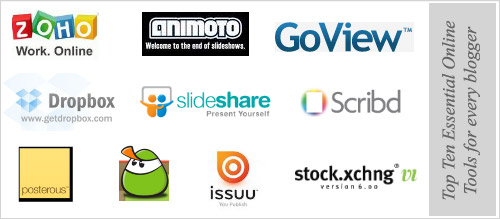 6. Scribd
If Slideshare is meant for presentations then Scribd does the same thing with PDF Documents. You can upload, download documents and eBooks from Scribd for free of cost which can be later embedded in your blogs.
7. SXC
If you are in to Making Presentations then you should try SXC, which has a collection of Photo's with Stunning Visuals and Impressive Shots which can make your presentation an ideal one. After all, Visual speaks more than Words.
8. Issuu
Issuu allows you to create and publish e-Books, with a never seen before interface. If you have your e-books or your blogging materials in a Word or PDF format then it's high time you upload and convert the in to e-books with good design (as per your choice).Note: I have my e-Book with Issuu, for reference you can have a look at it.
9. Digsby
Digsby is a social networking IM, that is how I call it. It does the collaborative effort to bring all your social networking Accounts in a single chat window along with your Email Accounts.You have the provision to have multiple email accounts opened and you are notified whenever you receive an Email or a Chat message.
10. Animoto
As their Caption says it takes you to the end of Slide Shows, Animoto helps you to create stunning 60 Second Videos with your personal Photos.The Created Video's can be embedded in your Blogs and WebPages. The functionality is so simple, you just need to Upload Images and select the style of video outlook that you want. Animoto delivers you a high Quality Video with a Background Music of your choice.
About Shiv: Shiv is a Social Media Evangelist/Techno Marketing Writer, whose avid interest in the field of marketing and technology has helped him to keep pace with the latest trends.
He works as a 'Marketing Analyst' at Hyderabad, with a leading research firm headquartered in San Francisco and aspires to contribute more to the field of 'Creative Marketing'.
Twitter: www.twitter.com/hairaman
Blog: www.iamshiv.com
E-Books: www.issuu.com/iamshiv