Brajeshwar Oinam is a Blogger, Entrepreneur, Ace Digerati and an ardent believer of KISS (Keep It Simple Stupid). He has recently founded oCricket which is a socio-networked site; refreshed, renewed, reengineered and re-everythinged Cricket. Brajeshwar is also the first Indian to become an Adobe Community Expert. To know more about this multi talented blogger, read on…..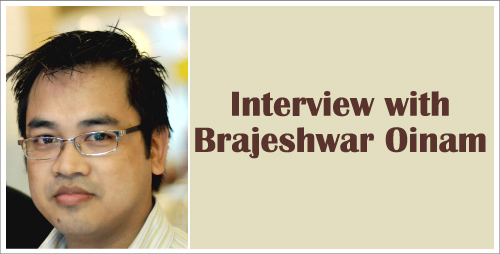 Q: When and why did you start blogging? Was it out of curiosity or something else?
A: I started blogging in May 2002. Part curiosity and part necessity. It was the initial onset of my Professional career and I was head-on with Flash. I frequent Flash and ActionScript related forums a lot and like everyone else, I had to endure answering to similar questions time and again. I started blogging to elaborate my answers to forum questions, upload open source example files for developers and designer to download, try it and deconstruct it.
Q: What topics do you generally blog about?
A: Technology, Startup, Entrepreneurship, Management, Open Source, Flash Platform.

Q: Do you ever get stuck when writing an entry?  What do you do then?
A: Yes. I stop thinking about it, go out or do something else and continue later.

Q: Which tools/plugins do you use to efficiently manage your blog? Any widgets or tips you would like to share with our readers.
A: I started off with Blogger even before it had its own commenting system, then moved to Movable Type and currently my blog is powered by WordPress. Less plugin, less hacks, simpler the better.
Q: How important is it for the blogger to interact with their readers? Do you respond to all the comments that you receive?
A: I respond to comments which need an answer. Statements, flames, rants are best left read-&-ignored.
Q: How, in general, would you rate the quality of Indian blogs? Share your favourite five blogs.

A: I like many blogs, so I won't name 5 and do injustice to the remaining. Indian blogs are becoming better, if not the best. However, there are many blogs which are blogs just for the sake of being one, there are many other made-for-adsense blogs.

Q: What do you find to be the most gratifying aspect of blogging?
A: Hmmmm, may be comments and people's reaction, which makes me feel I'm doing something which people like and appreciate.

Q: You were supposed to go to Delhi but you landed up in Mumbai by a last minute nasty decision. Do you think this was one of the most important nasty decisions you took in your life?
A: I'm from Manipur, a North-Eastern state in India and everyone's target was Delhi. Be it studies, work, or even buying a home outside of Manipur. So, the decision was of course to look for a job in Delhi but decided to try Mumbai at the last moment. I guess, it was a good decision and a life changing one.

Q: You were the first Indian to become an Adobe Community Expert? How did it happen? How was the feeling?
A: I used to be super-active on Flash forums during Flash 5 days and I tried to answer each and every non-answered problem in Flash/ActionScript. Mike Chambers, who was then from Macromedia saw my activity and asked me if I would be interested being part of a coveted team. It was those awesome moment of pride and achievement. In fact, in 2005 I was invited to be part of another much superior team of which I'm not supposed to talk anything further 😉
Q: Can you tell us more about oCricket, the latest initiative started by you? How different is it from the other cricket websites?
A: Anyone who've heard of Cricket have heard of the popular content-humongous sites like CricInfo, CricBuzz, et al. We wanted an interaction platform where its not just about the 'newspaper-type' one-way information overload but a platform where users are empowered to be part of the Cricket phenomena. oCricket is about networking, knowing the other people who is interested in Cricket just like you. In Apple's word, we wanted a platform refreshed, renewed, re-engineered and re-everything ed Cricket.
We knew right on that we cannot beat the big media corps via the conventional means. We wanted to use Technology to do more with less. We plan empower users, developers to play with Cricket data, Player profiles and much more. Watch us for couple of more months, we're coming up with a module that leverages Match Data, Player statistics and details to give users an alternate virtual playing platform to enjoy Cricket.
For now, you can check out the Twitter enhanced Cricket Talk. It uses sophisticated algorithms to mine the latest Cricket related content from Twitter, making sure that users only see updates on the Cricket game and nothing else. Cricket Talk also uses Twitter's shinning new OAuth and thus users do not need to give their Username/Password to oCricket. Users have the option to relay their talk on Cricket Talk back to Twitter.
Q: You have been using the Social media for promotion of your new initiative and otherwise. How important is having your presence in Social media?
A: I think its very important. When one is the primary founder of a Startup, one need to know almost everything from who is the water bottle supplier, to who is the right person to talk to in a VC firm. You've to be part of everything that happens to your Startup.
Q: Brajeshwar is an ardent believer of KISS (Keep It Simple Stupid)! How does it make a difference in day to day life?
A: Experience have taught me that its better when things are simpler for me and for others. It's infact more difficult to make things easier for others and users. So, I always try to approach things from a simpler, easier perspective. This has helped me a lot in my day to day life.
Q: What promotional techniques work best for you and why?
A: I seriously am not really concerned about the growth of my personal blog, its just where I write because I like to. I don't really do promotional techniques there.


Q: Do you earn revenue through your blog? How does one go about it?
A: I don't seriously monetize it, but yes it does earn a bit. Google Adsense, direct advertisements, etc. Google Adsense is the easiest to start off. Once your site is good enough, advertisers and agencies will come on their own.
Q: What is your advice to someone who wants to start a blog?
A: Start a blog if you want to write what you're good at. Start a blog to impart knowledge, ideas, tips, tricks. If you learn to give ad distribute your knowledge, then people will give you back. Earnings will follow suit on its own, it should not be the motive to start a blog.
Brajeshwar, Thanks a lot for the Interview and we wish you all the best for oCricket and all your future endeavours.