She is a blogger, a parent, has a full time job and an aspiring writer. She blogs so that she can sound off her ideas without driving the family insane ;-). She blogs at Weaving A Web, a blog which talks anything and everything related to a woman's life. She is Ritu aka Phoenixritu for you. Read on for a wonderful interview.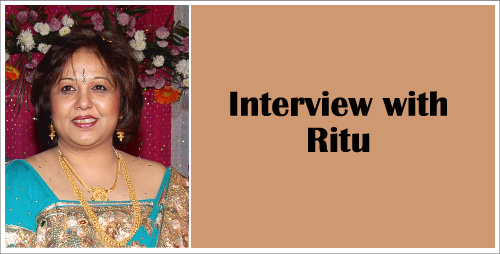 Q: When and why did you start blogging? Was it out of curiosity or something else?
A: I was caught unawares by my sons growing up! Moreover they shifted allegiance to females closer to their ages. I know, its absolutely normal, but at that time I felt miffed! I started blogging to combat empty nest syndrome, since there was no one to listen to one loony Mom LOL. It slowly took over and became a passion.
Q: What topics do you generally blog about?
A: This world in general and everything in particular that catches my interest. This world is fascinating and us humans are total entertainment fodder – with our idiosyncrasies and foibles. Total "free ka entertainment".
Q: Do you ever get stuck when writing an entry? What do you do then?
A: No, never …. But then I am such a chatterbox, never at a loss for words.

Q: Which tools/plugins do you use to efficiently manage your blog? Any widgets or tips you would like to share with our readers.
A: Just the WP cumulus for tags, a stat counter. I am totally non-geeky. Humare zamane mein, we did not have computers or the net.
Q: Do you earn revenue through your blog? How does one go about it?
A: I am proud owner of $5 in my adsense account! I have never managed to make money blogging. Someone help me, please!
Q: How important is it for the blogger to interact with their readers? Do you respond to all the comments that you receive?
A: Yes, I respond to everyone. In fact I have made friends with a few wonderful bloggers. It feels like through this blog I have got a group of friends who think alike. I have met and chatted with a few of my readers/fellow bloggers. Its been wonderful.

Q: How, in general, would you rate the quality of Indian blogs? Share your favourite five blogs.
A: I like them all – otherwise I would not visit them and comment on them.
Q: What do you find to be the most gratifying aspect of blogging?
A: Since mine is a personal blog – I love the way writing it, responding to comments has made me more communicative. I have opened out and become more comfortable with my self. Moreover, I have become a narcissist, and when I am depressed, I read my own posts and laugh.
Q: You write such humorous poems, Are these poems written instantly or does a lot of thought goes behind it?
A: You like 'em? Oh wow Thanks! It's a gift, I don't put much effort into them. In another day, another age I would have written wonderful rugby songs /limericks/Irish booze songs. In this day and age I write about cakes and little boys and economic slump! Sigh!

Q: 'The irony of being a mother-in-law' is one of your top posts! In present day world, How important according to you is a Mother-in-Law and Daughter-in-law Relationship?
A: It is of prime importance. I have been both and know that neither a mother nor a wife is complete unless the son/hubby is happy. Both women love the man, in different ways … and for his sake, and for the family, its important to build this relationship.
Q: Ritu is a Parent with a full time job in hand. How do you manage the time to dish out such wonderful posts?
A: I am a parent, a full time employee working 10 (in the morning) to whenever, a freelance writer plus a blogger. It is possible now since the boys have grown up. Thanks for thinking my posts are good.
Q: There has been recent surge on the attacks on Women (like the Mangalore Pub). What do you think is the cause for this kind of behaviour from some elements in our progressive society ?
A: We humans are animals under that thin layer of civilized behaviour. If we feel our turf is threatened, we attack. The worst nightmare for Muthalik and his followers is an emancipated woman, hence the violence.
Q: The design of your blog looks neat and good. How important do you think is the visual appeal of a blog?
A: It was important for me. I needed my blog to look smart. Pssst! Don't tell anyone, it also made me feel younger and slimmer!
Q: What promotional techniques work best for you and why?
A: I would have to say content! I have never promoted my blog and my posts are just what I feel like writing. Thank God, folks like it.
Q: What is your advice to someone who wants to start a blog?
A: Be yourself …. Readers can sense fakeness. Be yourself and have fun.
It was a pleasure interviewing you and we are sure our readers would have felt the pleasure reading it as well. We would love to read your book one day 🙂 .
Phoenixritu can be contacted online: